Why Miley Cyrus Deleted Her Instagram Photos Could Be Connected To The Singer's New Direction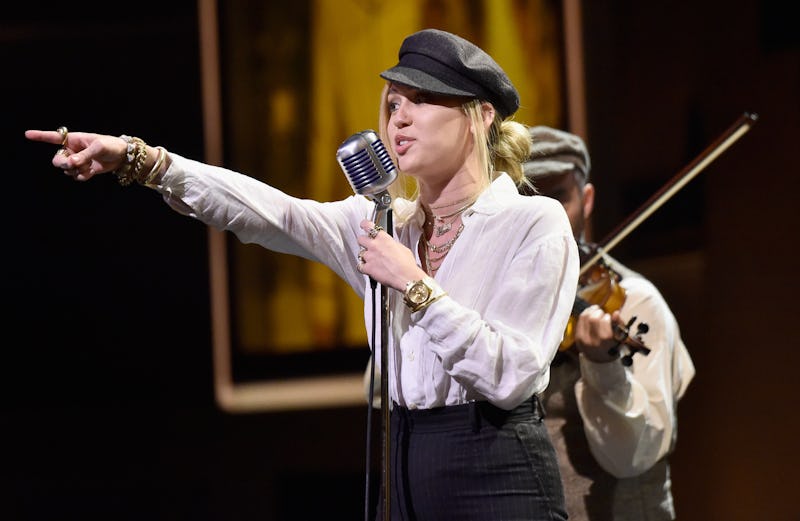 Frazer Harrison/Getty Images Entertainment/Getty Images
Without doing much at all, this singer has turned fans' worlds upside down in a matter of just a few days. About a week ago, Miley Cyrus mysteriously deleted all of her Instagram posts from her account. Many fans speculated the action was due to trouble between Cyrus and longtime beau Liam Hemsworth, but the couple shut down those rumors via Hemsworth's Instagram. Now, however, a source told Us Weekly that her ambiguous social media cleanse is actually making way for something new: Miley Cyrus is reportedly going to release new music next month.
The source told Us that Cyrus gutted her Instagram "just because she's releasing new music next month" and "everything on her Instagram is strategic." In early July, Us also reported that Cyrus has been recording at New York City's infamous Electric Lady Studios. Apparently, Cyrus' sessions have included Lady Gaga sightings which caused speculation that the two collaborated on this new project, presumably Cyrus' latest album since 2017's Younger Now.
Last month, Cyrus shared a photo in the studio with her dad Billy Ray. The photo was captioned, "Stan legends," and showed them by a computer, working in the studio.
On Friday, an additional report by Entertainment Tonight claimed Cyrus' social media detox was due to both personal and professional reasons. A source told the outlet Cyrus knew deleting her posts would cause speculation, but that didn't stop her. "Her decision to do it wasn't earth-shattering. Miley says she simply likes to change things up," the source explained. "She is taking a long needed break and she feels it's healthy."
Not only will fans possibly experience new music when she returns, but a whole new, evolved Cyrus. "She loves change and doesn't feel like the same person she was when she started this account," the source continued. "She wants her new account to reflect the new Miley... She doesn't like getting stuck in a particular mold. She is working on new music and plans to come back with a brand new Instagram, with photos to promote her new music," the source said.
While information from sources should always be taken with a grain of salt, none of this should be particularly shocking or hard to believe for Cyrus fans. Cyrus is known for constantly reinventing her image and pushing boundaries. "She enjoys being a renegade and she likes to form her own style and when she is ready she will do it again," they said.
Meanwhile, on Thursday, people were convinced the two called it quits due to a report by OK! Australia. A source told the outlet Cyrus and Hemsworth called off their engagement because of disagreement over a future family. "He wants kids and doesn't want to keep putting it off, but it's not quite the timeline Miley had in mind," the source explained. "He is left heartbroken." The source further claimed that Cyrus didn't want to get married in the first place and this Hemsworth's family was "begging him" to move on.
After the news, however, Hemsworth posted an Instagram story with Cyrus, joking around while driving in the car. Additionally, the source in Friday's Us Weekly article added that "she and Liam thought it was half-funny, half-ridiculous that people thought they split."
The two first announced they were engaged in 2012, a few years after falling in love working on The Last Song. They broke up in 2013 and reunited in 2016, when Cyrus was sporting a diamond ring on her left hand. This spring, reports claimed they were planning a secret wedding. But whether it be a secret album or secret wedding, Cyrus sure knows how to keep fans on their toes and wanting more.