Miley Cyrus' VMAs Throwback Photo Is Amazing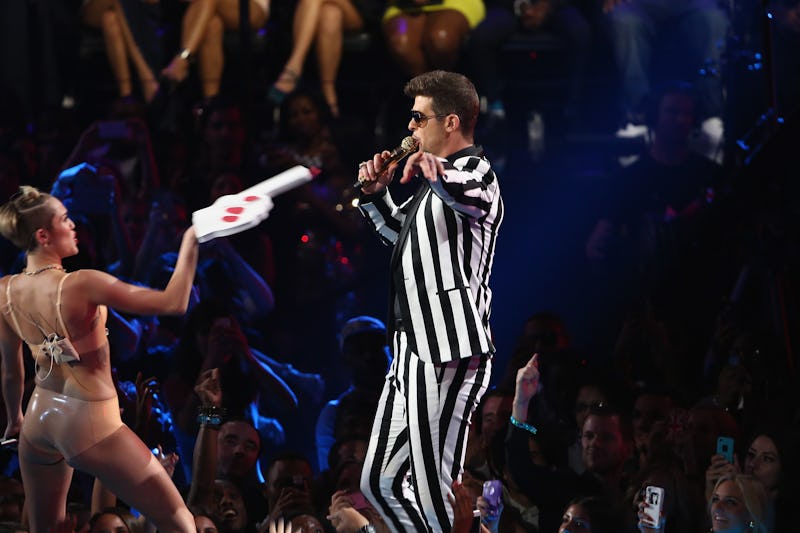 Neilson Barnard/Getty Images Entertainment/Getty Images
There haven't been too many awards show moments in recent years that top Miley Cyrus' unforgettable — and highly controversial — joint performance with Robin Thicke during the 2013 MTV Video Music Awards. The 24-year-old pop singer remembers the controversy that surrounded her infamous performance all too well but that doesn't mean she doesn't have a sense of humor about it. Miley is set to appear at the 2017 MTV VMAs on Sunday night and took to Instagram share a hilarious meme: a throwback photo showing Miley twerking on Robin Thicke while a serious photo of her father Billy Ray Cyrus looms in the corner.
"Sorry Dad.... I'll be good tonight I promise ... [VMAs]," she jokingly captioned the photo. At the time of the performance, Miley Cyrus was 20 years old and in the process of reconstructing her image after spending years as the star of Disney's Hannah Montana. Her risque set — which saw her getting suggestive with an air foam hand, a teddy bear, and pretty much anything else in her line of sight — inspired a ton of online conversation about cultural appropriation, and people even questioned her father's parenting skills at the time.
Miley Cyrus hasn't performed at the VMAs since then, but she returned to the show as a host in 2014 and 2015. It's great to see that she and her father are able to laugh about it four years later. Miley has since changed her image once again and has even released new music in recent months that reflect it, including her songs "Malibu" and "Younger Now."
You probably shouldn't expect to see her twerking on stage at tonight's awards show, but her scheduled performance will still be just as unforgettable.