Millie Bobby Brown Shut Down Speculation About Her Friendship With Drake In A Lengthy Post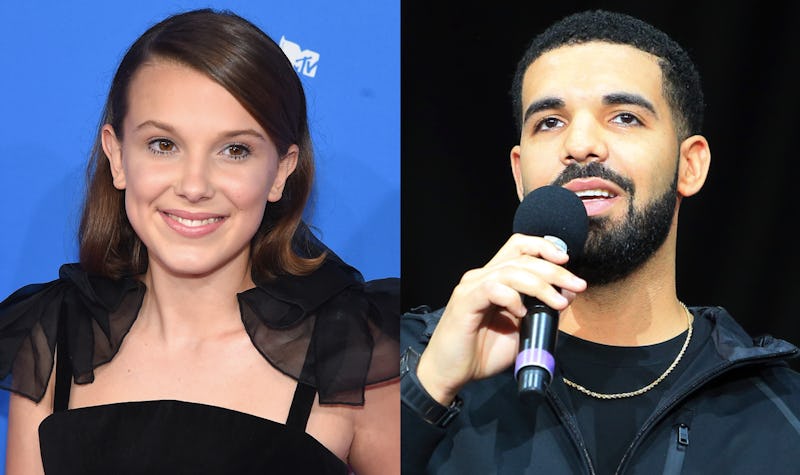 Jamie McCarthy/Getty Images Entertainment/Getty Images; Vaughn Ridley/Getty Images Sport/Getty Images
Millie Bobby Brown is taking some time to clear up speculation about the state of her friendship with a very famous musician, as she detailed on her Instagram Story. According to E! News, Millie Bobby Brown defended her friendship with Drake after some controversy emerged in response to their texting habits. And the Stranger Things star did not hold back in her statement.
As you might recall, Brown previously talked about her friendship with Drake and revealed that he gives her dating advice during an appearance on the Emmys red carpet on Sept. 17. In response to her comments, there were some who questioned why these two were even discussing the dating subject together. Well, the actor had a lot to say to any of those naysayers out there who wanted to put a negative spin on her bond with Drake.
On Thursday, she wrote:
"Why u gotta make a lovely friendship ur headline? U guys are weird... For real. im lucky to have people in the business extend their time to help me further my career and offer their wisdom and guidance. Im very blessed to have amazing people in my life. u don't get to choose that for me."
Brown then explained why it's great to have a friend like Drake who understands what she does for a living (like Brown, the "Nice for What" singer was also a child actor, even appearing in Degrassi from 2001-2009). "its nice to have people understand what i do. Now get back to talking about real problems in this world other than my friendships... jeez," she wrote. (Bustle reached out to Drake's reps for comment on the situation.)
As previously mentioned, Brown discussed her friendship with Drake recently and shared an interesting tidbit about their texting relationship. In her interview with Access Hollywood, she said that the two have a great friendship. "I love him. I met him in Australia, and he's honestly so fantastic."
In fact, they're in regular contact with each other as she continued to say, "We just texted each other the other day and he was like, 'I miss you so much,' and I was like, 'I miss you more.' He's great." When asked about what they text each other about, Brown replied, "About boys, he helps me." As for that exact advice, she joked, "That stays in the text messages."
There were some who took issue with the fact that Drake, who is 31, was giving advice to Brown, who's 14, given their age difference. Journalist Jay Scott Smith wrote on Twitter, "Ummm, If she isn't your little sister or daughter, I can't think of too many reasons a man north of 30 should be texting a teenager." Another user said, "Drake is creepy af for texting Millie Bobby Brown and taking her out to dinner multiple times. She's 14 & he's in his 30's. That is so disturbing."
Given the pair's friendship history, it's not all that surprising that they have such a positive texting connection. Their friendship made headlines back in November 2017, when they posed together after he invited her to his concert in Brisbane, Australia.
They even had a little fun during their meeting, as Drake showed on Instagram. Seeing as though Brown rose to fame playing Eleven on Stranger Things, it was only natural that the two BFFs donned her signature pose during their photo sesh.
Brown previously revealed to W Magazine in July that she and Drake "talk all the time." As for what they talk about, the Stranger Things star seeks out the singer's advice on certain matters, which likely extend beyond her love life.
It's clear that these two are good friends, as Brown has conveyed time and time again that she can go to the former Degrassi star for advice. And since she recently opened up further about what a positive friendship this is, maybe it's time for people to just let the two text in peace.