Millie Bobby Brown Gets Advice From This Famous Rapper "All The Time" & Yup, Be Jealous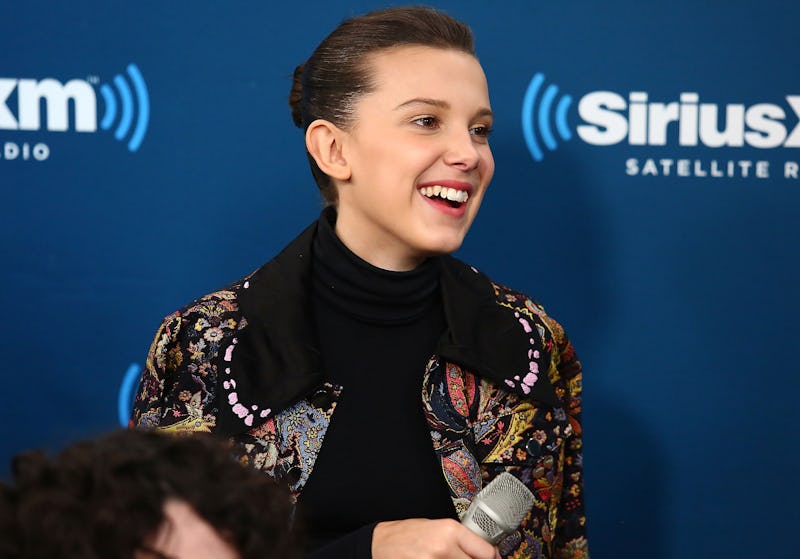 Astrid Stawiarz/Getty Images Entertainment/Getty Images
She's a 14-year-old actor on-the-rise, and he's a 31-year-old world famous rapper. Despite being more than 15 years apart, though, Millie Bobby Brown and Drake "talk all the time," Brown recently revealed to W Magazine. "I ask his advice," she added.
While it may seem like an odd friendship, Brown's connection with Drake actually goes back to 2017, when Brown got the chance to see Drake perform in Brisbane, Australia. "He invited me to his concert," she told W in an interview published on July 23. The two posed together for a photo that quickly went viral, with Brown nonchalantly captioning the shot, "this guy ..." followed by a single red heart emoji. Totally casual. No big deal or anything.
Drake posted a photo with Brown to his Instagram as well, making it abundantly clear that he's a big fan of the young star. Brown gained notoriety as Eleven on Netflix's sci-fi series Stranger Things, and in Drake's version of the equally-viral picture, the pair posed in Eleven's signature super-power stance. "Hawkins Very Own," he captioned the shot, referring to the fictional town where Eleven and her friends reside.
It seems like all that mutual admiration helped the two stars form an instant connection, and it's a bond that appears to still be going strong today. "[Now] we talk all the time," she revealed to W. "I ask his advice." It's unclear what kind of advice, exactly, Brown has been seeking out from Drake, but — after getting his start as Jimmy Brooks on Degrassi back in 2001 — he definitely knows a thing or two about growing up in the public eye.
So, not only does Brown basically have one of the biggest rappers on the planet on speed dial, but she also told W that Paris Jackson (daughter of the late Michael Jackson) is "like a sister" to her. With A-list friends like that, it's hard to imagine that Brown would be phased by meeting any big-time star, but the actor admitted that she's definitely gotten nervous around a few former teen idols.
"[At] the BAFTA tea, when I met ­Justin ­Timberlake, I swear I could have fainted," Brown recalled. Ah, yes. Totally understandable. As a child — OK, technically she's still a kid, but this was in her pre-teen days — Brown fancied another multi-talented musical sensation as well: Zac Efron, who played heart-throb Troy Bolton in Disney's hit franchise High School Musical.
Efron came up in the W interview when Brown was asked to recall her favorite toy to play with as a young girl. "A microphone that had High School Musical on it," she replied. "I could sing with Zac Efron! I watched High School Musical every single day. When I met Zac Efron, I could barely speak." Again, totally understandable. Most people would probably have a hard time coming up with words when in the presence of the Baywatch star.
After having achieved so much success at such a young age, it's hard to remember sometimes that Brown's career is just getting started. She's currently best known for her work on the small screen, but the 14-year-old just scored her first big screen role as Madison in the upcoming action flick, Godzilla: King of the Monsters.
If she got star-struck while filming the Godzilla sequel, which also stars Kyle Chandler, Vera Farmiga, and Sally Hawkins, Brown certainly didn't show it. To be fair, though, she did spend a lot of time playing opposite a tennis ball. "Godzilla was a tennis ball!" she told W. "I was always looking up. My neck hurt a lot, and I had to get dry needling. They stuck a really big, but thin, needle in my neck. Your muscle then spasms, and, eventually, you're fine. After the dry needling, I had a great rapport with the tennis ball."
Brown seems like she's already a consummate professional, and she's clearly got a long career ahead of her. By demonstrating such poise at such a young age, she'll probably have a great rapport with everyone ' or everything — she works with from here on out.