Millie Bobby Brown's Reaction To Kim K's V-Day Gift Will Instantly Make Fans Smile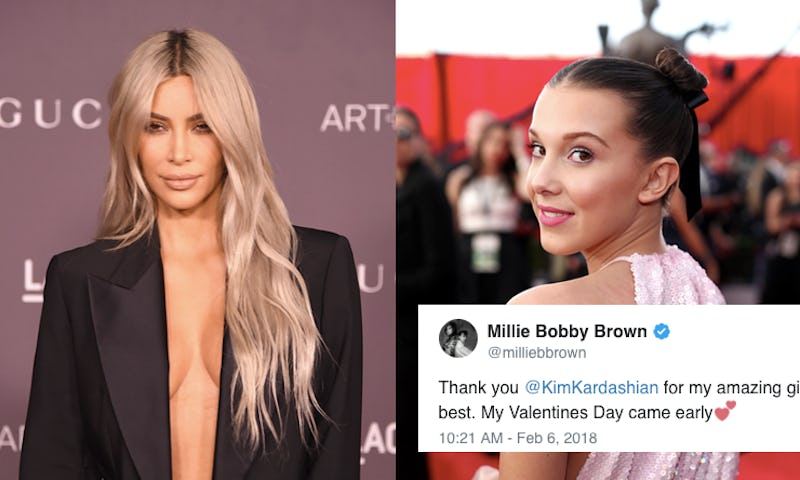 Kevin Winter/Getty Images Entertainment/Getty Images; Christopher Polk/Getty Images Entertainment/Getty Images; Millie Bobby Brown/Twitter
If you came home to a care package from Kim Kardashian, what would you do? Judging by Millie Bobby Brown's reaction to Kim K's Valentine's Day gift, it seems the appropriate answer might be something along the lines of this: Freak out, snap a few photos, post said photos to social media (via not one, but two different platforms), and probably freak out some more. Brown took to Twitter on Tuesday, Feb. 6 to thank the reality superstar for an unexpected V-Day present come early. And, if Kim K's response to Brown's "thank you" is any indication, it looks like the pair's adorable virtual friendship is still going strong.
Fans have had their eyes on a potential burgeoning friendship between Brown and Kim K for quite some time now. (The 13-year-old Stranger Things star is, suffice it to say, something of a diehard Kardashian enthusiast.) But the duo's latest string of social media-fueled communication seems to really seal the deal. After receiving a multi-colored collection of KKW Beauty-themed perfume boxes — in all their pastel-toned glory — accompanied by a handwritten note from Kim K herself, Brown turned to Instagram (and later, Twitter) to express her gratitude.
In an early morning tweet on Tuesday, Brown posted a screenshot from her Instagram Story, which featured the smattering of Kardashian-helmed goodies laid out on a carpet. The personalized note that came with it is pictured front-and-center. Addressed to "Millie," the note reads: "I wanted to send you some of my new perfume and make up. I hope you like it! Xo Kim." Naturally, Brown captioned the snapshot with a pretty appropriate hashtag, given the circumstances. "#freakingout," she wrote, after thanking Kim K for the "amaaaaazing" (yes, that's five A's) gifts. When Brown later posted the photo to Twitter, she added, "You're the best. My Valentines Day came early."
And, while Kardashian's reply was markedly less verbose, she seemed to acknowledge the V-Day nod. Trailing Brown's tweet by about an hour, the beauty mogul responded with a short-but-sweet message:
Much to the delight of Stranger Things and KUWTK fans alike, periodic bouts of Kardashian-Brown love have started to crop up over the last few months. It all began last November, when Brown first revealed her bona-fide obsession with all things Kardashian during an appearance on The Tonight Show Starring Jimmy Fallon. "I love them, I really do," she told Fallon. "I'm obsessed with them." Giddily singing their praises, Brown continued, "They're so entertaining. They have their own like language. Like instead of saying I swear they're like 'Bible!'"
It didn't take long for news of Brown's Kardashian ardor to reach Kim K. The following morning, she tweeted a perfect reply to Brown's interview comments. "OMG," Kim K wrote, tagging Brown in the post, "we love you bible!!!!"
And the rest, as they say, is history. Brown immediately responded to Kim K's tweet the way any overjoyed fan might: with genuine, palpable thrill. "BEST DAY EVER! Life complete," she wrote.
The duo's budding friendship resurfaced again last month, when Brown once again took to Twitter with a yet-to-be-realized aspiration. "Honestly, all I want is for Kourtney K to shake my salad," Brown tweeted on Jan. 11, conceivably in reference to Kourtney's hard-earned aptitude for salad-shaking (which has become a sort of running joke on KUWTK).
Kardashian tweeted back later that day, telling Brown she'd make arrangements for the salad-shaking rendezvous. Endearingly, Brown replied, "My dream has come true."
So, who else is rooting for a forever friendship between Brown and Kim K? As far as heartwarming celeb interactions go, theirs might be some of the sweetest fans have ever seen. Bible.