The 'This Is Us' Cast Reacts To Their Renewal News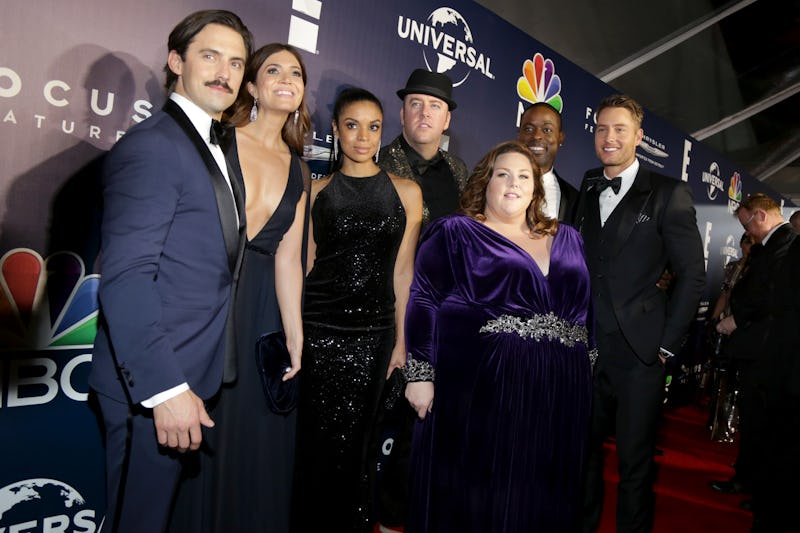 Loreen Sarkis/Getty Images Entertainment/Getty Images
During the Television Critics Association Winter Press Tour Wednesday, NBC announced that This Is Us scored a renewal. Though, what made the news even more exciting is that the beloved new drama is returning not for one more season, but two. That's right, there will be a This Is Us Season 2 and Season 3. Yeah, it's the best news ever, right? The cast agrees. Upon learning they would have jobs for two more seasons, the This Is Us cast reacted to their renewal news the same way pretty much every fan of the series did.
Series creator Dan Fogelman tweeted a video Wednesday of the precise moment Milo Ventimiglia, Mandy Moore, Chrissy Metz, Sterling K. Brown, Justin Hartley, Ron Cephas Jones, and Susan Kelechi Watson heard they weren't done filming, but have at least 36 more episodes (both Seasons 2 and 3 will have 18 episodes each) to film. A range of emotions were expressed by the cast, but overall they were just overjoyed. Can you blame them?
Some of the cast also shared their own personal thanks and reactions on social media, as well. Like most fans, they're excited, can't stop saying thank you, are yelling "woohoo!," and are so grateful that dreams really do come true. There's no doubt that This Is Us is one of the best new dramas of the 2016-17 TV season, so of course the cast and fans are going to react emotionally over the renewal news.
Now, fall in love with the This Is Us cast all over again by checking out their reactions.
Beyond Excited
This is so great. Also, check out Brown's face. He is speechless. Oh, and, yes, that is Ventimiglia saying, "Oh sh*t." I couldn't have said it better myself.
Oh So Happy
Watson captioned this sweet photo with her TV husband (Beth and Randall are truly the best, aren't they?), "At TCAs and we just found out we've been picked up for TWO seasons! Oh happy day. Thank u all for showing so much love and support. We're overjoyed. Ready to take this ride with us??" I know I am.
Thank You, Thank You, Thank You
Moore and Ventimiglia are just so thankful, and so are the fans.
Woohoo!
Well put, Chris Sullivan. Well put.
Dreams Do Come True
The news means more from the talented Metz, and that is certainly something to be grateful for.
This Is Us and the cast are truly the best.