'This Is Us' Is Here To Stay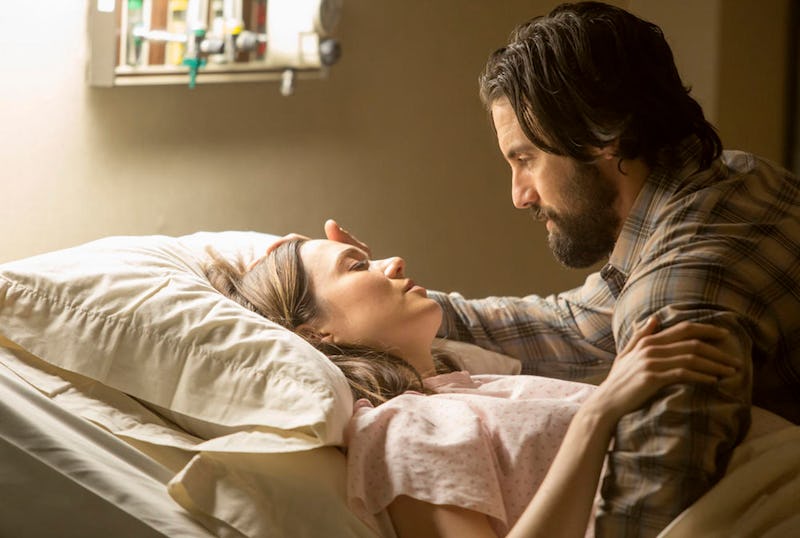 In what can only be described as the greatest TV news of our time, Deadline reported on Wednesday that NBC renewed This Is Us for Seasons 2 and 3. That's right: Kevin, Kate, Randall, and their amazing parents are going to be around to make you cry and laugh — and then cry some more for at least two more seasons. See, sometimes good things do happen to the nicest people. Because seriously, is there any cast more deserving of job security than Mandy Moore, Milo Ventimiglia, Sterling K. Brown, Justin Hartley, and Chrissy Metz? The Pearson family is welcome to stay on my TV for as long as they want, and I think the rest of America agrees, if the show's ratings are any indication.
News of the series' two-season renewal broke at the Television Critics Association winter press tour (better known as the TCAs), where it was also revealed each new season of This Is Us will consist of at least 18 episodes. In even more awesome news, the TCAs also brought the announcement Katie Couric and Atlanta's Brian Tyree Henry will be guest-starring in upcoming episodes. This truly is a great day to be a This Is Us fan.
Happily, NBC proved this is the rare occasion where the network loves their show just as much as the fans do in a big way. NBC President of Entertainment Jennifer Salke's renewal announcement could easily have doubled for one of the show's tearjerker monologues. According to Deadline, she said,
"This Is Us is as good as anything we've ever had, we're thrilled to renew it for two seasons and there's no doubt it will have a long life on NBC. On behalf of everyone at NBC, we're grateful for the artistry of the cast, crew, and producers assembled by our gifted creator, Dan Fogelman. In a world where there are literally hundreds of television dramas, we're proud to have one of the very best that is also one of the highest-rated."
The best thing about This Is Us is that there's no expiration date on the show's premise. Its ability to move between the past, present, and even the future of the Pearson family means there is a wealth of stories to tell for years to come. In the show's most recent episode, the writers proved they weren't afraid to break form entirely when they presented fans with a "prequel" episode set entirely in the past, and that willingness to break form is one of the many things that sets This Is Us apart from other shows on air right now.
Whether the show is diving into the increasingly complicated relationship between Jack and Rebecca in the past, or exploring the adult Big Three's search for their place in the world in the present, This Is Us is committed to grounding the story in human stakes. This Is Us is a show about a family, and it is committed to finding its drama in Kate's struggle not to be defined by her weight, in Kevin's fears he's never going to achieve his dreams, and in Randall's exploration of his identity through his relationship with his birth father.
Connecting with the Big Three is easy because their problems, hopes, and fears are so refreshingly normal. Like Parenthood before it, This Is Us knows the purest drama can be found in the most down to earth stories. The whole moving between time frames is just a magical bonus that gives the world the gift of Ventimiglia and Moore as TV's best parents.
Here's to two more seasons of hanging out with the Pearson family and crying buckets by the end of each episode, because this show truly is the best.