Milo Ventimiglia Says Mandy Moore Is His Best Kiss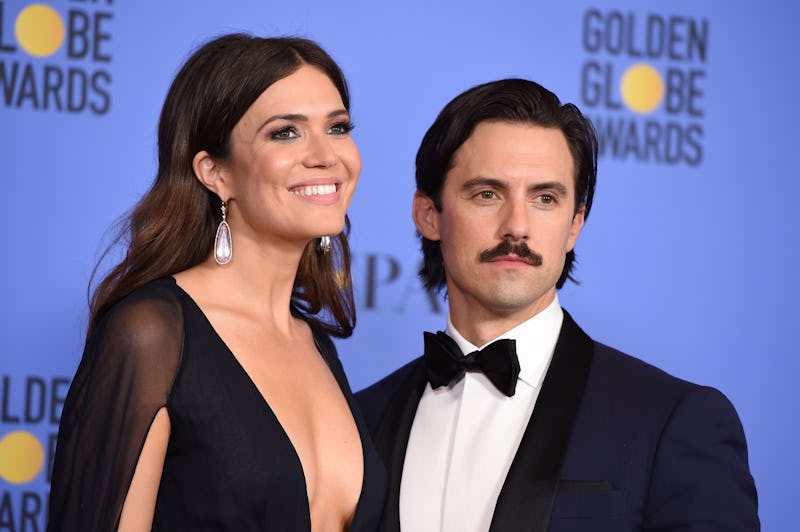 ROBYN BECK/AFP/Getty Images
Mandy Moore and Milo Ventimiglia have been melting hearts since This Is Us premiered. As central couple Rebecca and Jack, their relationship is complicated, passionate, endearing, and real. And off-screen, it's just as touching. Alas, they're not actually dating, but Moore and Ventimiglia maintain a close friendship. They've traded many a compliment since they first began filming, and the actress went as far as saying Ventimiglia was her best on-screen kiss. Turns out the feeling is mutual: In a recent interview with E! News, Ventimiglia said Moore is also his best on-screen kiss.
"I respect and I appreciate [what she said], and she is mine," he told the outlet during the Golden Globes red carpet on Sunday. "It's one of those things, like, your current girlfriend, you have to say 'She's the best.' She may have had some steamy ones in the past, but I thank you Mandy for saying I'm the best. Right back at you!"
Ventimiglia's comment is just one in a string of sweet things he's said about his TV wife over the last few months. He often praises her on Twitter, and has had nothing but kind things to say in the press. "Mandy is one of the kindest, most amazing performers and women I've met in my life," he told E! in October. "She is exactly as I'd heard. She is amazing."
Moore, of course, has frequently returned the favor. As she previously told E!:
You know, I would probably have to say Milo in this show…We're like seven episodes into shooting now and at this point it's just sort of like, 'Oh, we have to make out? OK.' He's just the loveliest and I feel so comfortable with him.
So wait, why aren't they together again? Oh, right. For starters, Moore is dating Taylor Goldsmith, the lead singer of L.A. rock band Dawes. But, even if Moore were on the market, Ventimiglia has made his feelings about dating co-stars clear. "Bad idea — don't sh*t where you eat," he told E!. He's speaking from experience: he previously dated Gilmore Girls co-star Alexis Bledel and Heroes co-star Hayden Panettiere.
To be fair, the whole This Is Us cast is incredibly supportive, but it's clear Moore and Ventimiglia have a special connection. For now, we'll have to live vicariously through their on-screen romance, but their adorable real world exchanges are a suitable stand in.