Mindy Kaling's Halloween Photo Included A Rare (& Adorable) Peek At Her Daughter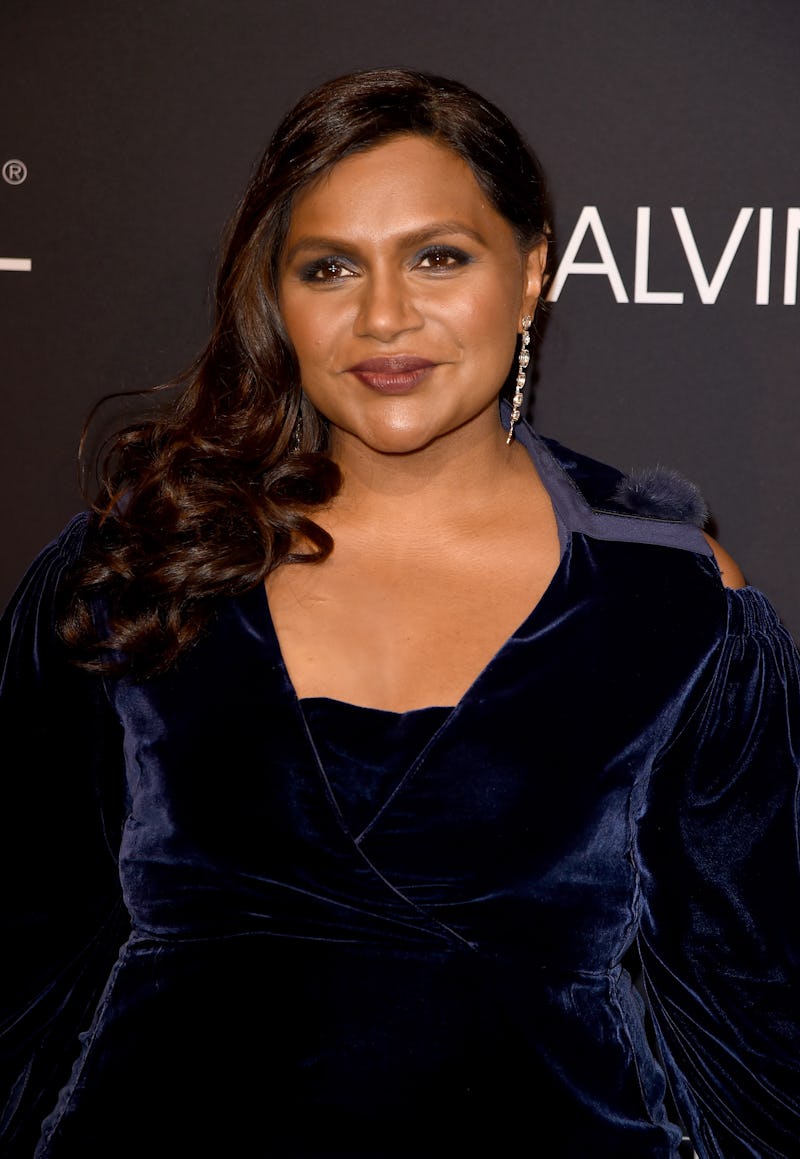 Kevin Winter/Getty Images Entertainment/Getty Images
One of the best parts of Halloween is seeing the costumes your favorite celebrities chose for the holiday — and it's even better if their adorable kids are dressed up too. And this year, Mindy Kaling showed off her Halloween costume and her daughter all in one fell swoop. On Wednesday, Kaling shared a photo of her and Katherine celebrating Halloween, and not only is the picture really, really cute, but it also gives fans a very rare glimpse of her little one.
In the photo, Kaling is dressed as a bottle of mustard as she holds Katherine's hands. Although her back is to the camera — so far, Kaling has never shown her face publicly — it's easy to see that she's dressed as a lion for her very first Halloween... and her costume looks super comfy. No word on what made Kaling decide that she wanted to dress as a bottle of mustard, though, but does it really matter? Both mom and daughter look totally adorable.
"Happy Halloween from this bottle of mustard and her little lion," Kaling wrote in her caption. Katherine even has a red bow on her tail, so it's probably safe to say that she is the lion from The Wizard of Oz, to be more specific.
Earlier this week, Kaling hinted at her plans for the holiday on Twitter. On Tuesday, she tweeted asking if afternoon was too early to go trick-or-treating with a baby — and honestly, when your kid is that young and in a costume that cute, would anyone be upset to see her at their door, even if it was a little earlier than most people start their trick-or-treating adventures?
Then, Kaling's friend (and fellow actor) Julianna Guill tweeted in response, revealing that Katherine's costume options this year were peacock or lion.
We all know what Katherine ended up choosing, but according to Kaling's other tweet, it sounds like it was pretty touch-and-go there for awhile. "She hated both lewks — too hot on her skin," Kaling wrote. "I wish there were more skimpy but spooky costumes!"
That's understandable, but in the end, the lion won out — and Katherine looked fab.
When the news broke that Kaling was expecting her first child last year, she was pretty private, and she's remained that way since Katherine was born last December. In honor of Christmas, she shared a photo of Wilma and Pebbles from The Flintstones on Instagram as a way of acknowledging the fact that her daughter was born without actually sharing a photo of her.
And aside from a photo of a very fancy stroller to mark Katherine's first walk — where it was impossible to actually see the baby — this Halloween photo is the first time that Kaling's daughter has actually made an appearance on Instagram, so this is a Big Deal.
It's great to see that Kaling has found a way to share her daughter's first Halloween with her followers without compromising Katherine's privacy. Even though we couldn't see her face, it's pretty clear that she made the perfect tiny lion.