Oops! Mindy Kaling's Co-Stars May Have Just Revealed The Sex Of Her Baby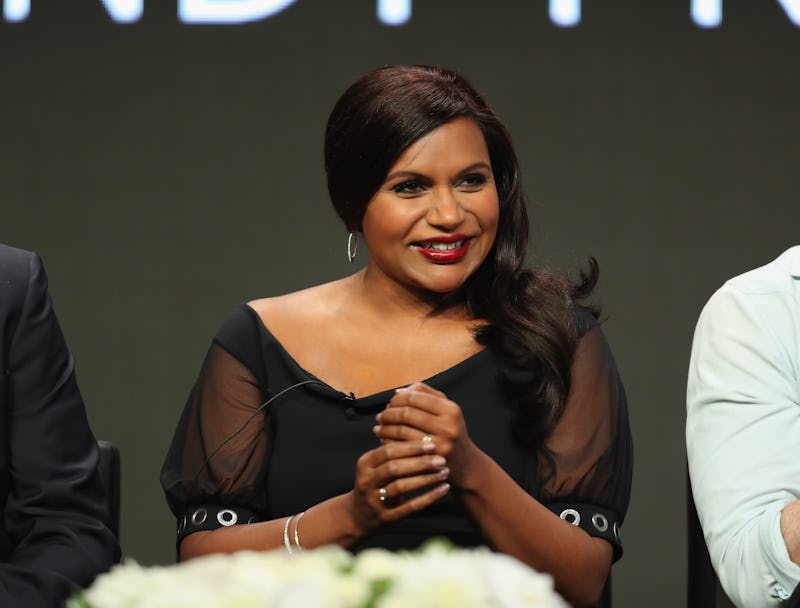 Joe Scarnici/Getty Images Entertainment/Getty Images
It looks like congratulations are in order for a certain TV writer-slash-actor. According to Us Weekly, Mindy Kaling is reportedly having a baby girl — and it was actually her Mindy Project co-stars that spilled the deets about the baby's sex. (Bustle reached out to Kaling's rep, but did not receive an immediate response.) At PaleyFest's Fall TV Preview on Friday, Sept. 8, Kaling's castmates reflected on how she shared the news of her pregnancy with them, along with an especially sweet story about the timing of her daughter's birth.
"I'm just thrilled out of my mind," Beth Grant told Us Weekly, "I cried like a baby and that it's a girl… I just think that she's up to it." For anyone not familiar, Grant plays the hilariously incompetent nurse Beverly Janoszewski on Mindy Project. "I'm very happy for her because I have a daughter that's turning 25 and it's just the greatest thing in the world," she continued.
It was first reported that Kaling is pregnant earlier this summer, though many details were unknown. At the time, E! News deemed it an "an unexpected surprise," but that production on the final season of Mindy Project would continue as planned. Then Kaling confirmed the baby news herself in August during an appearance on The Today Show with a joke that other mothers could probably relate to. She said,
"It's so easy to criticize parenting until you're a parent. So one of the nice things about becoming a parent is that I'll be able to openly criticize other parenting because I will have a child."
Besides that, Kaling hasn't said too much about her baby news. But at this rate, it looks like everyone's doing the talking for her.
At the PaleyFest event, Grant gushed on why she believes Kaling would be a great mom. "She's mentored a lot of young women and a lot of her former assistants are writing now," Grand explained to Us Weekly. "She's really good about giving young women opportunities and mentoring young women." Indeed, it does sound like Kaling's experience mentoring younger female co-workers highlights her nurturing personality.
Meanwhile, the actor who plays Dr. Jeremy Reed on Mindy Project, aka Ed Weeks, revealed how Kaling first shared the news of her pregnancy. "She kind of just took us aside on set," he told Us Weekly, "weirdly in the open office area where we film most of our scenes." Apparently she announced she was pregnant, but also confided in her co-stars that she'd yet to tell anybody. Isn't that cool that she'd share her exciting news with her castmates first?
Making the situation all the more full circle, Weeks added, "The show started as a tribute to her mother, who very sadly passed away just as the show [was] being picked up," which made it fitting that Kaling's pregnant with a daughter of her own during production of Mindy Project's final season — a connect Kaling herself pointed out to the cast. "When she reminded us all of that," Reed continued, "we all cried in the final table read. I mean Jesus, life! It makes some very interesting and beautiful patterns sometimes."
Judging by how they speak about Kaling pregnancy, it certainly sounds like she has the support of her co-stars. That's pretty awesome on its on own, but especially so considering the group is out promoting the last season of their show, and it's likely an emotional time for the whole cast. Speaking of which, the sixth and final season of The Mindy Project premiers on Hulu on Tuesday, Sept. 9, and fans won't want to miss it.