Target Is Opening Mini Disney Stores In Select Locations — Here's What You Can Get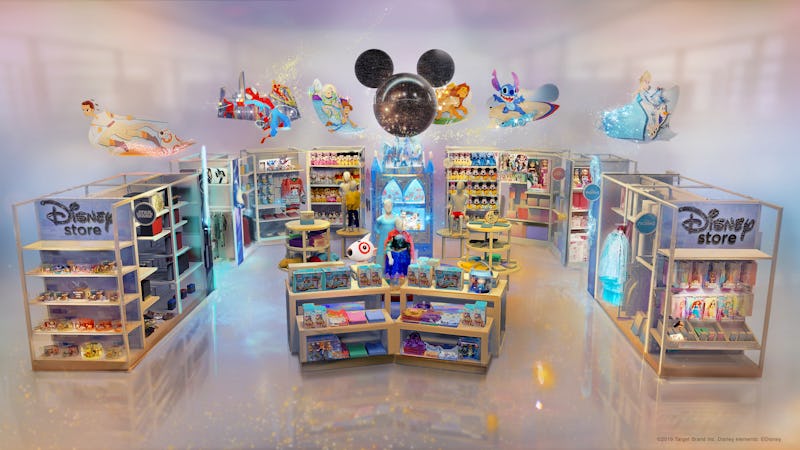 Courtesy of Target
Big news for anyone who loves both Target and Disney: Starting in October, mini Disney stores will be opening up inside Target stores in a handful of locations across the United States. But these Disney store-in-stores won't just carry the regular selection of Disney merch you can find at retailers all over the country; among the offerings will be tons of items that are typically only available at actual Disney stores — from kid-centric items like toys and plushies to more adult-friendly options like home décor.
I'm… sure I'm not the only person who just turned into the real-life version of the Futurama "SHUT UP AND TAKE MY MONEY" meme, right?
Chairman of Disney Parks, Experience, and Products Bob Chapek and Target CEO Brian Cornell announced the collaboration together during the Disney Parks, Experiences and Products presentation at the D23 Expo on Aug. 25. As of Oct. 4, shrunk-down versions of the Disney store will take up residence inside 25 Target locations scattered throughout the United States, with more planned for later on. These store-in-stores will have dedicated space directly inside the brick-and-mortar Targets they'll call home — and to be honest, said space looks like it's going to be pretty magical (though I'd expect nothing less from both Target and Disney). Here's a preview:
Merch from a wide number of Disney properties will be available, from Star Wars and Marvel to Disney Princesses and Pixar; you'll be able to find everything from toys and apparel to home goods and holiday-specific items, according to a press release. Around 450 products will hit shelves, all generally priced between $20 and $200 (Target also says that "many items" will fall in the $20-and-under category). Notably, the Target Disney stores will also include "more than 100 products" that have hitherto only been available at actual Disney stores and retail spots, per the Target/Disney FAQ — which is big news if you either don't live near a Disney store (the Disney store has a relatively small footprint when it comes to brick-and-mortar shops, all things considered; there are only about 215 locations in North America) or just don't want to pay for shopping costs at Disney's online store, shopDisney.
The in-Target Disney stores will all average about 750 square feet (or, y'know, larger than the average studio apartment in New York) and will be "strategically located inside Target stores adjacent to kids clothing and toys," according to Target's Disney store FAQ. But those 750-square-foot spaces won't just be full of shelves and racks of merchandise; the store-in-stores will also feature "interactive displays, photo opportunities, and a seating area where families can relax and watch Disney movie clips," per Target. Disney music will, of course, provide the soundtrack for the whole experience. Construction within the 25 Targets slated to receive Disney stores will begin mid-September, with the stores themselves opening on Oct. 4.
Actual footage of me right now:
Now, it's worth noting that 25 locations isn't a lot; there are currently 1,855 Target stores in the United States, so percentage-wise, only about 1.4% of U.S. Target stores will be getting a Disney store this year. But of course, this is just the initial roll-out; the overall plan is much bigger. As Chapek noted during the D23 presentation, 40 more Targets will receive Disney stores by October of 2020, making the total number of store-in-store Disney/Target combos 65, or about 3.5% of all U.S. Target locations. And who knows? If the Disney store-in-stores prove popular enough, we might see even more of them rolling out as time goes on.
But those of us who don't live near one of the Target locations set to get a Disney store over the next year won't miss out on the fun entirely; a "new digital experience" for the Target Disney store will also launch on Target's website on Oct. 4 (you can preview it here). In addition to serving as "a hub for the Disney stories and characters guests love, all in one place," as Target puts it in the Disney FAQ, the Disney store section of the Target website will also see an "expanded assortment of new items" arrive in October when the brick-and-mortar store-in-stores launch. Additionally, a store locator that tells you where the Targets with Disney stores are located, as well as "user-generated content [showcasing] guest love for Target and Disney products," will be a part of this "digital experience" as well.
The full list of Target locations which will have Disney stores located inside them can be found here; you can also use this store finder to see if a Target Disney store will be opening up near you. Oh, and if you're actually based in Orlando, a big ol' Target will be opening up right near the Walt Disney World Resort in 2021, too.
Looks like everything's coming up Disney!