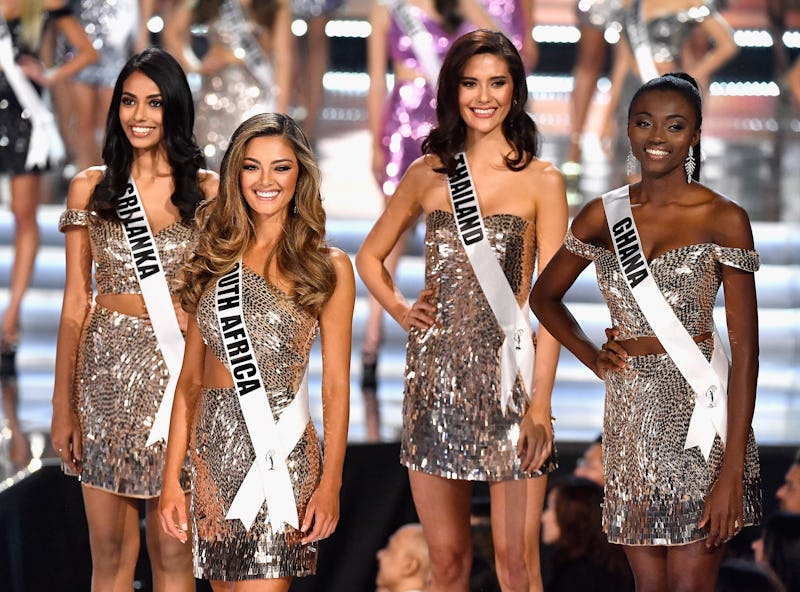 Frazer Harrison/Getty Images Entertainment/Getty Images
Another year, another chance for the Miss Universe crown to get passed down to a fresh, new face. It was a tough call for the judges (and the global public, who were able to vote for their favorites online and via phone this year), but ultimately, Miss South Africa Demi-Leigh Nel-Peters is Miss Universe 2017! Hooray! And congrats to her home country of South Africa for accepting the prize along with her.
When I say that this year's Miss Universe competition was a tough one, I mean it. The show used a different selection process this year. In order to narrow down the contestants, four women from each region of the world were selected, and then four wild cards — meaning women who could be from anywhere in the world — were selected. From this group, the final contestant pool was selected. The process actually made sense, and it is probably better for the viewing public to do it this way — the people at home could better see each contestant, perfect for choosing favorites and taking bets as to who would take home the Miss Universe 2017 crown. These women were narrowed down to the Top 16, the Top 10, the Top 5, and finally, the Top 3. And then, of course, the winner, Miss South Africa Demi-Leigh Nel-Peters.
As for the competition stages, it started with swimsuits, then evening gowns, and then two sets of question-and-answers. The questions, I thought, were especially poignant, focusing on everything from the most important global movement in today's world and sexual harassment to equal pay for women and identifying the qualities that would make each woman an amazing Miss Universe. Oh, and Fergie and Rachel Platt performed, too, as palate cleansers and breathing room for the contestants. After all of these stages and outfit changes and smiles, Nel-Peters was the one that took it all home.
And speaking of taking it home, let's learn a little bit more about our newest Miss Universe. According to her bio on the Miss Universe website, Nel-Peters "recently earned her degree in Business Management at North West University after making history at her high school for holding two leadership positions." She must be used to being busy! She says that her biggest motivation is "her half-sister who has a disability," and, in her spare time, Nel-Peters, thought a program she founded, helps women learn self-defense in order to protect themselves in dangerous situations. In one of her pre-taped interview segments, Nel-Peters spoke about a time where she was held up at gunpoint and how she was able to prevent being kidnapped by fighting back against her attacker, so this cause is clearly near and dear to her heart. The 22-year-old also speaks English and Afrikaans, and I hope she's ready to clear out her dance card for the year — she'll certainly have plenty to do as Miss Universe.
All in all, it was a pretty uneventful night for Miss Universe, which is good, considering that Steve Harvey is still allowed to host the show. For those of you who live under a rock or just have short memories, at the end of Miss Universe 2015, Harvey announced that Miss Colombia, Ariadna Gutiérrez, was the winner. This would not normally be a problem, but she actually wasn't — Miss Philippines, Pia Wurtzbach, was actually Miss Universe, and Harvey read the card wrong. Woops. Luckily, the error was corrected fairly quickly (Harvey told Us Weekly it was a very painful four minutes for him), but Harvey was crucified in the press. Hey, people — we all make mistakes! Luckily, Harvey was able to poke fun and read the correct name at the 2017 Miss Universe competition. Congratulations to Miss South Africa Demi-Leigh Nel-Peters on her big win!