Mississippi Women Are Officially Up Against The Strictest Abortion Law In The U.S.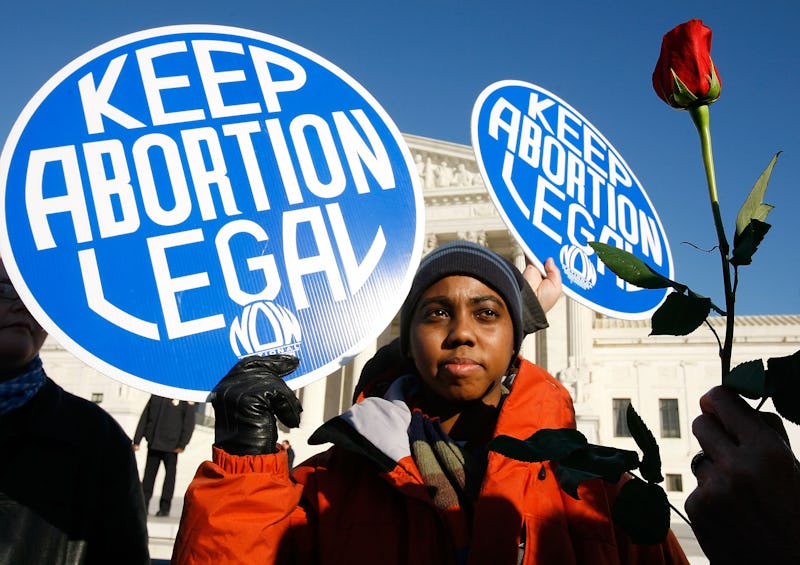 Alex Wong/Getty Images News/Getty Images
After weeks of much anticipation, Mississippi's governor signed a 15-week abortion ban into law Monday afternoon, effectively implementing the staunchest abortion restrictions in the United States. The law, also known as the Gestational Age Act, provides exceptions for medical emergencies and severe fetal abnormalities, but does not excuse cases of incest or rape.
"I was proud to sign House Bill 1510 this afternoon," tweeted Gov. Phil Bryant on Monday. "I am committed to making Mississippi the safest place in America for an unborn child, and this bill will help us achieve that goal."
NARAL National Communications Director Kaylie Hanson Long said in a statement that "there is no doubt that this unconstitutional abortion ban will harm Mississippi women and families." She continued:
The ban is clearly an attempt to effectively bring the state one step closer to outlawing abortion entirely. We know that when abortion access is restricted so severely, the number of abortions does not go down—the number of deaths and injuries to women goes up. Governor Bryant should be ashamed of himself.
The ban goes into effect immediately, and it's already slated to face legal challenges. As of right now, only one clinic in Mississippi offers abortion services. And that clinic's owner, Diane Derzis, has promised to sue, according to local NBC-affiliate WLBT.
Many abortion advocates believe that Mississippi's 15-week ban is part of a greater plan to ultimately outlaw abortions not only in the state, but across the United States. The idea, they believe, is to enact a ban that will be challenged and eventually wind its way through the legal system, all the way to the Supreme Court. There, it's feasible that a ruling could potentially revoke the right to abortion that Roe v. Wade guaranteed. Earlier in March, Derzis described Roe v. Wade as "clearly in danger."
"These groups are tossing anything and everything out there, anything that could start winding its way through the legal system because we're in a very fragile place right now," Derzis told the Clarion-Ledger of anti-abortion groups at the time. She added, "They hope by the time they get to the Supreme Court they will have changed the Supreme Court."
If a doctor in Mississippi performs an abortion on a patient who has been pregnant for longer than 15 weeks, they may face serious repercussions. Performing the procedure at that point will now require medical providers to submit a report justifying the abortion. If they are found to be breaking the new law, they could lose their medical license and be fined up to $500.
In a statement, the Center for Reproductive Rights says that it has already filed a challenge against the law. According to the group's complaint, 78 patients received abortions in Mississippi at or after 15 weeks in 2017. They go on to argue that the bill bans abortions before a fetus is viable outside of the womb and further allege that the law "discriminates against women," violating the 14th Amendment.
Surrounded by aides, Gov. Bryant predicted that the law would be challenged. "We'll probably be sued here in about a half hour, and that'll be fine with me," he said while signing the bill. The people around him laughed. "It is worth fighting over," he added.
If a challenge to the abortion ban were to make it to the Supreme Court, the ban's future — and the future of abortions in the United States — would be difficult to predict. Though Roe v. Wade protects a woman's right to have an abortion, the Supreme Court currently enjoys a conservative majority. And while at this point it is impossible to predict an outcome because each challenge would be different and the justices don't always vote along ideological lines, conservatives tend to vote against abortion access. This makes the future of abortion access in the United States appear all the more tenuous, though of course it's too soon to tell.