What You Need To Know About The Mississippi Senate Runoff Marked By Racial Incidents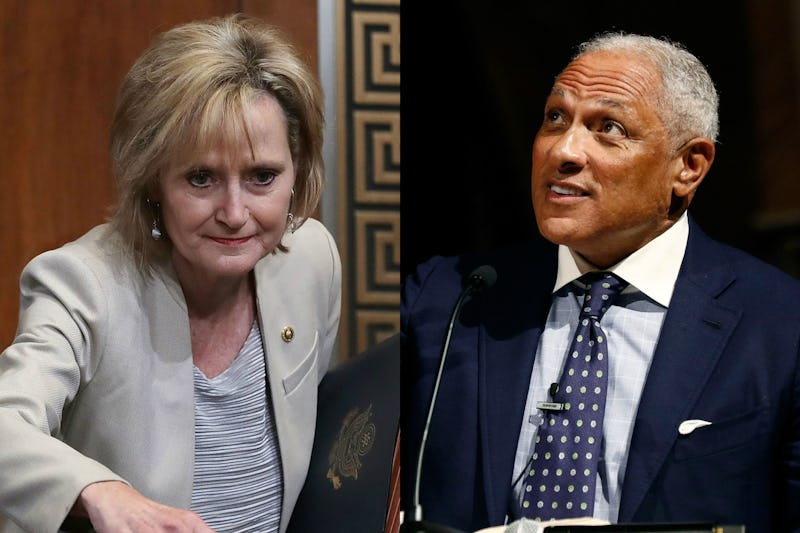 Chip Somodevilla/Getty Images News/Getty Images / Rogelio V Solis/AP/Shutterstock
While the rest of the nation has already moved on from the midterm election, Mississippi voters have an unresolved race on their hands. On Tuesday, Mississippi's U.S. Senate runoff election will determine whether Republican Sen. Cindy Hyde-Smith keeps her seat in Washington or is replaced by Democrat Mike Espy. The race is very much a tossup despite taking place in a red stronghold, largely because of a series of recent controversies for the Hyde-Smith campaign.
A runoff election was necessary because neither Senate candidate received 50 percent of the vote earlier this month, though Hyde-Smith came out ahead by one point, per The New York Times' data. The extra weeks on the campaign trail have led to an even more intense partisan battle, as President Donald Trump and other Republican leaders campaigned for Hyde-Smith and Democrats such as Sen. Kamala Harris (California) and former Vice President Joe Biden threw their support behind Espy.
The Republican senator, who was appointed to the position in March, was seen in a video that surfaced this month "joking" about going to a "public hanging" — which many interpreted to mean a lynching. When she addressed the video in a debate with Espy, she claimed the comment "was twisted" but added that she would "certainly apologize" to anyone who was offended, as CNN reports.
Multiple GOP donors wanted their money back after the video sparked outrage, but the negative publicity didn't stop there. Over the weekend, The Jackson Free Press reported that Hyde-Smith graduated high school from a segregation academy established in the 1970s to provide white students a way around the integration legally required of public schools. She later sent her daughter to a segregation academy as well, according to The Jackson Free Press.
The next day, CNN reported that Hyde-Smith co-sponsored a resolution in 2007 praising the state's last "real daughter" of the Confederacy while serving in the Mississippi state Senate. The measure aimed to honor then-92-year-old Effie Lucille Nicholson Pharr, whose father was a Confederate soldier in Robert E. Lee's army in the Civil War, according to CNN.
The public's reaction to the reports escalated the day before the runoff election, when several nooses and signs referring to Mississippi's history of lynchings were found at the State Capitol, as WLBT reports. It's unclear who was responsible, but the demonstration appeared to be a statement about Hyde-Smith's past actions and more recent comments.
Espy, who would be Mississippi's first black senator since Reconstruction according to The New York Times, served in the U.S. House from 1987-1993, going on to work as President Bill Clinton's agriculture secretary for a year. He said on Twitter this week that his campaign "has been about bridging divides and bringing people together."
Hyde-Smith was the state's commissioner of agriculture and commerce when she was appointed to take over for Sen. Thad Cochran, who resigned in April due to health concerns. Hyde-Smith is the first woman to ever represent Mississippi in Congress, but voters will decide on Tuesday whether she gets to keep the job.