Missy Elliott Is The First Female Rapper To Receive This Major Songwriting Nomination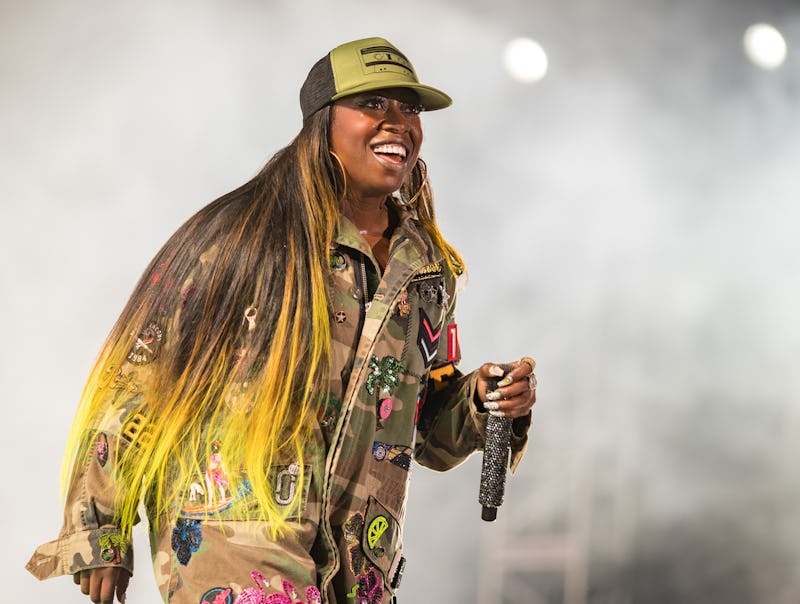 Christopher Polk/Getty Images Entertainment/Getty Images
This Wednesday, Nov. 7, Vulture and other media outlets reported Missy Elliott became the first female rapper to ever be nominated for the Songwriters Hall of Fame and the accolade is certainly well-deserved — and long overdue. The rapper, singer, songwriter, and producer, who released her debut album Supa Dupa Fly in 1997, has not only penned her own chart-topping hits throughout the years, but she's also responsible for the success of many other songs that she's either written or produced for acts such as: Whitney Houston, Aaliyah, Ciara, SWV, Beyoncé, Destiny's Child, Monica and more. Elliot was additionally credited as a writer and producer for 2002's Grammy Award-winning "Lady Marmalade" featuring, Christina Aguilera, Pink, Lil' Kim, and Mya.
Hit-after-hit, Elliott remained a stronghold in the largely male-dominated world of hip-hop during the later '90s and early '00s, while her music had a sound and feel that was uniquely all her own. However, her name has somehow managed to be continuously overlooked when it comes to recognizing her as one of the greatest talents in industry. For her work, the 47-year-old has earned four Grammy Awards and has sold over 30 million records throughout the country. In 2015, Billboard named her the best-selling female rapper in Nielsen Music history.
That said, her receiving recognition as a songwriter is a breath of fresh air for many reasons. Up until 2017's induction of JAY-Z, the Hall Of Fame had never even considered a rapper for the distinction. Should Elliot get inducted with the class of 2019, she'll become the third rapper and first woman to enter — just behind producer, rapper and songwriter, Jermaine Dupri, who was inducted into the organization in 2018.
Win or lose, the nomination is a great accomplishment for Elliott who took to Twitter to gush about the nomination, writing:
"I am Humbly Grateful to be nominated with so many other AMAZING writers Congratulations to all of them also"
In an 2016 interview with the Associated Press, Elliott, whose full-name is Melissa Elliott, discussed her thoughts on why her writing and production work being unrecognized by the public, explaining:
"A lot of people don't know a lot of records that I've written or produced, so that's a highlight for me as a woman. I always said if a man would have done half the records that I've done we would know about it. But we don't know all the records I've done for other artists."
An article from The Huffington Post notes that songwriters qualify for induction into the Hall of Fame 20 years after their first song is released commercially. It also shares that the organization's mission is to "honor those whose work represents a spectrum of the most beloved songs from the world's popular music songbook." And with songs such as "Work It," "Get Ur Freak On," "1, 2 Step," and "Lose Control" under her belt, there's no denying that Elliot meets the criteria.
In addition to Elliott, other Hall of Fame nominees include. Mariah Carey, Dallas Austin, Vince Gill, Cat Stevens, John Prine, Lloyd Price, the Eurythmics, Chrissie Hynde and Jimmy Cliff. The HOF's 50th annual ceremony takes place on June 13, 2019 with Vulture noting that only six nominees will be officially inducted. So, fans of Missy Elliot's will have to keep their fingers crossed.
More than 20 years into the game, and Missy Elliott's career appears to be far from over given her recent tease that she has new music coming in 2019. Should she score and induction to the HOF in the process, the year could certainly prove to one of her best yet.