Mitch McConnell Basically Just Said Congress Can't Really Do Much About School Shootings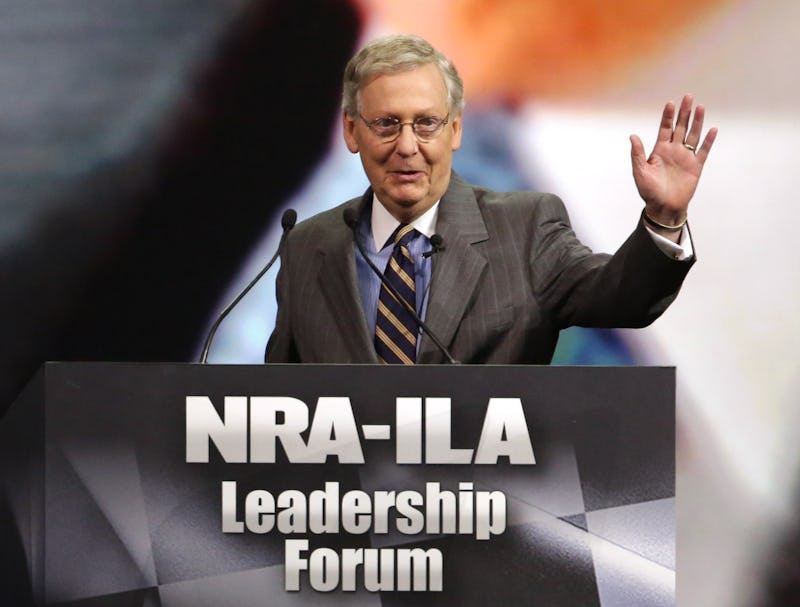 John Gress/Getty Images News/Getty Images
After a shooting at a Kansas elementary school left one dead, Sen. Majority Leader Mitch McConnell said Congress can't do much about gun violence in schools, and brushed aside the suggestion that federal gun control laws might be able to make schools safer for American kids. He added that it's a "darn shame' that so many children are killed by guns every year.
According to the Gun Violence Archive, 1,691 children and teenagers were shot by guns in the first six months of 2018. A study published in the Pediatrics journal in 2017 found that guns are the third-leading cause of death for American children.
"I don't think at the federal level there's much that we can do other than appropriate funds," McConnell said at an event in Danville, Kentucky on Tuesday while discussing school gun violence, according to the Lexington Herald-Leader. "You would think, given how much it takes to get on an American plane or given how much it takes to get into courthouses, that this might be something that we could achieve, but I don't think we could do that from Washington. I think it's basically a local decision."
Democrats have proposed countless bills at the federal level aimed at reducing gun violence, including legislation to fix loopholes in the national background check system, ban assault weapons, raise the minimum age to purchase a gun, ban bump stocks, and more. McConnell did not explain why any of those measures would be inadequate in stemming gun violence at schools.
Gun violence in America has received a surge of attention in 2018, in part due to a string of high-profile mass shootings. Two of the deadliest mass shootings in U.S. history — the Las Vegas shooting and the Sutherland Springs massacre — happened in 2017, and according to Business Insider, there were over 150 mass shootings in the United States in the first six months of 2018 alone.
The February shooting at Marjory Stoneman Douglas High School in Parkland, Florida, which left 17 people dead, proved to be especially mobilizing for supporters of stronger gun laws. A contingent of students who survived that shooting went on to become public faces for the gun control movement, and helped organize a national rally in February to demand that Congress pass new gun control laws.
Congressional Democrats have made several pushes for stronger gun laws in the last several years, none of which have been successful. After the Sandy Hook shooting in 2012, legislation to strengthen background checks was killed by a Republican filibuster. In 2016, House Democrats staged a sit-in at the nation's capitol for over 24 hours straight to demand that Republican leadership put two gun control bills up for a vote, but Republican lawmakers refused to do so.
As a result, Congress hasn't passed a single piece of major gun control legislation since 1994, when Bill Clinton signed the Violent Crime Control and Law Enforcement Act, according to the L.A. Times. That sweeping bill — which many on the left now accuse of supposedly exacerbating mass incarceration — included a ban on the possession, manufacture, use and importation of certain semi-automatic weapons. However, that ban was only provisional, with a built-in expiration date of 10 years. Since it lapsed in 2004, Congress has not renewed it.
McConnell is a longtime opponent of gun control. Business Insider reports that he's received over $1 million in donations from the National Rifle Association, which in turn has endorsed him regularly and given him a 93 percent ranking in its scoring of lawmakers' positions on gun rights.
"It's a darn shame that's where we are, but this epidemic is something that's got all of our attention," McConnell said at the Tuesday event.