11 Gun Violence Statistics That Will Devastate You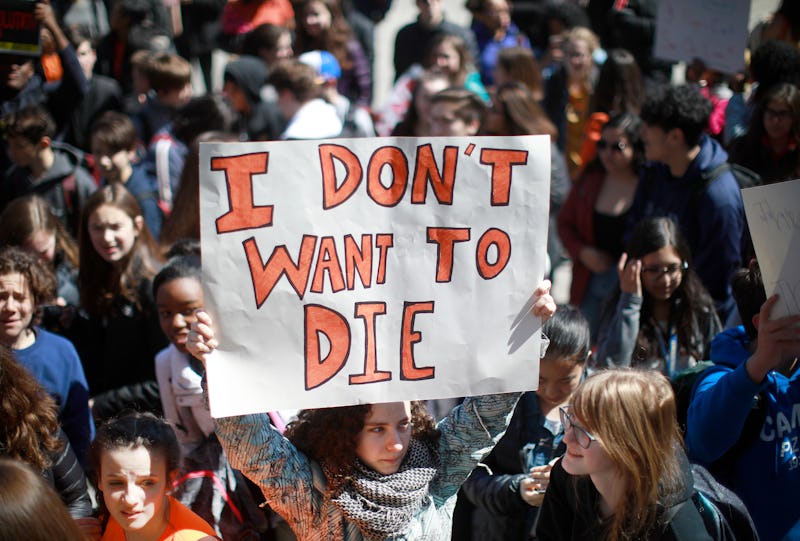 Jim Young/Getty Images News/Getty Images
America has a gun violence epidemic. There's an average of one mass shooting per day in the United States, and a child dies from an accidental gunshot every 48 hours. Those are just two of the many alarming gun violence statistics that are worth keeping in mind on Gun Violence Awareness Day.
Although gun violence in America is nothing new, the topic has gradually received more and more attention over the last several years due to a steady stream of high-profile public shootings: Aurora and Sandy Hook in 2012, Fort Hood in 2014 (which is separate from the 2009 Fort Hood shooting), Charleston in 2015, Orlando in 2016 and many, many others. Gun violence hasn't abated since then: Two of the five deadliest mass shootings in U.S. history — the Las Vegas massacre and the shooting in Sutherland Springs — happened in 2017, while 2018 saw over 100 mass shootings in the United States by mid-May alone.
School gun violence has been a key component of this debate, in large part due to the fatal school shootings in Parkland, Florida, and Santa Fe, Texas, in 2018. Still, despite many calls to action, Congress has passed no major gun control legislation since any of the aforementioned shootings.
In honor of National Gun Violence Day, let's take a look at some of the most stark, sobering statistics about gun violence in America.