Well, This Fashion Show Just Included Models With Three Boobs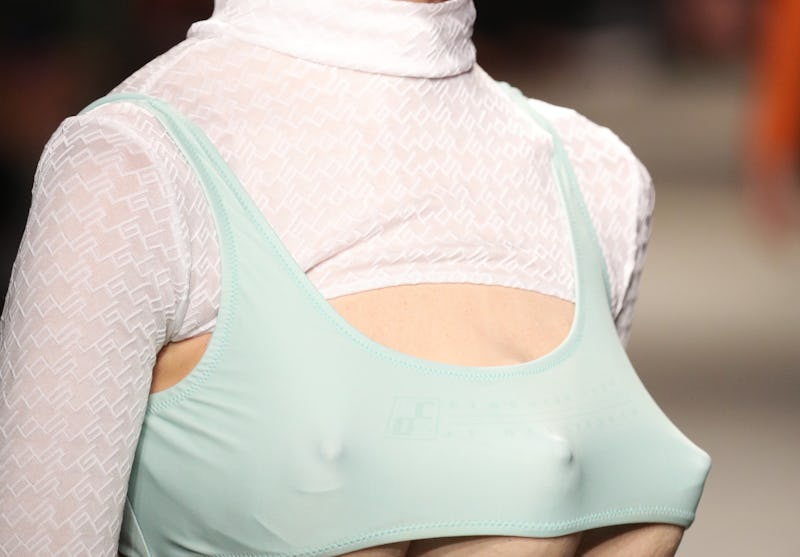 Andreas Rentz/Getty Images Entertainment/Getty Images
You can always rely on Fashion Week to be interesting, but some shows flex their creative muscles more than others. Case in point: Italian streetstyle brand GCDS sent three breasted models down the Milan runway, adding in extra curves to their designs. The initials of the label stand for "God Can't Destroy Streetwear," and they are known for their sleek and sporty designs. They stayed true to that aesthetic during Milan Fashion Week, decking out their models in bicycle shorts, sports bras, thigh high boots, and — most importantly — a third boob.
Specifically, two models made their way down the catwalk with an extra prosthetic boob nestled in between their real breasts, with three sets of nipples poking out from underneath the shirt. The extra cup was used for more than just shock value, though. The show was meant to have a dystopian, post-information-age feel to it, so the mutant boob fed into that aesthetic.
According to WWD, creative director Giuliano Calza wanted the theme to reflect a day when all the computers crash and society has to go back to the pre-technology days when screens didn't dominate. On top of that, Blade Runner-style videos played in the background, and Greek columns were wrapped in trash bags, really nailing the apocalypse-like vibe.
"We're a young group here — we're all under 30 — and I wanted to talk to people our age about the future and get them thinking about plastics, water shortage and the environment. Full sustainability is impossible, and I wanted this show to be a wake-up call," Calza told WWD.
But that didn't mean that the collection was all army cameo or ripped shirts. It was neon, playful, and full of punchy, bright colors and cartoon detailing. Which is what made the third boob detail so playful and fitting.
The first model walked down the runway in biker shorts and a cut-out turtleneck top that was layered by a barely-there sports bra that flashed plenty of under boob. The bra had a buckle detail underneath for extra flair, and all of this was tied together with lace up thigh high boots that came in pastel pink and mint.
The second model had a similar outfit, where her look featured a charcoal cut-out turtleneck that was layered with a neon orange Lycra bra, with three different boobs poking out. She paired the sporty look with large hoop earrings and over sized tortoise shell sunglasses, making for an edgy look.
This isn't the first time that prosthetics made their way down a Fashion Week runway. Earlier this year, models carried their own severed heads in Gucci's Milan Fashion Week show, making for a surreal and Dada-like performance. It was chic and macabre all at once.
Around the same time male models at the Xander Zhou show rocked fake pregnant bellies, showing that the brand is "prepared to welcome a future of male pregnancy."
Whether it's a third nipple or a dismembered head, prosthetics definitely help make a statement on the runway. And if you ever wondered what your bra would look like with an extra boob, you now have the answer.