These Unlikely Characters Were Originally Going To Be A Couple On 'Friends'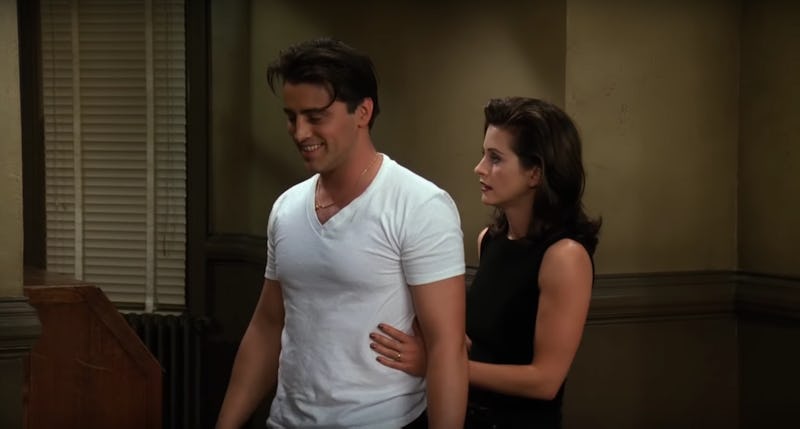 Screenshot from NBC
Kelsey Miller's new oral history of Friends, titled I'll Be There for You: The One About Friends, contains a lot of behind-the-scenes secrets from the popular sitcom, but one sticks out, mainly because of just how wrong it feels. According to the book, the Friends creators wanted to pair off Monica and Joey as a couple, and that feels... weird.
On Sep. 22, 1994, Friends debuted to the world. A sitcom about six twenty-somethings — a chef, a paleontologist, a socialite, an actor, a masseuse, and a statistical analyst — trying to make it in New York City. The show was a cultural phenomenon, with up to 24.7 million viewers tuning every week to watch Monica, Ross, Rachel, Joey, Chandler, and Phoebe's ups and downs. The main cast eventually banked $1 million per episode in the show's two final seasons.
For Friends fans, some things are sacred. Although I will admit that I really loved Joey and Rachel as a couple — unpopular opinion, I know — and that I believe Ross deserved to end up alone, I cannot believe that the Friends creators wanted to make Joey and Monica happen.
Discussing the character shifts that occurred over the course of the series — including Rachel's turn from bumbling, spoiled waitress to smart, independent businesswoman — I'll Be There for You covers Joey's major character change: from the pilot's lotharo to the brotherly protector of later episodes. "He was still a womanizer, without a doubt," Miller notes. "But from then on, when it came to his female counterparts, he became more of the 'brother type' on screen as well as off."
Joey's pivot to being a good friend toward Rachel, Monica, and Phoebe didn't just make him more likable, however. As Miller observes, "That character shift eliminated another element of Friends, which [Marta] Kauffman and [David] Crane had initially planned to include: a Joey-Monica love story. While developing the show, the creators saw them as a natural pairing, simply because 'they just seemed like the most sexual of the characters,' explained Kauffman."
I'll Be There For You: The One About Friends by Kelsey Miller, $27, Amazon or Indiebound
And before you say that Monica wasn't sexual, let me remind you of the time she tried to seduce Chandler in the kitchen at Thanksgiving, and the time she managed to convince him to have sex with her — while she was sick! — by rubbing Vicks on her chest. The woman was a succubus in the best possible way.
Recalling Cheers' central romance — between the romantic Diane and the womanizing Sam — Miller says that Friends turned the will-they-or-won't-they narrative on its ear. "There was no conflict between Ross and Rachel," she writes, "and no mystery. In the very first episode, he asks if he might ask her out sometime, and she says yes. There is zero question of 'if,' only 'when.'" The idea of an intra-ensemble romance between Monica and Joey "had long since gone out the window," Miller says, "with the discovery of Ross and Rachel" as the series' primary romantic pair.
Although Miller doesn't spend much time talking about the potential Joey-Monica romance, she does leave out one important homage to Kauffman and Crane's initial romantic plan for the cast. In the sixth episode of season three, "The One with the Flashback," viewers learned that several of the friends had nearly slept with one another before the show began. The episode's flashbacks include a scene in which Monica finds Joey attractive and invites him into her apartment for a glass of lemonade. While Monica prepares their drinks, Joey strips behind her and assumes a Captain Morgan-esque stance. The sight of Joey naked shocks Monica, who blurts, "OK, here's your PENIS," upon turning around.
Kelsey Miller's I'll Be There for You: The One About Friends is available today from your favorite bookseller.