'RHOP's Monique Samuels Welcomed A Baby Boy, Officially Making Her A Mother Of 3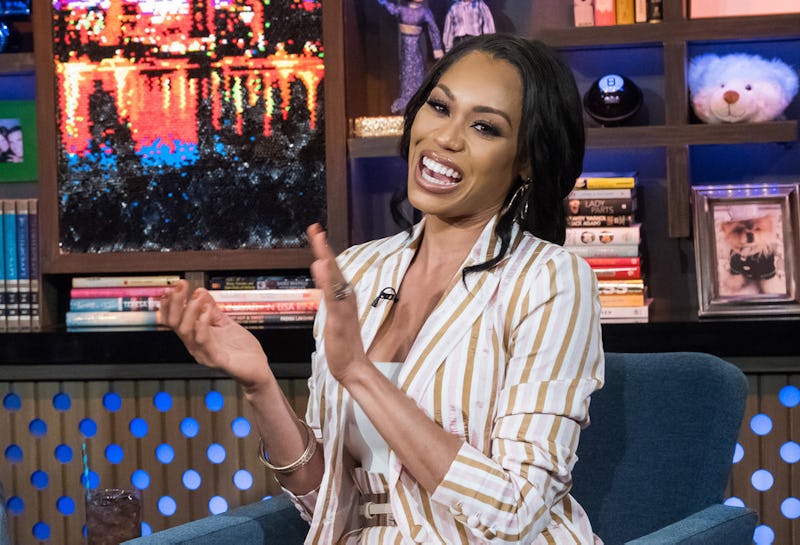 Charles Sykes/Bravo
Real Housewives of Potomac cast member Monique Samuels announced the birth of her third child in an interview with People published on Monday night. Monique revealed to the magazine, "Chase Omari Samuels was born Nov. 26, 2018 at 4:56pm." She also emphasized that he is "absolutely perfect."
Monique and her husband Chris Samuels were already parents to son 5-year-old son Christopher and 3-year-old daughter Milani. Monique did not say anything else during that People interview, however, she did repost the photos from the article in an Instagram post.
The Potomac Housewife admitted in the caption that she did not know her baby's sex before she went into labor. Monique shared, "It's... A... BOY!!!! Told yall! I'm 3 for 3 with guessing genders now." She also revealed that baby Chase arrived a little sooner than expected. In that same Instagram post, Monique wrote, "Chase Omari Samuels born 1 week early (today)."
Before Chase's arrival, Monique gave fans a glimpse at her time in the hospital by posting pictures and videos to her Instagram Story. The Real Housewives of Potomac star shared with her followers, "Almost time to push!!!!"
She also managed to run an Instagram poll and weigh in on the results while she was in the middle of labor. She asked her followers to guess if she was having a girl or a boy. It was nearly a tie, but "girl" edged out "boy" with some more votes. Obviously, the fandom's intuition was a little bit off with that guess.
Monique followed up her poll by hyping up her baby's sex reveal.
Ultimately, Monique shared her baby with her Instagram followers, which even included his first hashtag #ChaseOmariSamuels.
In her Instagram post announcing Chase's birth, Monique wrote,
"Thank God for a safe and fast delivery and one healthy baby boy!!!! Thank you all for the well wishes and prayers"
She really did get a lot of well wishes, especially from her fellow Housewives. Her Real Housewives of Potomac costar Candiace Dillard just used some blue emojis in honor of Monique and Chris' baby boy.
Season 1 Real Housewives of Potomac cast member Katie Rost congratulated Monique on the new addition to her family.
Real Housewives of Atlanta cast member Eva Marcille, who gave birth to her own baby boy in April, commented as well.
Meanwhile, RHOA star Cynthia Bailey commented on Monique's birth announcement and included some party horn emojis.
Atlanta Housewife Kandi Burruss congratulated the Samuels family on Chase's birth. The RHOA star has been very vocal about her desire to expand her own family. If she has another baby, Monique and Kandi can coordinate play dates for their kids.
Real Housewives of Dallas cast member D'Andra Simmons chimed in on the congratulatory comments.
Dallas Housewife Cary Deuber welcomed baby Chase with not one, but two, sweet Instagram comments.
Monique was very open about the birth of her third child, but the fans still have one question: Was this filmed for Real Housewives of Potomac Season 4? Fingers crossed.