Amy Sherman-Palladino Says That More Episodes Of The 'Gilmore Girls' Revival Season Could Happen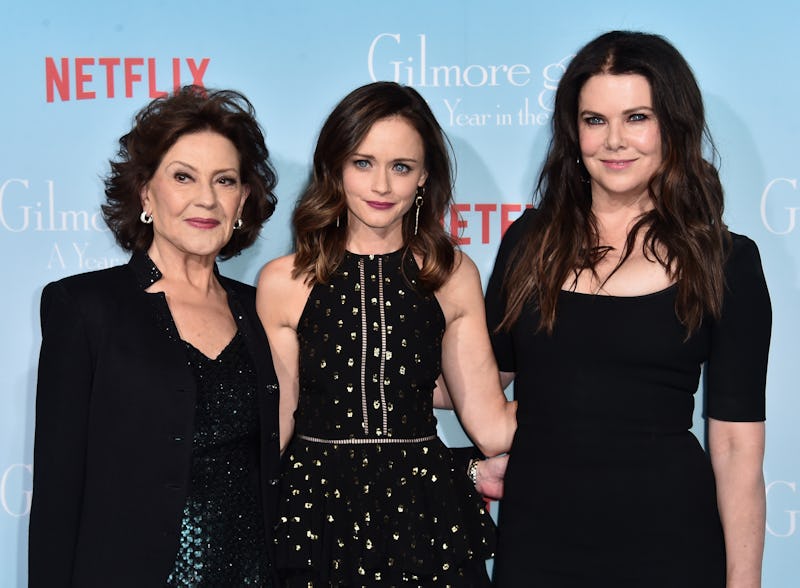 Alberto E. Rodriguez/Getty Images Entertainment/Getty Images
The la la las you hear aren't all in your head. Amy Sherman-Palladino, the iconic creator of Gilmore Girls, said in an interview with Radio Times that another Gilmore Girls revival season is completely possible. Before you run out the door like Lorelai during the first snowfall of the year, know that it isn't definite. But Sherman-Palladino has started to drop hints about the follow-up to Netflix's Glmore Girls revival season from 2016, and it's hard not to absolutely freak out about it.
As any good fan knows, the entirety of Gilmore Girls' original run plus the Year in the Life special are available exclusively on Netflix. Right now, Sherman-Palladino has a contract to produce content with Amazon. Her next series, The Marvelous Mrs. Maisel, will premiere online on Nov. 29. Somehow, though, there's a chance that very big baby daddy cliffhanger from the Netflix special could very well be resolved. In an interview with Radio Times, Sherman-Palladino assured audiences that "We carved out a little niche for ourselves with Amazon," where the media giant said that "If we ever want to do it, if the girls and us get together and we have a concept that works, then we have the freedom to do it."
Okay, now you can freak out about it.
While that may sound like Gilmore Girls is headed to Amazon, there's more to it in Sherman-Palladino's overall deal. According to TVLine, her and husband Daniel Palladino's Amazon contact includes a clause that allows them to make more seasons of Gilmore Girls: A Year in the Life. So it sounds like the revival series could stay at Netflix, which has expressed interest in more episodes. "We hope [it happens]," Chief Content Officer Ted Sarandos said last March, according to TVLine. "We obviously loved the success of the show [and] fans loved how well it was done; it delivered what they hoped."
After all, why would she go to the trouble of having that clause if she didn't at least have an idea for it, right? And if the stars weren't on board to continue the Gilmoreverse's story? It would be an awful lot of work - and more than a tad presumptuous - to prepare for the possibility just in case.
While the stars seem busy living their non-Stars Hollow lives, they do keep one Stars Hollow tradition extremely alive: Staying in touch. They first met nearly two decades ago, but Sherman-Palladino said she speaks with series stars Lauren Graham, Alexis Bledel, and Kelly Bishop all the time. According to the Radio Times interview, Graham, Bishop, and Sherman-Palladino even went out for lunch recently, which is crazy to imagine, since Emily and Lorelai Gilmore feel impossibly real all these years later. As a result, the crew loved being back together to shoot Gilmore Girls: A Year in the Life. "In coming back together, and knowing also that it wasn't going on for like, ten years, we had a different kind of work structure," Sherman-Palladino told the publication. "We could actually hang out on set and talk."
Producing four feature-length episodes for a streaming service was a unique experience for the crew, as they'd previously worked in the fast-paced universe of popular teen network dramas. This turned out to be a good thing. As the creator commented, "We enjoyed the experience very much, and it had a whole different feel than the [original] series did." Perhaps these positive vibes are why she wouldn't say no to a second Gilmore Girls revival series. It sounds like one is just short of in the works, really.
What would it take to get another Winter, Spring, Summer, and Fall out of Gilmore Girls? Per Sheman-Palladino, "It would just have to be the right circumstances," understandably, "And that we're all sort of in the same drunken mood together to go repaint Stars Hollow again." Wait, really? "We had to repaint Stars Hollow," she explained to Radio Times, "And we'll have to repaint it again. But it's definitely possible." Quick, somebody get these people a can of paint! What's Kirk doing? He's probably free to repaint it, for the right price.
So, again, while nothing is in the works yet, future Gilmore Girls revival seasons are totally possible. They'd be on Netflix, so you won't have to change your subscription.