Attention, 'Gilmore Girls' Fans: Colin & Finn Just Settled The Rory's Baby Debate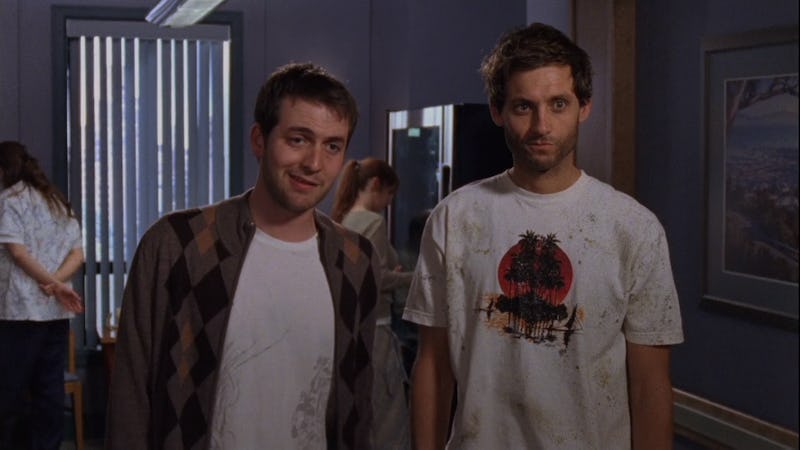 Warner Bros. Entertainment
Even though Tanc Sade and Alan Loayza didn't appear on Gilmore Girls until the fifth season, that certainly didn't make their time on the show any less memorable. That's likely why Sade and Loayza — who played Finn and Colin on Gilmore Girls, respectively — made appearances at Gilmore Girls Fan Fest in Connecticut over the weekend of Oct. 20. The pair participated in a panel about the Life & Death Brigade, where they hilariously weighed in on very important topics, like who the father of Rory's baby may be and which of Rory's boyfriends is the best.
Just to refresh your memory, Finn and Colin were two of Rory's classmates at Yale. Aside from being two of Logan's (Matt Czuchry) best friends, both characters were members of the Life & Death Brigade, a mysterious group that Rory becomes fascinated with during her time on campus. Being able to gain little information about the group for an article in the school paper is originally what piques Rory's interest in the Life & Death Brigade, but after partaking in a few bizarre activities, like jumping off a building wearing formal wear and attending a private 1930s-themed party in the woods, she becomes a member herself, sparking friendships and changing the course of the show.
Sade and Loayza's Gilmore Girls Fan Fest panel, which took place on Saturday morning, was moderated by Bustle's TV Editor Martha Sorren, and thankfully, using words that didn't include the letter "e" wasn't a requirement. Obviously Rory's baby news, which was revealed at the very end of last year's Gilmore Girls: A Year in the Life, is still fresh on peoples' minds almost a year later, so it came up in the conversation. And though it was a pretty big relief for fans to finally hear the show's final four words that were heavily teased by Amy Sherman-Palladino, the only question that the revival left unanswered was who the father of Rory's baby might be.
When these actors were asked to give their thoughts about the father's identity, Sade jokingly pointed at himself, giving more life to the humorous theory he tweeted about after the show aired last year. The panel's audience erupted in cheers and laughs.
But soon after, his on-screen sidekick offered up a more logical theory and explained why he thinks Logan is most likely the father.
"It's gotta be Logan," Loayza said. "And that's purely from a selfish standpoint, because we would be the uncles. So if they bring it back, we would be doing crazy uncle stuff and probably putting the baby in some Life & Death Brigade adventures... A little mini umbrella for the baby." Even Sade joined in on joking about the baby and the brigade.
Watching Finn and Colin play uncle to Rory's baby would definitely be hilarious, but that's not to say that Loayza wasn't unsure at some point, even thinking there was a slight chance Jess (Milo Ventimiglia) could be the father. He explained,
"That was the one thing that I thought like, if [Amy Sherman-Palladino] was going to throw a curveball, maybe with that look when [Jess] looks at [Rory] at the end. Did a moment happen after the newspaper scene between them that we never saw? We don't know."
Loayza also clarified that he and Sade do not know for sure who the baby's father is — they're purely speculating like the rest of us. However, they do know which of her boyfriends they liked the most. Because he spent time working alongside Jared Padalecki (aka Dean) and Ventimiglia for projects outside of Gilmore Girls, Loayza was slightly conflicted. "But," he made clear, "in the world, I think I am Team Logan."
So if there's anything to take away from this panel discussion, it's that, essentially, all signs point to Logan. And yes, Colin and Finn have his back off-screen, too.