More Than 160,000 Businesses Use Gender-Neutral Bathrooms Today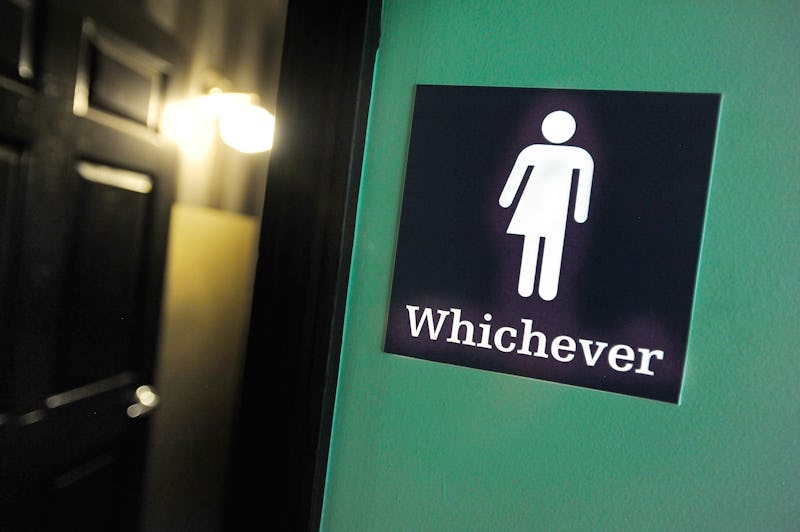 Sara D. Davis/Getty Images News/Getty Images
As the debate on bathroom bills rages on, a reported growing number of businesses are installing gender-neutral bathrooms in their establishments. According to recent analysis of data from Yelp, more than 160,000 businesses have gender-neutral bathrooms today.
UPDATE: A Yelp representative clarifies that the 160,000 figure only accounts for those businesses confirmed to have gender-neutral bathrooms since the app rolled out its update back in March. The company expects the number to increase as more data is gathered.
The new data was released by the company's senior PR manager Rachel Youngblade on the site's official blog on Friday, giving some insight into just how many businesses are doing away with the concept of gendered bathrooms altogether. As it stands now, the more 160,000 American businesses have gender-neutral bathrooms for their patrons include restaurants, beauty services, and health-related facilities accounting for slightly more than half of them.
Yelp's app rolled out the ability to filter for restaurants with gender-neutral bathrooms earlier this year, so the feature is relatively new. To be clear, by the app's definition, the gender-neutral label refers only to single-stall bathrooms that can be locked, ensuring the person inside complete privacy for the duration.
According to the Yelp data, restaurants account for 24.3 percent of the businesses with gender-neutral bathrooms, with beauty services and health-related facilities following up at 14.8 percent and 13.9 percent respectively. The other most common businesses to have gender-neutral bathrooms for its customers are as follows:
Food, at 27.2 percent.
Auto, at 6.8 percent.
Shopping, at 6.6 percent.
Active, at 6 percent.
Coffeee, at 5.1 percent.
Nightlife, at 5 percent.
Hair, at 4.8 percent.
Public bathrooms in the United States have become hotly contested spaces in recent years, politicized and fought over in state legislatures. The issue centers on bathroom legislation that mandates people use public bathrooms that correspond with their genders. Critics say such laws discriminate against transgender people, and in public schools, where these legislation most typically applies, advocates say it unfairly singles out transgender children and teenagers as targets for bullying.
Since the bathrooms Yelp highlights are single-occupancy, it could prove especially helpful for transgender people, who, contrary to the proponents of bathroom laws, are actually the ones most at risk of being violently assaulted in public bathrooms.
The data has a fairly limited scope, so the information about the proportion and distribution of gender-neutral bathrooms isn't complete. But for transgender Americans — who are among the most disenfranchised groups in the country — it's an indication that there are more and more places where they won't need to pause or spend a second thought worrying about which door to walk through, or what the laws are where they're at.