Your Favorite Childhood Tee Just Became High Fashion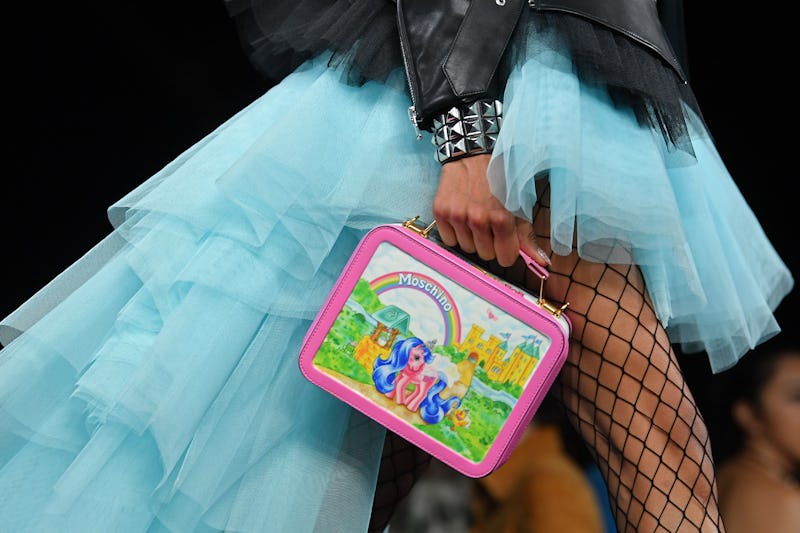 MARCO BERTORELLO/AFP/Getty Images
In case you missed the exciting news, "My Little Pony: The Movie" is coming soon. That means tons of merch and products to go along with it, but this time is the most high fashion yet. Moschino created a My Little Pony-inspired collection, which the brand debuted at Milan Fashion Week. I'm talking all the fashionable merch you could possibly want, but could never afford. Thankfully, you can look just as trendy for way, way less.
Moschino has always been known for their quirky collabs. Just look at their Teddy Bear Collection with Sephora or their Super Mario Bros. inspired clothing. This time they're taking one of your favorite childhood shows and turning it into a fashion statement — unofficially.
Their SS18 Capsule Collection features everything t-shirts and sleepwear to lunch boxes and backpacks with colorful ponies and rainbows splattered onto it. But it's worth noting that the words "My Little Pony" are not on any of the items, nor on the name of the online collection. The brand, however, did post the hashtag #MoschinoxMyLittlePony on Instagram.
Either way, the entire 31-piece collection is up on the brand's website right now. The items range from $250 for a tee to almost $2,000 for a purse with the multi-colored animals on it.
No, it's not just you. This collection is pricey AF.
The Moschino designs walked down the runway look as high fashion as the '90s collection has in some time. The outfits were styled to their maximum edginess, with fishnets spikes and punk rock tutus. Bella Hadid even sported one of the looks from the collection, which she deemed her "My Little Pony dream."
Clothing isn't the only thing that the brand thought up, either. There are backpacks and even iPhone cases designed after the classic '90s throwbacks. Of course, it will cost you. The quirky cases will set you back $75, but are the cheapest of the entire collection.
My personal favorite is the track jacket/mini skirt combo that comes in light pink and baby blue. Of course, it will cost you $1,790 for the two pieces though — $495 for the skirt and a cool $1,295 for the jacket. Unfortunately, that means that the high fashion pair will never grace my Instagram feed.
Before you get too discouraged, you should know that there are plenty of other places to stock up on quirky items. These pieces might not have the high fashion name splattered on them, but they're just as trendy. Plus you can buy more than one and still pay your rent for the month.
1. Tie-Dyed Tee
My Little Pony Graphic Tee, $18, Forever 21
This tee gives off the same high-end feel, but for way less.
2. '80s Inspired
My Little Pony T-Shirt, $19, RedBubble
This one is perfect for those of you looking to ditch the logo.
3. Sleep Shirt
Blue My Little Pony Nightdress, $30, Yours Clothing
If pony-covered, oversized sleep shirts are wrong, then I don't want to be right.
4. Magical Phone Case
Celestia My Little Pony Iphone 6S Phone Case, $35, Etsy
This one is just as magical as Moschino's, but $40 cheaper.
5. Edgy Graphic Tee
Enjoi X My Little Pony Black Long Sleeve T-Shirt, $28, Zumiez
This unisex tee combines style and the throwback cartoon in the best way possible.
6. Pajama Set
My Little Pony Long Sleeve Tee & Short Pajama Set, $35, ASOS
This might be for sleeping, but you could easily wear it out of the house, too.
7. A-Line Dress
My Little Pony A-Line Dress, $46, RedBubble
This style is giving off major Moschino vibes. Plus the pastel color scheme screams '80s.
Believe it or not, you can have all seven of these items for less than a Moschino My Little Pony tee. Just saying.