Most People Had Bad Sex In The Beginning Of Their Relationship — And That's OK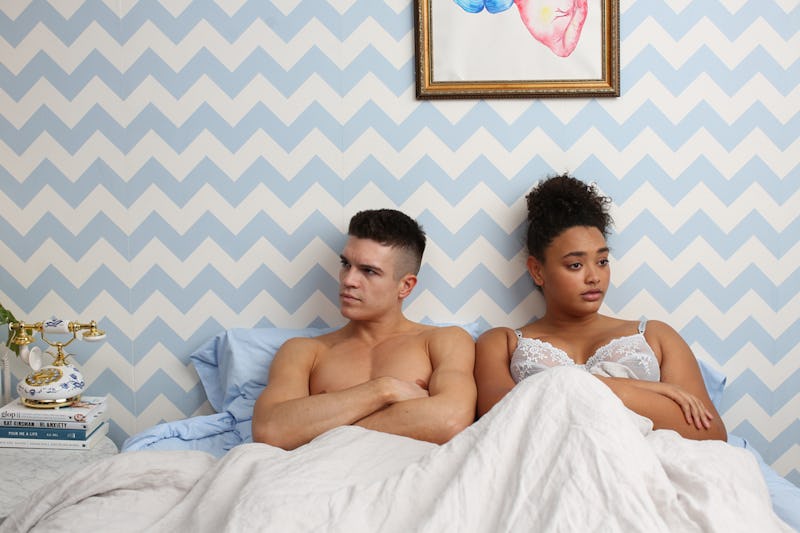 Ashley Batz/Bustle
If you have a real connection, you probably like to imagine that your first time having sex with someone new will be ~electric~. You hope that the chemistry you feel will immediately be apparent in the bedroom, that it will all feel effortless. But sometimes, even though you are really attracted to each other and hit it off, the sex can be a little awkward... or downright terrible. I've totally been there. And, according to a survey of 2,000 people Pure Romance, an adult toy retailer, so have most people.
The survey, conducted by OnePoll, found that a whooping six in 10 Americans have started off a relationship with bad sex. So, that means most of us have gone on to date someone, in spite of a total lack of fireworks at the start. But if you feel like you don't perform at your best the first time, don't worry — only three out of 10 people said they would break things off if the sex wasn't good on the first attempt.
Honestly, I'm surprised anyone would break things off just for sex not being good the first time. I thought it was pretty well known that the first time can be bad — or even terrible — but that it's not really representative of how the sex will be in the future. It's important to give it some time and try new things, which the study found helped, too. Six out of 10 Americans felt like experimenting helped them gain confidence and 71 percent said they've seen big improvements in their sexual performance.
"The only way for sex to continue to get better is for your communication to continue to get better," Patty Brisben, Pure Romance Founder, tells Bustle. "You don't have to be a traffic cop, the 'stop' and 'go' does not make for a sexy and enjoyable dialogue in the heat of the moment. Bring up how much you enjoyed something your partner did afterward and continue the conversation from there."
Naturally, what makes up "good sex" or "bad sex" is relative — and different people have different levels of tolerance for putting a lack of chemistry. Here's what else the survey found.