MoviePass Just Launched "Surge Pricing" — Here Are The Movies It Will Affect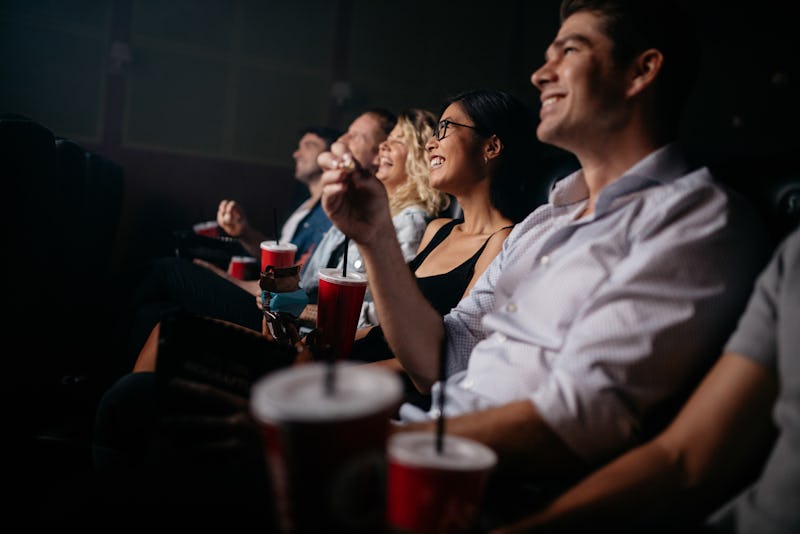 Jacob Lund/Fotolia
If you've ever tried to get a ride from a car service, only to find out that it's going to cost you eleventy-million dollars to go 10 blocks due to surge pricing, then the news that MoviePass has announced surge pricing for popular movies and peak viewing times is probably not going to be your jam. However, the good news is that the MoviePass surge pricing isn't going to cost you a week's pay, and it actually does have some benefits.
Here's how it works. Cinephiles who like to use the movie-theater subscription app to get tickets in advance might end up paying $2 or more for in-demand films or during peak times like opening weekend. "At certain times for certain films — on opening weekend — there could be an additional charge for films," MoviePass CEO Mitch Lowe told Business Insider.
With competition from AMC's new movie-subscription package, AMC Stubs A-List, the new MoviePass surge pricing aims to motivate movie-goers to head to see their favorite films during off-peak times, like during the week and after opening weekend, according to Business Insider. Basically, having to pay $2 more means some subscribers could end up shuffling their movie-going schedule around to avoid the additional fees.
But, if you're committed to seeing a movie on opening weekend, $2 is less than the price of a cup of coffee, so it might be worth forking it over to see what you want when you want. On the flip side, if everyone and their grandmother also wants to see that film ASAP, it could cost you more than $2.
Before you delete your app, the news isn't all bad. Another new MoviePass feature, bring-a-friend, allows you to score a ticket and choose a seat for a friend who isn't a member. What's more, starting in August, MoviePass subscribers will have the additional option of paying a fee to see movies in IMAX or Real 3D. The new perks are proof that MoviePass isn't going anywhere, Lowe told Business Insider.
MoviePass subscriptions start at just $7.95 a month, though that rate only allows users to see three movies a month. However, for $9.95 you can see as many movies as you want. AMC Stubs A-List lets users see three movies a week, including IMAX and Real 3D titles, for $20 a month, and it offers benefits that MoviePass doesn't, like no upgrade fees and the ability to see the same movie as often as you like.
If you have the unlimited MoviePass subscription and you don't need to see Ocean's 8 more than once, occasionally shelling out an extra $2 is still cheaper than the AMC membership. Additionally, if you don't live near an AMC theater, MoviePass noted on its website that it is accepted at 91 percent of movie theaters nationwide.
For those who like to head to the movies solo, Lowe told Business Insider that MoviePass subscribers with an annual membership will not have to pay for surge pricing, and can opt out of the premium bring-a-friend and premium-price features.
With many theater chains rolling out the own membership programs, the new MoviePass model could help the service stay in the movie-membership game by giving theaters an incentive to keep accepting their service. "The additional fee for some 'high-demand showings' would help drive attendance to theaters during their slow times," MoviePass said in a statement to Quartz, adding that it will begin testing the new features in the coming weeks.
If you like to go to the movies with your squad, the new bring-a-friend feature is pretty exciting, and Business Insider noted that you can bring one friend by paying for their ticket via your account, even if they don't have a membership. However, if you're brining more than one friend, it sounds like your friends still need to have their own MoviePass accounts for you to bundle tickets on the same card, CinemaBlend reported.
"We've been working on that one for awhile. So that's a family plan, and it's also the 'bring-a-friend' plan. ... It would be the same [cost] that it is right now," Helios and Matheson Analytics (parent company of MoviePass) CEO Ted Farnsworth told CinemaBlend. "We might do something down the road to get more of a discount for the family plan. ... But it's all the convenience of going with your family. You've got it all in one app, one card, one everything."
Depending how often you go to the movies, and whether you go solo or in a group, you're either going to love or hate the new MoviePass features. If you're in the hater camp, with increased options for customizing your movie-going experience, you're totally empowered to see what else is out there.