Mr. Met Gives The Middle Finger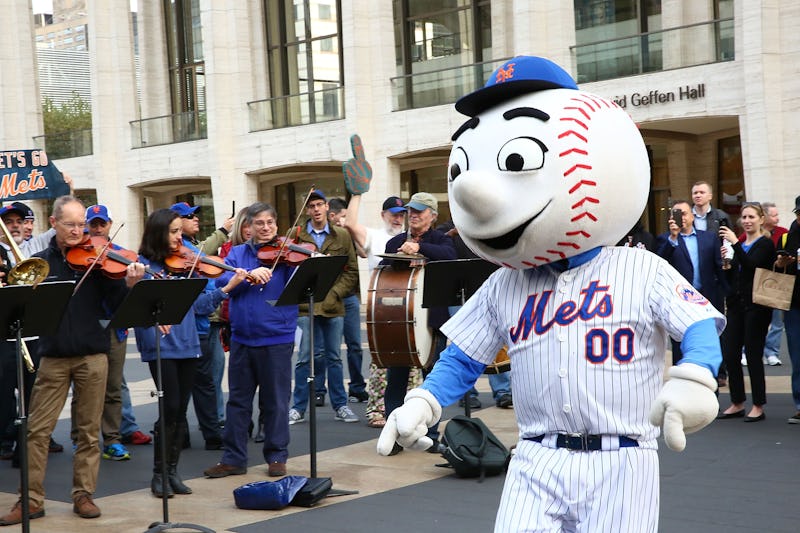 Astrid Stawiarz/Getty Images Entertainment/Getty Images
On Wednesday, the New York Mets lost 7-1 to the Milwaukee Brewers, and team mascot Mr. Met was not happy. The Mets employee dressed as Mr. Met raised their middle finger at a fan while exiting the stadium after the game, and has reportedly been banned from playing the mascot in future.
The Mets have released a statement apologizing for the "inappropriate action" of the employee in question. "We do not condone this type of behavior," the statement read. "We are dealing with this matter internally."
Mr. Met has been the official mascot of the Mets for 55 years and, according to the BBC, more than one person dons the Mr. Met costume per season. As a result, it is unclear which Mets employee will be facing consequences for Mr. Met's recent desire to flip someone off. But there will certainly be consequences: An anonymous Mets official told the Associated Press that the employee who wore the Mr. Met costume on Wednesday will not be allowed to do so again.
But while the Mets may be disappointed in the actions of their mascot, Twitter users are celebrating the employee playing Mr. Met for having a cheeky sense of humor. There is also the question of how exactly Mr. Met could raise a middle finger when the mascot's costume only has three fingers and a thumb, but the Mets are probably not particularly concerned about that.
Mr. Met's decision to flip off a fan was captured in the above video — a video that has gone viral, which explains why the Mets felt the need to quickly contain the situation.
The Mets employee in question can take heart knowing that at least social media is on their side, however, even if that doesn't save their job. One Twitter user even asked the Mets to give the employee a raise instead of preventing them from donning the mascot costume in future.
And despite what was shown in the video, many others wondered how Mr. Met could conceivably flip someone off.
Whether or not it's actually possible, Mr. Met's popularity is rapidly escalating in the Twitter universe.
It really is symbolic, if only as a metaphorical representation of New York City.
The employee playing Mr. Met may be in hot water, but this is definitely not the first example of a mascot going rogue. In 2010, the Cincinnati Bearcat mascot threw snowballs at people and was subsequently arrested. Then, in 2014, the live hawk serving as the Seattle Seahawks' mascot did what most birds do and took to the air, abandoning its handler and eventually landing on a fan. Mr. Met may have flipped off a fan, but it seems the employee wearing the costume on Wednesday made a choice that will be perceived as nothing short of legendary in Twitter's view.