These Mr. Zuckerman Memes & Jokes Will Make You ROFL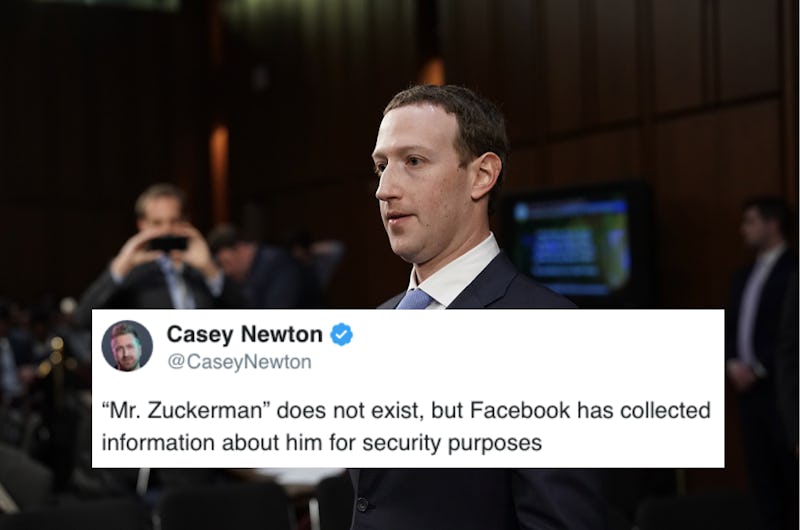 Alex Wong/Getty Images News/Getty Images
On Wednesday, Facebook CEO Mark Zuckerberg returned to Capitol Hill for his second day of congressional testimony, and just like the first day, it was full of pointed questions, evasive answers, and an absolute storm of media coverage. Social media, however, has recently been taken over by a very particular moment from the hearing ― specifically, "Mr. Zuckerman" memes and jokes are all over Twitter, the result of a brief, humorous gaffe on the part of New York representative Yvette Clarke.
If it weren't obvious from all the tweets referencing somebody named Zuckerman on Wednesday afternoon, Clarke, who represents New York's 9th congressional district, welcomed the 33-year-old Facebook CEO by botching his last name. Instead of Zuckerberg, she accidentally said Zuckerman, and the denizens of social media definitely noticed.
In relatively short order, people started tweeting about the Mr. Zuckerman flub, with the general consensus being that it was pretty silly and pretty funny. It's a nice bit of levity amid what's actually a quite serious and urgent conversation about Facebook's handling of user data, and matters of online privacy. And if that's the kind of break from the serious that you're looking for, you'll definitely enjoy some of these tweets.