The "Muslim And" Campaign Is Countering Trump's Travel Ban With A Message All Americans Need To Hear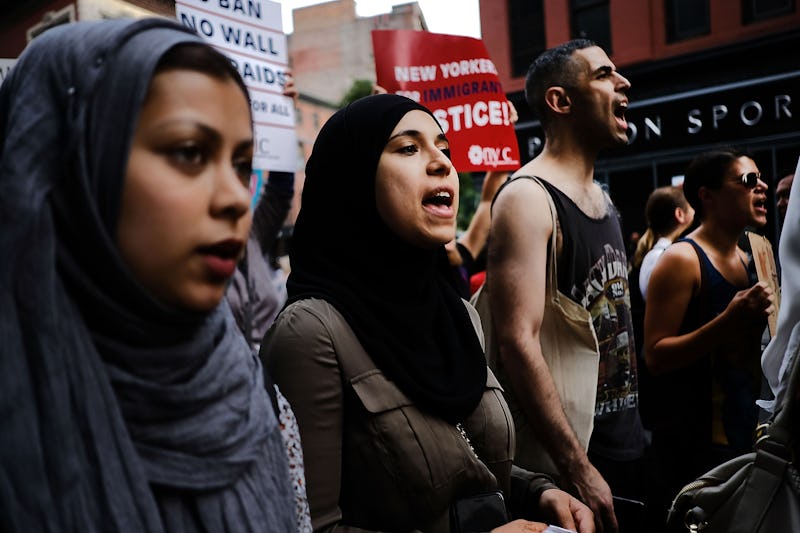 Spencer Platt/Getty Images News/Getty Images
President Trump has tried three separate times to institute a travel ban on several countries with majority-Muslim populations. His latest attempt was blocked Tuesday by a federal judge in Hawaii, but there's no reason to think this will be Trump's last stand. Those opposed to the president's efforts to bar millions of Muslims from entering the United States are not backing down, either. On Wednesday, Advocates for Youth's Muslim Youth Leadership Council launched the hashtag campaign "Muslim And" to protest Trump's policies, in conjunction with the hashtag "No Muslim Ban Ever" rally in Washington, D.C.'s Lafayette Square on the same day.
Khadija Khan — leadership coordinator for Muslim and international youths at Advocates for Youth — tells Bustle the aim of hashtag "Muslim And" is two-fold. "Hashtag 'Muslim And' hopes to counter two different realms of harmful narratives that impact Muslim people," Khan says. "First, the narrative coming from the White House that Muslims are dangerous, violent, and should not be in the country. Second, and more integral, the narrative that Muslims are monolithic — that we are all Arab, all wear hijab, all are anti-woman, and homophobic."
The point of "Muslim And" is to show the variety in the Islamic community in America, according to Khan. "There is great diversity and intersectionality within Muslim communities. Queer, trans, gender-nonconforming and ally Muslims exist. And this is important," she explains.
Dalia Mahgoub, who is part of the first cohort of the Muslim Youth Leadership Council at Advocates for Youth, echoes Khan's statements about diversity in the community and tells Bustle, "We're here, we're queer, and we need accomplices, not allies now more than ever."
Khan points to stereotypes of Muslims in media as one of the reasons for misconceptions regarding them. "Muslims are always represented as terrorists, or in some other one-dimensional way," Khan says. "Further, anti-Muslim hate is now explicitly coming from the highest office in the country, which normalizes and allows for violence against our communities."
She is presumably pointing to the unmistakable and documented incidents of Islamophobia in Trump's America that create a toxic environment for all Muslim Americans, but especially for Muslim youths.
"There are so many unique threats facing young Muslims," Khan says. "Not only do we face widespread Islamophobia, anti-Muslim hate and acts of bigotry, the targeting of our Mosques and community spaces, and state violence, but we also face internal silence and stigma."
As an Iranian-American, Nilofar Ganjaie, an organizer and activist with both Planned Parenthood and Advocates for Youth, additionally recognizes the hashtag campaign as an opportunity to highlight how those from other countries are being affected by the Trump administration's travel ban.
"As an Iranian-American, my family is immediately impacted by Muslim Ban 3.0," Ganjaie says. "My hope is that hashtag 'Muslim And' will help people understand the real-life impact this has on people's lives. This isn't just a dangerous policy, this is systematically keeping families apart on the basis of hate of religious animus."
The Trump administration's argument for its many travel ban attempts rests on the belief that travelers from barred countries could pose a unique threat to American citizens. Lawyers from the Justice Department argued countries on the ban list had been chosen based on their security and intelligence-sharing measures.
But District Judge Theodore Chuang disagreed. Chuang wrote Wednesday that Trump's own words broadcast via tweets had persuaded him this latest effort was an "inextricable re-animation of the twice-enjoined Muslim ban." In other words, the new ban was just a revised version of the older bans. Judge Derrick K. Watson in Hawaii argued the administration had not proven travelers from the banned countries posed an especial risk, in a separate temporary restraining order he filed Tuesday.
Chuang's opinion includes several references to Trump's famously unedited commentary. Chuang begins by noting the "Statement on Preventing Muslim Immigration" that appeared on Trump's campaign website in December 2015. For Trump, that prevention then meant a "total and complete shutdown of Muslims entering the United States until our representatives can figure out what's going on." The judge also revisits a 2016 CNN interview with Trump where the future president declared "Islam hates us."
Still, the president keeps trying to get a version of his travel ban passed. And that's led many to renew their opposition against it, to make sure this issue does not get lost in the news cycle. The hashtag "No Muslim Ban Ever" rally is one such effort. Hana Hentzen, who works with The Muslim Youth Leadership Council, tells Bustle that the response to "Muslim And" has been highly positive and much-needed.
"The past few months especially have been extremely oppressive and dismissive and it's an incredible feeling to finally have a chance to be heard again. The response has been amazing," Hentzen says.
Mehreen Kasana contributed to this report.