This Book Will Change The Way You View Marriage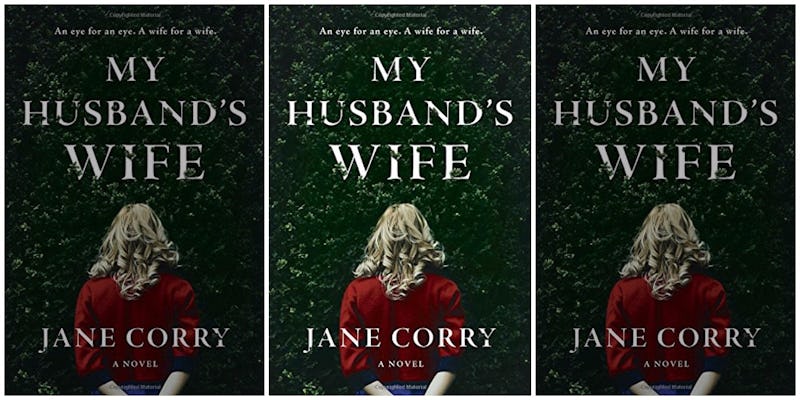 Between the dysfunctional marriage of Nick and Amy Dunne and the twisted relationship of Rachel and Tom Watson, you may have had your fill of domestic noir novels, but I'm here to tell you there is one more you should add to your TBR pile. Jane Corry's My Husband's Wife is this winter's must-read thriller, even if you think you're over the genre. This book will make you fall in love with it all over again.
Already an international sensation, My Husband's Wife (Jan. 31, Pamela Dorman Books) hits American shelves just in time to scare you away from relationships for Valentine's Day. A psychological thriller about the power of lies and the danger of deception, it chronicles the intertwined lives of several complicated characters: Lily, a young lawyer with a dark and spotty past; her husband, Ed, a successful artist with plenty of dirty secrets of his own; Joe, a dangerously alluring convict Lily is defending in court; Carla, the couple's nine-year-old-neighbor who has already learned the power of secrets; and Carla's mother, Francesca, an Italian immigrant desperate to give her daughter a decent life.
At the start of the novel, Lily and Ed are unsure newlyweds getting a handle on their new lives in London. Then Lily is assigned a new case: to defend Joe Thomas, a man accused of murdering his girlfriend by way of scalding bathwater. It doesn't take long for Lily to get drawn in by Joe's charm, and their professional relationship soon takes a dangerous, personal turn. As Joe's trial, and Lily's infatuation with the potential murderer, progresses, so does the complicated relationship between Lily, Ed, and their neighbors, Carla and Francesca.
Flash forward years later, and readers find these characters in different situations, each one changed by the events of their interconnected pasts. Lily and Ed are still married and share an autistic son. Carla, meanwhile, has grown up. The cunning girl is now a dangerous young woman, and she returns to her old neighbor's doorstep with one thing on her mind: revenge.
My Husband's Wife by Jane Cory, $9.27, Amazon
A novel full of twists and turns, My Husband's Wife draws you into its complicated world within the first chapter, and it doesn't let you go until you've turned the final page. Each new character comes with their own set of devious lies and dangerous secrets, all of which threaten the lives of everyone they touch. And while some of these tropes might seem predictable in this kind of thriller, Corry's talented storytelling and brilliant writing make even the most seemingly obvious aspects of the novel appear in surprising ways.
A must-read book for fans of the kind of psychological thrillers that have been all the rage the last few years, My Husband's Secret leaves readers desperate to get to the bottom of each character's secrets, obsessed with uncovering the truths behind the many lies. It is the kind of story that will have readers' heads spinning wildly as they try and guess who will get a happy end, and who will get something closer to what they actually deserve.
While most — okay, all — of them are wholly unlikeable, the characters in My Husband's Wife are as intriguing as the story they're in, and each unforgettable in their own way. Complex and fully drawn out, these men, women, and even the children will not only make you question their motivations, but the motivations of the closest people in your life. Because if Jane Corry's book is good at one thing, its making you look for the worst in people, and how could you not after reading such a dark story filled to the brim with secrets, lies, and deceptions traded between people who are supposed to be in love.
In true domestic noir fashion, My Husband's Wife has an ending that won't disappoint, but be forewarned: when you're done reading this book, you may never look at marriage the same way again.
My Husband's Wife by Jane Cory, $9.27, Amazon