17 Most Anticipated Thrillers Of 2017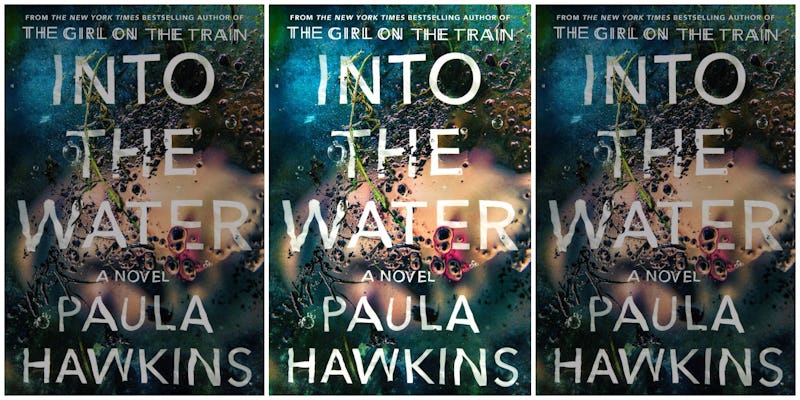 The trend for psychological thrillers is only growing stronger each year — and it looks like the new thrillers of 2017 are going to scare us all even more. Even just reading the synopses of these upcoming thriller novels has me breaking out in goosebumps; these are books you're gonna need to read safely under the covers. We've got tales of missing children, forgotten memories, secret affairs, and sinister landlords — all the ingredients you need for a gripping night in glued to your book.
In this list you'll find some returning authors, like Clare Mackintosh, B.A. Paris, and even a new novel from Paula Hawkins, whose Girl on the Train stayed on the bestseller list throughout 2015 and for a good chunk of 2016, too. You'll also find some brand new names such as Jane Harper — but I'm willing to bet some of these authors are about to become the next Gillian Flynn.
So if you're looking for a way to spend all those book vouchers your estranged aunts gave you for Christmas, look no further. These are about to be some of the biggest names in the thriller genre, and with all of these on your shelf, you're guaranteed enough nightmares to last the whole of 2017. (Um, in a good way.)
After Greta's husband and four-year-old daughter go missing during a family boat outing, Greta is left struggling to put the pieces together. Desperate to call her husband, she discovers that her cellphone has vanished — only to find it hidden away under her bedsheets at home. Greta has no memory of putting it there — and as she searches for her family, she has to face the possibility that she's losing her grip on reality.
This dark novel tells the story of high school senior Hattie Hoffman's last year alive — before she is found brutally stabbed to death on the opening night of her school play. Three perspectives intertwine: Hattie's, local sheriff Del Goodman, and the new school English teacher whose marriage is crumbling apart.
After a series of personal tragedies, Wini Allen needs a vacation — and her three best friends are offering a girls-only hiking and rafting trip in the Allagash Wilderness. When an accident leaves the women stranded and fighting for their lives, they stumble across a fire-lit camp — but soon the women grasp the true intent of their new companions. This book takes 'page-turner' to a whole new level.
Back in 2015, Jane Harper won the Victorian Premier's Literary Award for an Unpublished Manuscript. Fast forward to today, and that manuscript has become The Dry . It's set in an Australian draught, but the searing heat provides a surprisingly chilling backdrop for this page-turning mystery. Reese Witherspoon's production company have already bought the movie rights, so you can already tell this one's going to be a hit.
If you've ever sleepwalked, this book will give you nightmares. The Sleepwalker is the latest thriller from New York Times-bestselling author Chris Bohjalian, and it tells the story of Annalee Ahlberg, who disappears from her bed overnight. Her family are used to her dangerous sleepwalking and fear the worst — but her eldest daughter becomes suspicious of the detective who seems to know a little too much about Annalee. And if she's really dead, where's her body?
This is another one that's already on its way to become a movie — and it sounds so terrifying. Jane is looking to move on after a tragedy, and in her search for a new apartment she comes across the mysterious One Folgate Street. The house is beautiful — but the rules are strict. No books, no photos, no personal effects of any kind: the architect retains full control. The narrative switches between Jane and 'the girl before': Emma, the last tenant of this strange apartment. Emma was about the same age as Jane, similar in appearance — and she met her untimely death at One Folgate Street. In trying to solve the mystery of what happened to her, Jane unwittingly sets out on the same path...
Unreliable narrators, massive plot twists — this debut thriller's got them all. Allegedly is the story of Mary B. Addison, a black woman currently serving time in a group home for the murder of a white baby. But she says she didn't do it. Now pregnant with a child of her own, she needs to prove herself before the state can take her baby — and the one person who can help her is the person she trusts the least: her Momma.
Lisa Gardner had us all on the edge of our seats with 2016's Find Her, and now she's back to terrify us again. This time, the story follows teenager Sharlah May Nash, whose now-missing older brother Telly Ray beat their father to death in order to save both of their lives. But eight years later, a call comes in: Telly Ray is on a killing spree through the wilds of Oregon. Sharlah has to ask herself: is her brother really a hero?
Lily is a newly-wed young lawyer who finds herself strangely drawn to the convicted murderer whose case she's working on. So much so that she would risk anything... Sixteen years later, Lily finds a young woman named Carla on her front doorstep: she was once the nine-year-old girl who lived next door, and she learned that secrets are powerful things — and that they can get her whatever she wants.
Three years ago, Toni's five-year-old daughter Evie vanished from outside her school. Only Toni can piece together what happened — but Toni is lying paralyzed in hospital, unable to do more than blink an eyelid. Silently, she is working out a devastating truth, but to save her daughter, she needs to make herself heard.
We've only just caught our breath after reading Clare Mackintosh's brilliant I Let You Go — and this one's even more sinister. Warning: you'll never feel safe on your commute again.
Dreamland Burning flashes between two parallel stories: 17-year-old Will Tillman during the Tulsa race riots of 1921, and 17-year-old Rowan Chase in present day, discovering a skeleton on her family's property. The suspense will keep you turning pages long after the sun's gone down.
Hannah's boyfriend has vanished. Not just the person: every photo, every text, every note has gone without a trace. Only Hannah has the memories to know that their last four years ever happened — but as she sets out to find proof of his existence, she realizes the truth may be more shocking than she ever imagined.
Well, we all know this name. Paula Hawkins is the author of The Girl on the Train, the bestselling book that inspired this year's hit movie. So far, details on Into the Water are scarce, but Hawkins hinted to U.K. bookstore Waterstones that it's about "the stories we tell ourselves, the way voices and truths can be hidden consciously or unconsciously, memories can be washed away and whole histories submerged. Then two sisters appeared, and the novel began to form."
Fiona Barton's last novel, The Widow, was a New York Times bestseller — and for readers who couldn't get enough of journalist Kate Waters, she's back for round two in The Child. This time, the mystery revolves around a tiny skeleton, found buried under an old house. Ten years earlier, a baby was stolen from a maternity ward — but only three women share the secret of what really happened.
From the author of Behind Closed Doors comes another terrifying looking thriller. One night, Cass saw a woman sitting in a parked car in the middle of a downpour — a woman who was later killed. Ever since, Cass has been forgetting things: where she let her car, whether she's taken her pills, what her alarm code is. The one thing she can't forget is the woman — and why she didn't stop to help. And then the calls start — and the nagging feeling that somebody is watching her.
Image: tpsdave/Pixabay