Nadine Sierra's Twitter Proves There's Room For Latinas In The Opera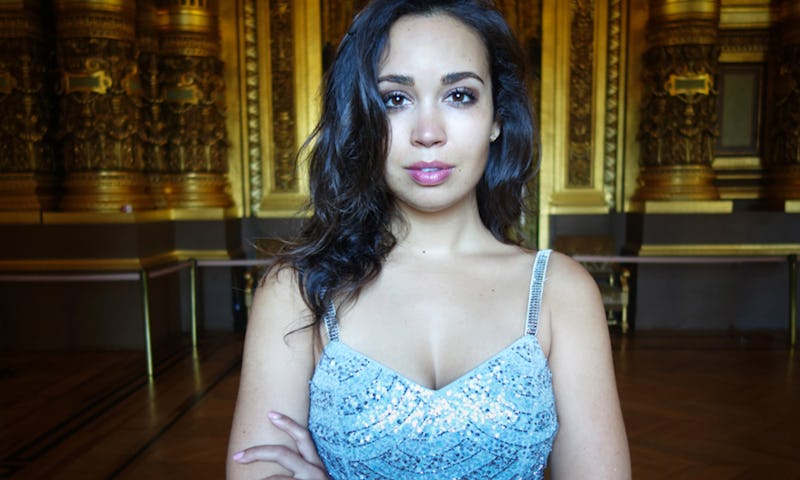 Olivia Renaud
Soprano Nadine Sierra is one of opera's shining stars. And for the Latinx community, she's also an example of just how far we can go when we truly follow our dreams. That's why she's included in this special edition of Bustle's Must Follow, in which we highlight the incredible Latinx voices you need to follow on Instagram and Twitter.
Describe yourself in one line, including how you identify and what you do.
"I am a Latina American opera singer, passionate about spreading my love of opera and mentoring the next generation of singers."
What do you hope people take away from following you on social media?
"I'd like them to feel a sense of community and support built around our mutual love of opera and see that this art form isn't irrelevant or old-fashioned, but that it does have a place in today's world no matter where one comes from. I want to break down barriers to make opera more accessible and to break stereotypes associated with or, in a way, plaguing opera. It's a way of showing people that you can be of any background or age to explore and enjoy the operatic world.
I like to bring my followers with me and show them behind-the-scenes photos or videos that hopefully inspire, but also show the reality [of] what it is to pursue this kind of life; that there are some 'glamorous' moments, but for the most part, it's hard work and can be a demanding lifestyle. By showing this, I'm hoping that it helps them to realize their aspirations are achievable through constant dedication and practice."
When did you first feel that you were a voice for the Latinx community?
"When younger singers and musicians began messaging me on a daily basis, it made an impact on my life because I knew that I could use my platforms not only for expressing my artistic goals, but to help and guide those wanting to reach their own. With the heritage that I have, I also feel strongly about introducing and supporting the Latin and Hispanic music that exists in the classical arts, since it is so beautiful and deserves to be celebrated. It's music that, unfortunately, has been lacking exposure in performance settings, so I always feel a great responsibility to educate my audiences with this culture that runs through my veins. I'm proud of my heritage and would love to present myself as a role model for the Latinx community."
Who's another Latinx person you would recommend to follow on social media?
"There are some wonderful accounts that I follow for different reasons:
@lasfotosproject is so wonderful: 'Inspiring girls through photography, mentorship, and self-expression.' How cool is that?!
@evalongoria has a great sense of style, and I love her foundation @evalongoriafoundation.
@camilacoelho for beautiful photos and my fashion fix!"
Follow Nadine Sierra on Instagram, @nadine.sierra, and Twitter, @nadinecsierra.