Why 'Nancy Drew' Is The Book I'll Never Forget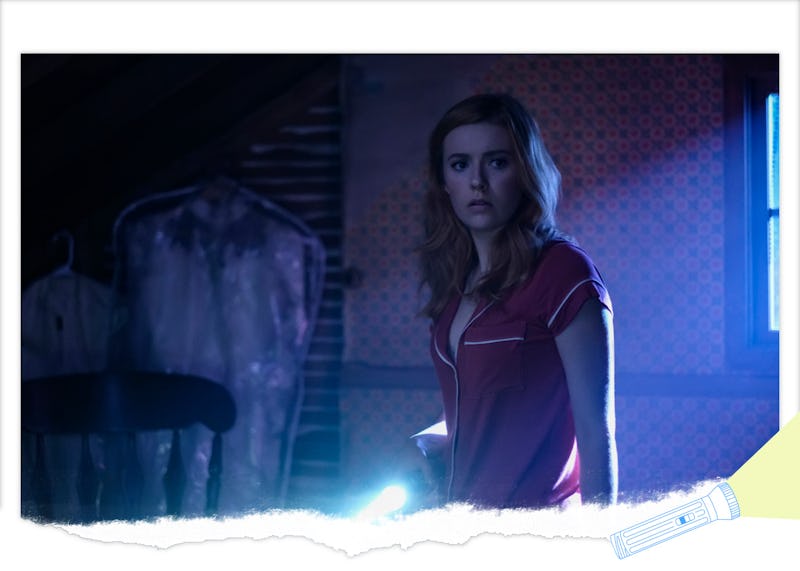 The first time I picked up Nancy Drew And The Hidden Staircase, I was visiting my grandparents in Florida. I was just 10 years old, and my brothers were playing video games that I was "too young" to play — classic. Though I may not have thought so at the time, they were kind of doing me a favor. This moment was a gateway to a hidden staircase that would change my life forever.
Being the only girl in my family (the youngest at that) meant I grew up in a household where the heroes who saved the day were almost always boys. This all changed when I fell into the world of this unapologetic, brilliant young sleuth. My grandma gave me the second installment in the Nancy Drew saga to read while the boys played recklessly at her house, and I remember not being able to put it down. I physically yearned to know what happened next, making a list of all possible suspects and clues as I read. I couldn't get enough of Nancy.
Having read all the books in the franchise, I've wanted to continue my journeys with Nancy for a long time. Luckily, we're living in an age when all of our favorite childhood characters are getting modern, mysterious makeovers. With Nancy Drew coming to The CW (NEW SERIES WED 9/8C) there's an entire new chapter of stories to look forward to. Nancy has a whole new crew of unlikely friends and a new set of cases to solve, but she's still the rule-breaking gumshoe I idolized in my youth.
The new episodes show Nancy with her friends in the New England town of Horseshoe Bay. With the passing of her mother, she defers her admission to college, deciding instead to stay in her home town to help her Dad out. We see her slinging chowder at the local lobster hut, making unlikely friends, and starting a romance with a mysterious but kind boy. However, things in her sleepy town are anything but boring.
When the wife of the wealthiest man in town is murdered, Nancy unwittingly finds herself at the center of a new town mystery. She and her friends are the initial subjects, but she doesn't let the local police force's efforts stop her from getting to the bottom of this crime. That's our Nancy. She follows her hunch, and no matter how silly or incapable the world tries to make her feel, she lets nothing deter her razor-sharp intuition.
That single-minded tenacity we see in the new Nancy adventures is just as strong as it was back in The Hidden Staircase. Allow me to refresh your memory of the story. Nancy is tasked with investigating a supposed haunting going on in the stately old mansion in her town. Early on, town real estate manager Nathan Gomber issues Nancy's father Carson a grave warning, and we know he's not to be trusted. But when it came to the mysteries of Flora Turnbull's estate Twin Elms — literally the original creepy old mansion — anyone was a suspect in my eyes. Each consecutive night Nancy spent there, every little detail in the book would make me jump and gasp. The ultimate reveal — I won't give it away, but there are staircases involved — felt like it was hiding in plain sight the whole time. How had I not seen it coming?
However, it wasn't just the mystery that had me so captivated. I fell in love with Nancy herself. She was a capable, smart, fearless, rule breaker who was a more capable problem solver than the many adults in her town. In a reversal of fortune, she's the literal one to save her father when he goes missing. Nancy was a fixer, a feminist, and a relatable powerhouse who I modeled myself after.
Her strong will, determination and curiosity broke societal boundaries and gave me confidence to do the same myself. Finally, I had a female hero of my own, I couldn't spend enough time with her. It wasn't long until I had read every Nancy Drew book in the franchise and played every one of her computer games. I dressed up as her for Halloween. Along the way, I persuaded my parents to purchase five editions signed by Carolyn Keene. That said, I couldn't be more psyched to sink my teeth into more Nancy adventures, which we'll all be getting Wednesdays this fall.
Honestly, I credit Nancy Drew to being a part of the strong, independent woman I consider myself to be. Like Nancy, I took a leap of faith, following my gut and embodying a sense of fearlessness to pursue my passion and make something of myself. I think in today's world it's especially critical for girls (and women) to have empowering role models to look up to. I was lucky enough to have mine be Nancy Drew.
This article is sponsored by The CW's Nancy Drew, NEW SERIES WED 9/8C.