The Look On Nancy Pelosi's Face During The State Of The Union Is A MAJOR Mood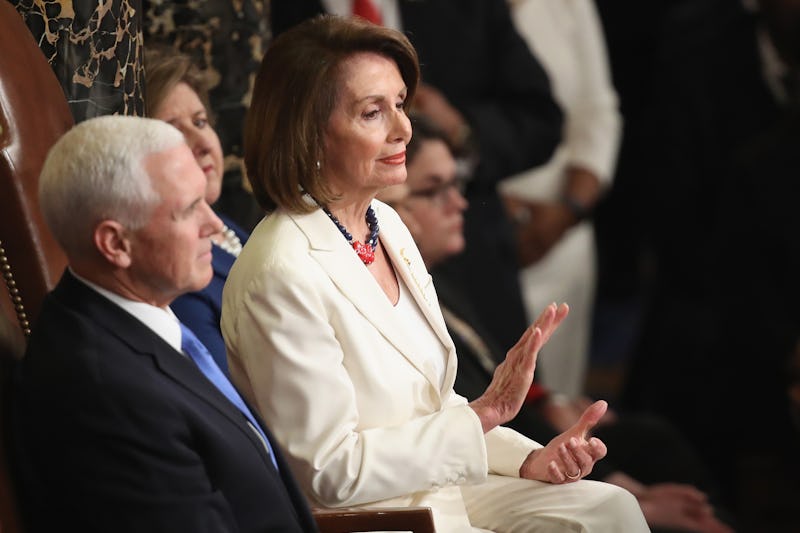 Win McNamee/Getty Images News/Getty Images
Sometimes a person's face can do all the talking. On Tuesday night, as President Donald Trump delivered his 2019 State of the Union, Nancy Pelosi's facial expression was hard to ignore for some viewers.
On Twitter, people shared screenshots from the C-SPAN stream of Trump's address, where you could see the House speaker in the background, who occasionally appeared to be grimacing at Trump's remarks. CNN's digital producer Daniel Lewis shared a brief clip of Pelosi shaking her head when Trump criticized "ridiculous partisan investigations" during his address.
The president's SOTU comes on the heels of America's longest government shutdown, which began on Dec. 22, 2018, as a result of an impasse over Trump's demand for $5.7 billion in a spending bill for his border wall. Pelosi, along with other key Democrats, was vocal in her opposition toward the idea.
The president temporarily reopened the government after signing a short-term bill in late January, though that bill did not include money for the wall that he wanted. But it only came after considerable acrimony between Trump and Pelosi, including an early January meeting held among the House speaker, the president, and Senate Minority Leader Chuck Schumer. In a fiery tweet, Trump called the encounter on border security a "total waste of time."
With such tension between them, many honed in on Pelosi's reactions to Trump's address on Tuesday night. One referred to a succession of photos of the House speaker's face as the "three stages of Nancy Pelosi."
Others said Pelosi's expressions did the talking for a lot of people watching the Tuesday night speech.
During his State of the Union address, Trump repeated his demand for a border wall between the U.S. and Mexico. He said his proposal for border security also "includes humanitarian assistance, more law enforcement, drug detection at our ports, closing loopholes that enable child smuggling, and plans for a new physical barrier, or wall, to secure the vast areas between our ports of entry."
And time and again, people pointed out that Pelosi's reactions to Trump's points spoke volumes. Many called Pelosi's face a "mood."
Many people also brought memes into the mix; one even saw a bit of similarity between Pelosi's head-shaking and the eye-rolling from The Office character Stanley.
Full Frontal host Samantha Bee had a theory as to what Pelosi was reading in the background: a Jodi Picoult novel.
In addition to the response to the House speaker's reactions, Pelosi's outfit on Tuesday night was also a topic of discussion. Donning a white outfit, Pelosi was one of the many Democratic women who honored gender equality and the women of the suffrage movement.
Florida Democratic Rep. Lois Frankel, who is the chair of the House Democratic Women's Working Group, explained the gesture to CNN: "Wearing suffragette white is a respectful message of solidarity with women across the country, and a declaration that we will not go back on our hard-earned rights." And it looks like there were people who adored Pelosi's choice to join Frankel's efforts.