Nancy Pelosi's Face During The State Of The Union Is Pure Shade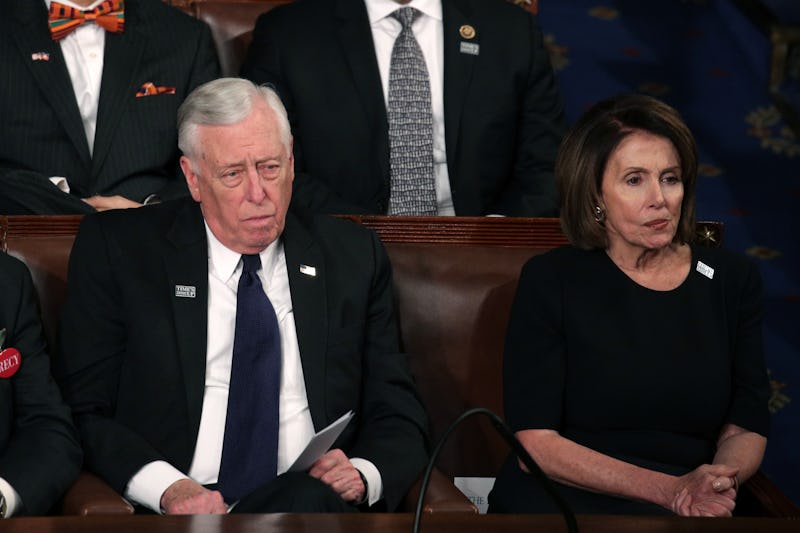 Alex Wong/Getty Images News/Getty Images
People already have plenty to say about President Trump's first State of the Union, but sometimes a facial expression conveys just enough. Some of the most noticed reactions came from none other than Minority Leader Nancy Pelosi. During Trump's State of the Union address, the California Democrat's face made her disdain loud and clear.
The cameras managed to catch the representative's priceless facial expression as Trump spoke during the joint session of Congress. And of course, Twitter users were quick to make screenshots — Pelosi's version of the "not impressed" scowl became instant meme gold.
Pelosi's reaction came when President Trump claimed lower unemployment rates for blacks and Hispanics:
Since the election, we have created 2.4 million new jobs ... including 200,000 new jobs in manufacturing alone. Tremendous numbers. After years and years of wage stagnation, we are finally seeing rising wages.
Unemployment claims have hit a 45-year low. It's something I'm very proud of. African American unemployment stands at the lowest rate ever recorded. And Hispanic American unemployment has also reached the lowest levels in history.
The black unemployment rate is indeed at a record low, and Hispanic unemployment rate at a near-record low — however, this downward trend started years before Trump took office, as NPR reported, based on data from the U.S. Bureau of Labor Statistics.
Perhaps Pelosi's less-than-impressed reaction was about Trump taking credit for the U.S. economy. Or perhaps, like Jay-Z, she agrees that the black unemployment rate doesn't erase his policies that affect the black community.
Either way, Pelosi was not having it. Here are some of the responses to Pelosi's face at Trump's State of the Union: