'Star Wars' Fans CANNOT Handle Natalie Portman's Response To Mark Hamill's Tweet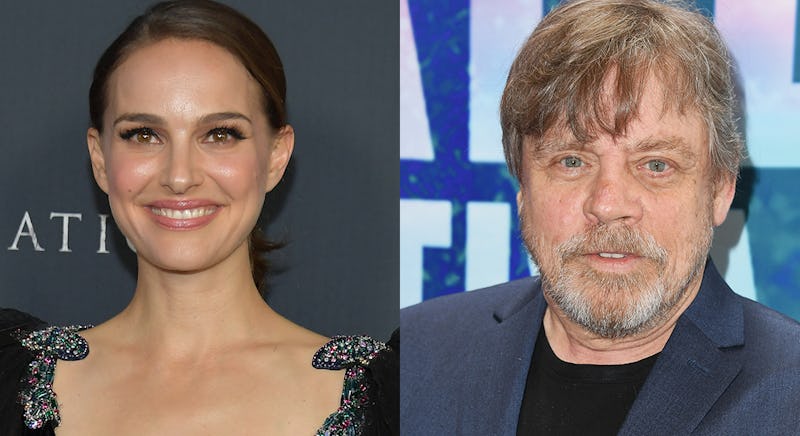 Neilson Barnard/Getty Images Entertainment/Getty Images; Jon Kopaloff/Getty Images Entertainment/Getty Images
It's miraculous that two of the Star Wars universe's biggest players haven't actually met in real life. But what else can you expect from a galaxy so far, far away? Luckily, it's not too late. While visiting The Late Show with Stephen Colbert on Thursday, June 14, Natalie Portman said she'd love to meet Mark Hamill, and fans know the feeling is mutual. One thing's for sure: When this on-screen mother and son duo meet, they'll definitely have tons to catch up on and they'll probably be instant BFFs.
In the Star Wars prequels from the late '90s to early 2000's, Portman played Padmé, Luke Skywalker's (Hamill) mother. Hamill, of course, has played Skywalker since the original, Star Wars: Episode IV – A New Hope, in 1977. Neither of them are OK with the fact that they've yet to meet in person despite being among the most significant characters in the franchise.
"It's such a shame, I would love to meet him," Portman told Colbert with nothing but smiles. "Mark, I would love to meet you, where are you? Come over." This all started on Portman's 37th birthday June 9, when Hamill dedicated a tweet to her establishing that the two actually didn't know each other in real life.
On The Late Show, Portman even examined the tweet and called Hamill out for not actually wishing her a happy birthday in the post. "That would be a good first step," she joked. Soon enough, Hamill took to Twitter on Friday, apologizing to his royal majesty for the oversight. He gave sincerest apologies, referring to himself as her "thoughtless, ungrateful son," and clearly the two already have a rapport that warrants a lifetime friendship.
Hamill tweeted the following:
SHAMEFUL FACT: "Center of the #StarWars Universe" Stephen Colbert @StephenAtHome revealed I neglected to wish Natalie a #HBD- Please forgive me Ms Portman. from your thoughtless, ungrateful son, mh #AGoodFirstStep
Now, fans are scheming away trying to figure out how the two can meet. They've got ideas for real-life activities the two can take part in.
Some are already planning for next Mother's Day.
And of course, Star Wars fans are already plotting how Portman and Hamill could potentially come together on the big screen for an epic new chapter.
Luckily, Portman has met another legendary Star Wars actor: the late and great Carrie Fisher, who played the iconic Princess Leia. There are some adorable photos of Fisher and Portman from years ago, hugging and embracing each other like they really hit it off. In 2015, Fisher took part in a little Star Wars trivia and hilariously referred to Portman as her mom, not Padmé. (In the films, Luke and Leia are estranged siblings.)
Until this point, Portman has had quite an interesting journey when it comes to her work in Star Wars. In 2014, the actor reflected on the franchise in an interview with New York Magazine, saying Star Wars made people think she wasn't a good actor. "Everyone thought I was a horrible actress," she said. "I was in the biggest-grossing movie of the decade, and no director wanted to work with me." Flash forward to 2018, when Portman defended the Star Wars prequels on Saturday Night Live. Donned in her Padmé Amidala costume, she rapped, "Say something 'bout the motherf*cking prequels, bitch."
Portman's also been totally open about her relationships with some of the films in the past. In a 1999 interview, she admitted she'd never seen Star Wars before joining the films. "I hadn't seen the films before I got the role," she said. "I knew the basic, I mean, it's part of the American culture, so you know about the Princess Leia buns and 'May the force be with you.'" In 2016, Portman revealed she hadn't seen Star Wars: The Force Awakens when it was released. "I've heard it's amazing and it's so nice that it's sort of this continuing part of everyone's shared cultural knowledge," she said on Good Morning America. "I haven't been able to see it yet."
Still, Portman's love of the franchise is clearly going strong and her chance to meet Hamill on Mother's Day is only, like, a year away, guys.