Nathalie Emmanuel Knows Why TV Diversity Is Vital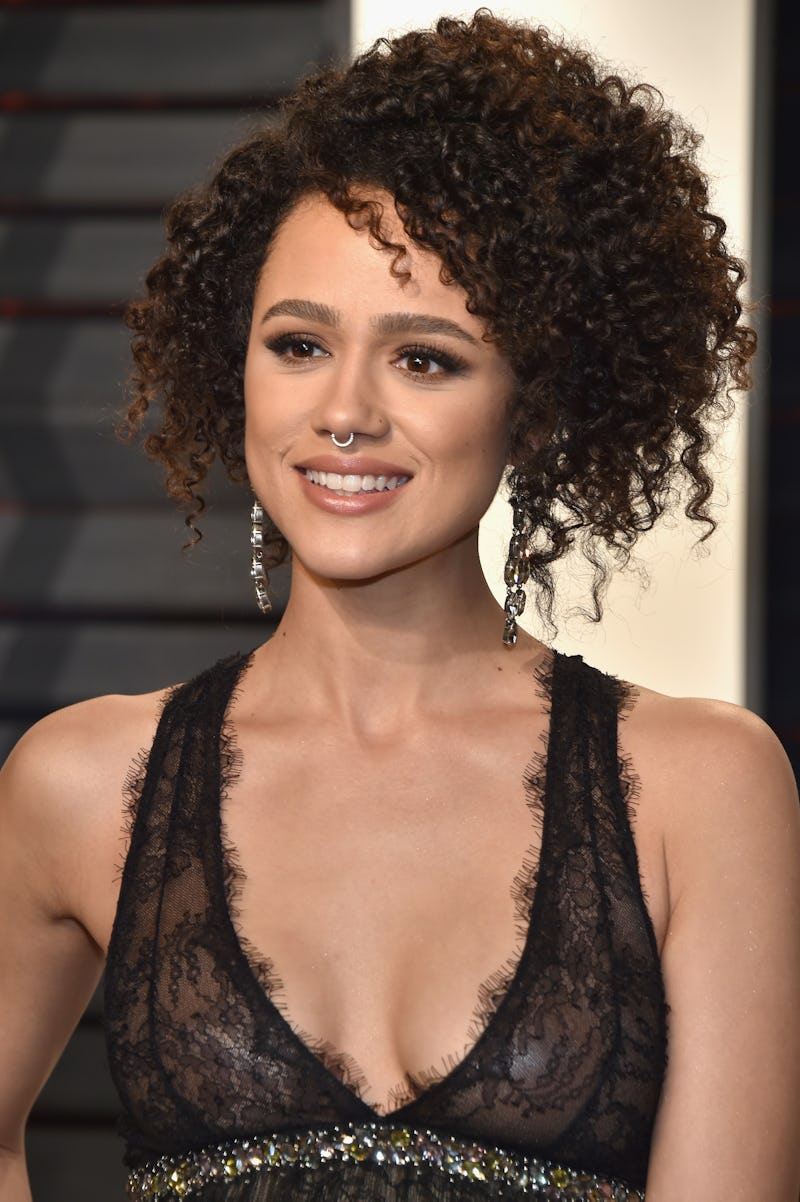 Pascal Le Segretain/Getty Images Entertainment/Getty Images
2016's television lineup felt slightly reminiscent of the black TV renaissance of the '90s. Rather than doubling over in laughter at shows such as Martin, Living Single, and The Fresh Prince of Bel-Air, audiences were in hysterics over Atlanta, Insecure, and Black-ish. Yet this potpourri of diversity is a little bittersweet for some stars of color who sought after shows like these to no avail. Game of Thrones actor Nathalie Emmanuel told Hungertv.com that lack of representation on TV as a child growing up in Southend-on-Sea, Essex, England significantly impacted her confidence.
"For me, when I was growing up, not seeing anyone on television that looked like me or that I could identify with was really hard, and that can affect someone's self-esteem hugely," she told Hunger for its April issue.
The 28-year-old star is Dominican, Saint Lucian, and English, according to her IMDb profile. While the British actor has noticed a rise in diverse casting, she couldn't help but wonder if it's a passing trend in Hollywood as opposed to a conscious shift in wanting to reflect reality.
"There has been an improvement in casting," Emmanuel told Hunger. "But what I often worry about is because it's been called out that means that now people are saying, 'Okay, we're going to make it really diverse.' Will it be that they just do the one film and then it goes back?"
She added that the archetypal casting of a majority of white cast with a supporting cast of minorities perpetuates the idea that society is not as colorful as it actually is. "Ultimately, that's not the world we live in," Emmanuel said. The actor raises a highly discussed yet slowly implemented thinking process for filmmakers and casting directors to consider: the idea that diversity is not a trend.
Growing up a shy, moody, black girl who was ostracized for enjoying my parents old school R&B more than *NSYNC, I found solace in brooding characters such as Angela Chase from My So-Called Life and the monotoned Daria Morgendorffer. But they were missing another layer of issues that I endured daily as a minority at a predominately white school. I didn't discover the quirky biracial bohemian Freddie Brooks and her bougie black classmate Whitley Gilbert from A Different World until my late teens. However, it wasn't until Issa Rae declared herself as the cringe-worthy "Awkward Black Girl" on YouTube and parlayed that into her success on Insecure that I truly saw myself represented on TV.
Emmanuel's point echoes the continued call for diverse, multidimensional roles for people of color. However, by drawing attention to children's self-esteem, she explores what it really means when minorities are subjugated to supporting and stereotypical roles or when the characters aren't included at all. Representation across all spectrums of race, sexual orientation, and religion mirrors reality and Hollywood should keep up with that — for good.