If You're Just Watching The Olympics For Nathan Chen, Here's What You Need To Know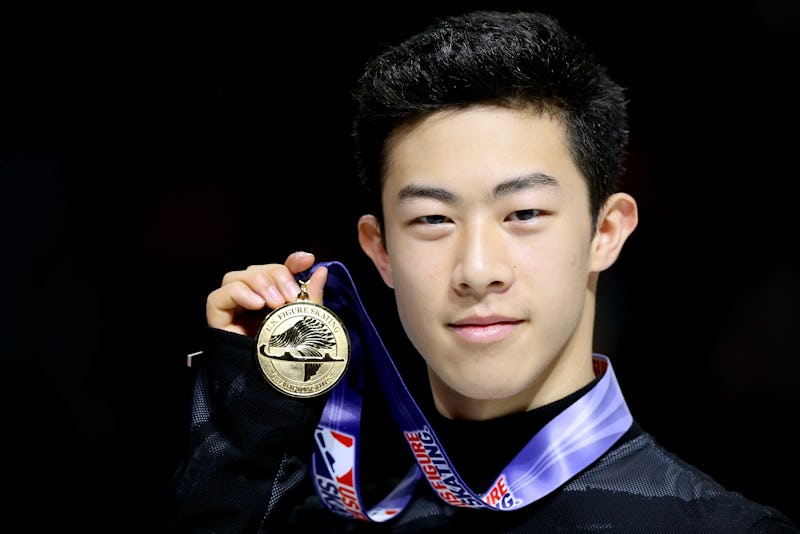 Matthew Stockman/Getty Images Sport/Getty Images
For those with Olympic fever, mark your calendars. For those with Nathan Chen fever, you'll need to know Chen's ice skating event times at the 2018 Olympics. For those without Nathan Chen fever, yes, this competitor is that big of a deal. Chen, who is ranked 5th in the world, is Team USA's best chance of medaling in figure skating. Time even went as far to call him "America's greatest hope for figure skating glory in PyeongChang." So, yeah, that's why you might want to know all the possible ways to see him skate.
Over the next two weeks there will be three different times you'll get to watch Chen compete. It all starts on Wednesday, Feb. 8, when he will perform the short program for Team USA in the team event. It should be a sight to behold considering that, according to NBC, Chen is planning two quadruple jumps in the short program. The Olympian is known as the "Quad King" and is the first skater in the world to land five quadruple jumps in a single program.
In a PyeongChang 2018 media release via NBC, Chen said, "I feel like I'm a good addition to the team," adding, "I think we have a pretty good shot of getting on the podium." This is only the second time that the Olympics have included an ice skating team event in which a country's ice skaters compete together for a medal. Last time around, at the Sochi Olympics four years ago, Team USA received the bronze medal, while Canada won the silver and Russia the gold.
The 18-year-old from Salt Lake City, UT, is making his Olympic debut this time around, and getting to skate on the first day of the Games, he stated, gave him another chance to medal. "To have another shot is like a great experience," Chen said. "It would be good to put the program out there before I get to do the individual."
He will get to do that on Thursday, Feb. 15 when he skates his short program. It's there that he'll compete against his fellow skaters, including teammates Vincent Zhou and Adam Rippon, who told Time that Chen, his training partner, is "one of the best jumpers in the world." On Friday, Feb. 16, the skaters will perform their free skate program and find out who will take home the gold, silver, and bronze.
The Atlantic has already stated that the gold medal is Chen's to lose, no pressure or anything. The last time an American won the men's gold was Evan Lysacek in the 2010 Olympics in Vancouver. Before that, an American man hadn't won since Brian Boitano in 1988.
Chen has always had big dreams of Olympic gold. In 2010, when he was just 10 years old, he became the novice men's U.S. figure-skating champion. He was the youngest competitor at the event, but it was clear he was one of the most talented. He even told the interviewer that they would see him at the Olympics in the future. Chen went as far to predict his Olympics debut would be in 2018; it was the first Games in which the young star would be old enough to compete.
When he was reminded of this prediction after winning his second straight U.S. men's senior title last month, he said,
"It's crazy how fast time flies and how things progress. I'm super blessed to have the opportunity to compete at these events and prove that I deserve an open spot in 2018."
He certainly does. He's now the one to watch, with The Atlantic saying Chen "may be the greatest athlete the sport has ever seen." Being the first man to land seven quadruple jumps in a competition certainly puts him in the running. No doubt, fans will be counting how many quads he lands in this competition, the most important of his young career. But all Team USA fans really want to see is Chen win one medal — preferably gold.