Here's When You Can Watch Team USA Ice Skating During The Winter Olympics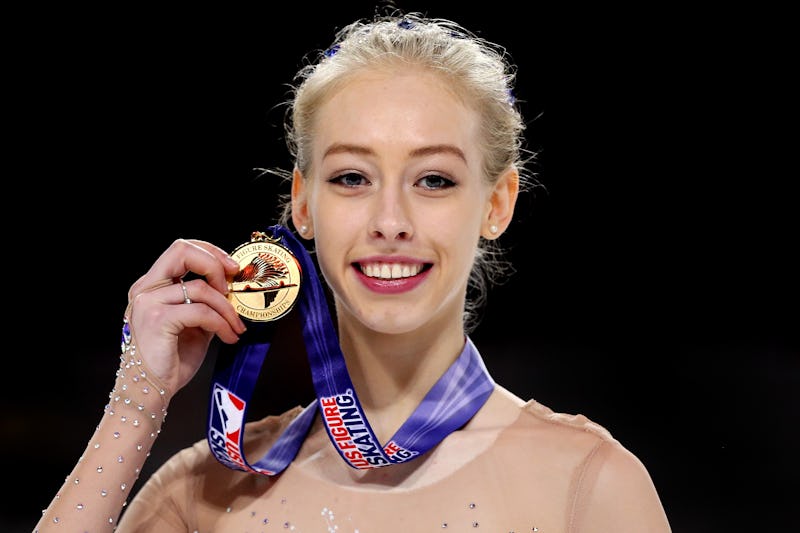 Matthew Stockman/Getty Images Sport/Getty Images
For the next two weeks it's going to be all Olympics all the time, and it can be hard to know how to manage your viewing schedule effectively. What time Team USA's 2018 ice skating team will go for the gold, for example, is one of the many considerations for a fan of the Winter Olympics. Thankfully, the complete list of Team USA's ice skating event times has got you covered. There a lot of ice skating to watch for those who want to watch it. And, don't worry, if you don't have a TV there are other ways to stream the 2018 Olympics and cheer on the team.
From Feb. 9 to Feb. 25, the USA ice skating team will be on TV 16 times, according to NBC's schedule. No surprise, they're all airing in primetime. The first competition is the Team Event, which will air Thursday, Feb. 8, with short programs from both the men's and pairs teams. Representing the men's side of Team USA will be Adam Rippon, Vincent Zhou, and Nathan Chen, who is ranked 5th in the world and is the U.S.'s best chance of a medal.
When it comes to pairs figure skating, there's only one duo from Team USA you have to keep your eye on: the husband and wife team of Alexa Scimeca Knierim and Chris Knierim, who won the 2018 U.S. national championships. Can they repeat that win in PyeongChang? The country sure hopes so since a U.S. pairs team hasn't won a medal since 1988. But fans of ice dancing have three teams competing for medals: brother and sister duo Maia and Alex Shibutani; Madison Chock and Evan Bates; and Madison Hubbell and Zachary Donohue, who won this year's Nationals.
The women of Team USA ice skating — Bradie Tennell, Mirai Nagasu, and Karen Chen — will make their competitive debut on Sunday, Feb. 11. This is Chen and Tennell's first Olympics, but it's a miracle that the latter made it this far. After suffering from stress fractures in her lower back, which had her in a brace for 2015-2016, Tennell was considered a long-shot to even make the team. Now, many are hoping Tennell, who performed a Cinderella-inspired routine to get here, will have her own Cinderella moment in South Korea.
So now that you know who you're rooting for, it's time you figured out when you'll be rooting for them. Grab a pen and paper, because you might want to take notes.