Watch Nathan Fillion Be Adorably Awkward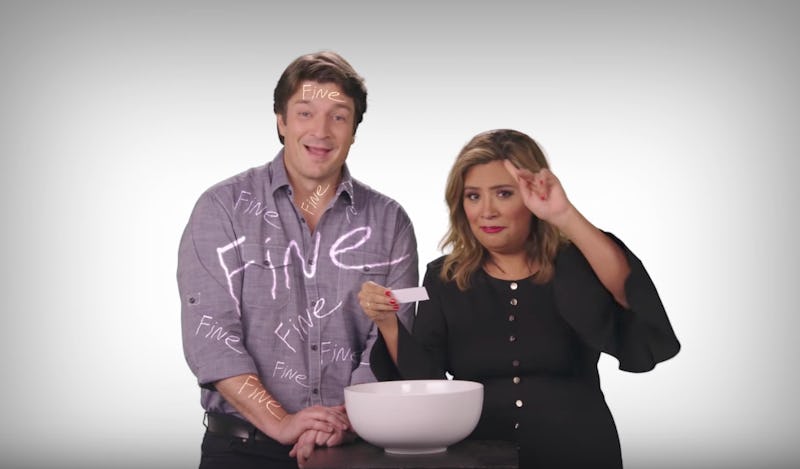 Walt Disney Pictures
Space cowboy, dashing novelist/detective, and lovable superhero Nathan Fillion is getting ready to add a new character to his long list of fan favorites: charming car. Fillion is just one of a handful of new cast members joining the Cars franchise in Disney Pixar's Cars 3. And, if this Cars 3 exclusive clip is anything to go by, Fillion will be as adorable as ever in his new role.
The clip, which features fellow Cars-newbie Cristela Alonzo, doesn't really give anything away about the movie, in fact, it's really just Alonzo and Fillion reading bad pick up lines, but if Cars 3 is just two hours of Alonzo and Fillion exchanging car-themed pick ups, I would be more than satisfied.
"Excuse me I'm lost, can you tell me which road leads to your heart?" Fillion asks Alonzo in the clip, punily entitled "Bad Pickup Lines." Fillion really sells the emotion of these cheesy lines, but Alonzo gives as much as she gets — "Did you lose some plugs, 'cause I'm feeling some sparks!" Despite the bad lines, the actors were actually able to find one they liked: "Are you a speeding ticket? Because you've got 'Fine' written all over you." Hey, if anyone can use that line to get a date, it's Fillion and Alonzo.
Don't worry, Cars fans, the actors have much more to do in Cars 3 than flirt with vehicular humor. In the film, Alonzo plays Cruz Ramirez, a bright yellow car with a passion for racing who trains McQueen after a wave of new, high-tech cars threaten his spot as the top racer. According to co-producer Andrea Warren, the role was originally written as male, but evolved over time. "I think our biggest goal was to make an authentic, relatable character. I think there are these elements of her story that probably a lot of women and girls, or really, anyone who has ever felt out of place can relate to," Warren said in an interview with ComingSoon.
Fillion's character, Sterling, actually also works with Cruz. Sterling, a suave silver vehicle, is a CEO who decides to sponsor McQueen's comeback. Expect Sterling to have a bit of a narrow idea of modern racing, but more importantly fans can look forward to the character's abundance of charm. In classic Fillion fashion, Sterling is a charmer, but not the creepy kind. "I think a lot of people make the mistake and think of skeevy, but charming is someone who admires you, can disarm you, and gain your trust," Fillion said in an interview with Entertainment Weekly.
When Cars 3 opens in theaters on June 16, Fillion and Alonzo will be charming audiences everywhere.