Here's Where You Can Get FREE Guac On National Avocado Day This Tuesday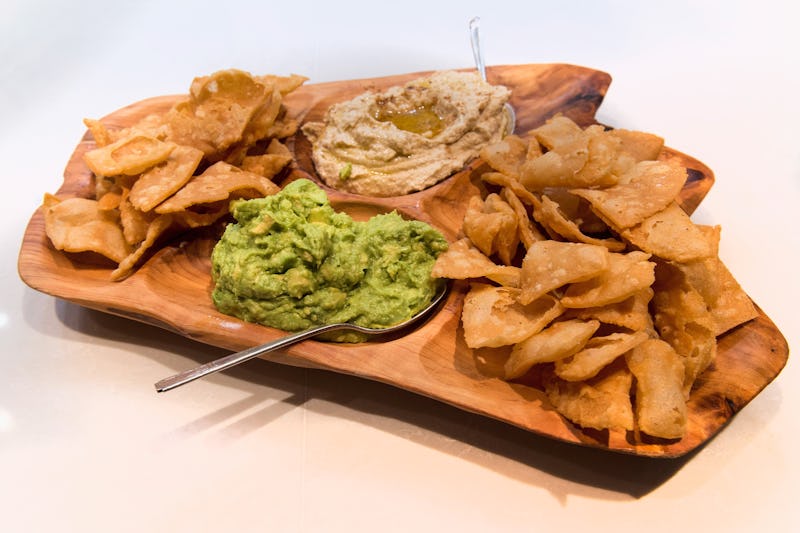 Erika Goldring/Getty Images Entertainment/Getty Images
On one special day a year, guac is not extra. That day is National Avocado Day, a holiday in which everyone's favorite veggie fruit is celebrated with mass consumption. I know what you're thinking: you already eat avocados every day, smearing them on your toast, slicing them into your salad and mashing them into dip for chips. But that's exactly why you'll want to know about the National Avocado Day deals and freebies, because that's what makes the holiday on Jul. 31 a special day. Considering the "fact" that us millennials are poor because we spend all of our money on avocados, we can all agree that a day of cheap or free avocados are in our best interest.
Here I've rounded up the best deals available on Jul. 31 only. Before you drive too far out of your way to any of these locations, make sure you call to double check that the deal is still going on. Our love of the pitted green delicacy is so strong, I wouldn't be surprised if all of our local freebie spots sell out of avocado dishes early on. And, if you're looking for a more committed way to celebrate the holiday, might I suggest getting yourself or a friend an avocado-themed gift box? If there was ever a day to indulge in this guacward kitsch, it's certainly on #NationalAvocadoDay.
Honeygrow & Minigrow
Order a salad or a stir-fry and get a free avocado topping, no it's not extra today! To redeem, download the new honeygrow + minigrow app and bring the coupon code to the register to receive the discount.
Freebirds World Burrito
If you want to get a free side of guacamole, you'll need to order the Monster-sized burrito, or larger. So if you've been looking for an excuse to up your burrito game, this is certainly it. If you don't think you can house the giant burrito by yourself, you can share it with a friend and still reap the benefits of free guac.
Chipotle
Don't walk into Chipotle thinking you can just ask for free guac on the side and get it. Chipotle is taking this holiday seriously and requiring your ultimate dedication before unlocking the discount. You'll need to download the restaurants app or order your meal online. Once you hit the checkout, type in the discount code "AVOCADO" and get yourself some free guac. If you try this in person, it won't work, so prepare ahead of time. If you're a true guac lover, this will be a small time commitment for an epic freebie. Oh, and it's one free order per customer, so if you're ordering for a group, you'll need to make separate orders.
Earth Origins Market
To celebrate National Avocado Day, all Earth Origins Market stores are offing discounts and freebies from 8:00 a.m. to 8: 00 p.m., in addition to having an actual avocado-themed celebration.
Cactus Restaurants
Expect heavy guacamole deals at Cactus Restaurants in the Southwest.
Del Sur Mexican Cantina
If you live in San Diego, you're going to want to head to Del Sur Mexican Cantina for some delicious vegan avocado lime ice cream. The frozen treat is made with coconut milk, lime, avocado and a sprinkle of tangy Tajin seasoning and will be available all day.
Tweezerman
Well this might seem random, but the beauty company Tweezerman is doing a sweepstakes that will give fans an opportunity to win their avocado oil nail file and avocado themed tweezers on National Avocado Day. Head to their Twitter page and retweet for a chance to win the set.
Dos Toros
Starting at 10:00 a.m., on Jul. 31, Dos Toros will be announcing some extra special avocado deals and freebies. Check back on their Twitter for more details.