You Can Support These Native American Candidates To Celebrate Indigenous Peoples' Day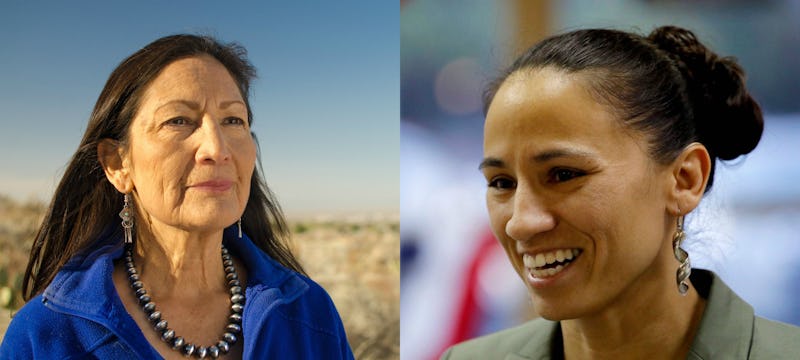 Deb For Congress / Charlie Riedel/AP/Shutterstock
This year it can seem like there are a million congressional races to support, and it can be hard to decide where you want to focus your donations — especially with such a mix of candidates. If you haven't yet given or are looking to donate some more, there are several Native American candidates you can support for Indigenous Peoples' Day if you are interested in supporting diverse representation.
Democrats and their supporters have been donating left and left again as the midterms approach — in particular, "Kavanaugh rage donations" have been prevalent following Supreme Court justice's controversial confirmation, Twitter would suggest.
The idea to focus on Deb Haaland's congressional race in New Mexico and Sharice Davids' in Kansas was shared online by Sen. Elizabeth Warren. "Today we celebrate Native American communities, & the pride & resilience of people reclaiming their history & traditions," Warren wrote. "We honor the contributions that Native people make to a country that has taken so much & keeps asking for more."
She went on to say that electing Haaland and Davids would be a "powerful" way to "lift up Native voices." Warren wrote, "Let's empower these strong Native American women to make history & win on Nov. 6. Chip in to their campaigns." She posted it with a link to an Act Blue fundraising page that her campaign created. It allows you to give to both candidates at once (and Warren, too, if you'd like).
Haaland retweeted the fundraising link from Warren and added her own comment: "I am proud to be running alongside @sharicedavids to be the first Native American women elected to Congress. With more Indigenous people in office, we can make progress for all Indigenous communities and to remind the United States that we are still here and our identity is valid."
Haaland also acknowledged Indigenous Peoples' Day in another tweet, in which she said Columbus Day is "reserved for a man that enslaved and oppressed those indigenous to this country," and added that, "These actions have had lifelong repercussions and consequences for all Indigenous people." She wrote that Albuquerque, New Mexico, where she's running for office, already changed the holiday's name four years ago. Albuquerque is one of many American cities that has changed the name of the holiday.
Both candidates have spoken with Bustle this campaign season. "Native women are left out of the conversation," Davids told Bustle in May. "And when you think about just size of a group, we make up a small portion of the population. That means that what ends up happening is there's just nobody in the room who knows anything about Native issues."
Haaland similarly focused on how representation was lacking. "Congress has never heard a voice like mine," Haaland also told Bustle in May. "I think when we have diversity, when we have different voices at the table, then maybe we can find solutions."
Of course there are many other worthwhile ways to celebrate Indigenous Peoples' Day, and giving to indigenous peoples' rights organizations is one of them. But if you were looking to support diverse candidates for Congress, there's no better moment.