3 Native American Women Running For Congress Reveal How They'll Combat Sexual Assault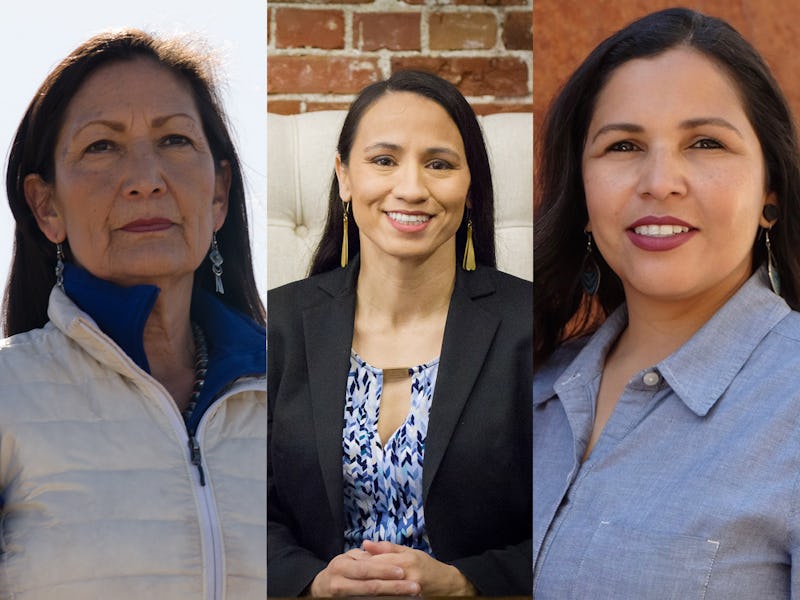 Michael Gorman/Courtesy of Deb Haaland; Courtesy of Sharice Davids; Courtesy of Eve Reyes-Aguirre
The most vulnerable group of women has largely been left out of the growing national discussion around sexual assault. Although Native Americans are twice as likely to be sexually assaulted compared to other races, Native American women running for Congress tell Bustle that those currently serving on Capitol Hill haven't shown enough concern for indigenous women's safety. The record number of Native American women running for office this year has the potential to drastically change how the law addresses sexual assault on reservations, however.
"Native women are left out of the conversation," Sharice Davids, a 37-year-old Democrat running to represent Kansas' 3rd Congressional District, tells Bustle. "And when you think about just size of a group, we make up a small portion of the population. That means that what ends up happening is there's just nobody in the room who knows anything about Native issues."
The candidates say that simply electing more Native women will help ensure that legislation takes into account the safety threats specific to that community. They vow to push for improved data tracking on violence against Native women and increased funding for tribal police if they make it to Capitol Hill.
"Congress has never heard a voice like mine," says Deb Haaland, a 57-year-old former state Democratic Party chairwoman vying to represent New Mexico's 1st Congressional District. It's true that a Native woman has never served in Congress; but there's a chance that could change this year. At least four Native American women are running for Congress, by The New York Times' count. Haaland believes that having more Native women in positions of power will not only help bring more national awareness to high rates of sexual assault in Native communities, but also increase the likelihood that meaningful legislation to combat it will pass.
"I think when we have diversity, when we have different voices at the table, then maybe we can find solutions," Haaland says.
A 2016 National Institute of Justice study found that 56 percent of Native American and Alaskan Native women have experienced sexual violence in their lifetime. But it's impossible to look at the high rate of sexual assault in those communities without also examining the alarming rate at which Native women and girls go missing, as sexual violence is linked to many of the missing persons cases. More than 5,700 indigenous women were reported missing or murdered to the National Crime Information Center in 2016. In some counties, Native women are murdered at rates 10 times higher than the national average.
The U.S. Senate declared May 5 the National Day of Awareness for Missing and Murdered Native Women and Girls for the second year in a row to honor Hanna Harris, a 21-year-old Native American woman who went missing in Montana in 2013. She was later found murdered, her body so badly decomposed that authorities couldn't determine whether she had been sexually assaulted.
"We're not being advocated for, and it really says to men that Native women are an easy target."
One day of recognizing the thousands of Native women who go missing every year doesn't cut it for Eve Reyes-Aguirre, a 42-year-old Green Party candidate running for U.S. Senate in Arizona. She tells Bustle she feels Congress isn't doing enough, especially considering there isn't a federal database dedicated to tracking missing and murdered indigenous women. Last year, Sen. Heidi Heitkamp (D-ND) introduced Savanna's Act, which aims to improve tribal access to already existing federal crime databases and standardize protocols for responding to cases of missing Native Americans. That bill has yet to move out of committee; Reyes-Aguirre says a lot more needs to be done.
"If this were non-native women who were going missing at this rate, it would definitely be a national issue," she says. "We're not being advocated for, and it really says to men that Native women are an easy target."
She wants lawmakers to look at the root causes of violence against Native women — one of which she believes to be the presence of extractive industries mining raw materials near tribal lands. Reyes-Aguirre describes the set-up of such companies as "man camps" that place large groups of men in rural areas, endangering Native women. The issue is one of both environmental and women's rights, and Reyes-Aguirre believes it shows that lawmakers need to take a holistic approach to combatting violence against Native women.
When it comes to investigating and prosecuting crimes committed on reservations, blurry lines of jurisdiction also make it tricky for tribes to act. Davids put it like this: If she crosses the border from Kansas to Missouri and commits a crime, the Missouri police are authorized to pick her up despite the fact that she's a Kansas resident. That's not always the case when crimes are committed on reservations, due to restrictions on tribal police arresting non-tribal members. A 2013 headline in The Atlantic sums up what this means for non-tribal members who commit crimes on reservations: "On Indian Land, Criminals Can Get Away With Almost Anything."
This dilemma is especially significant when you consider that 90 percent of Native American women who experience sexual violence say their attackers were non-tribal members, according to the 2016 National Institute of Justice study.
Both Davids and Haaland say federal legislation surrounding violence against women needs to specifically address tribal police jurisdiction to ensure that Native women's cases are investigated appropriately. The Violence Against Women Act attempted to clarify the jurisdiction issue in cases of domestic violence or sexual assault, but the National Congress of American Indians' website says "the ongoing violence against Native women shows that this responsibility has not been fulfilled."
Similarly, Haaland is concerned about how long it takes the police to reach reservations. Because some tribes don't have their own police departments, the Bureau of Indian Affairs (BIA) police are sometimes responsible for huge geographical areas and aren't able to get to rural crime scenes quickly. One fix would be simply to increase funding so there would be enough BIA officers to go around and tribal police are properly trained, Haaland says.
"I can say without pause that funding is always going to be an issue when it comes to these cases," Haaland says.
Above all, Haaland wants lawmakers to give tribal leaders a seat at the table. Every tribe is different, and only their leaders know the intimate details of what's going on in their communities. Haaland, Davids, and Reyes-Aguirre all agree that electing more Native women to office will allow them to directly advocate for their communities, as well as lift up the voices of other tribes.
"One of the really awesome things about this increase in the diversity of the people who are running for office across the country," Davids says, "[is that] we're going to have so many more people participating in those conversations that are not a homogenous group."