Why Doctors In Scotland Are Prescribing Nature Walks To Help With Chronic Illness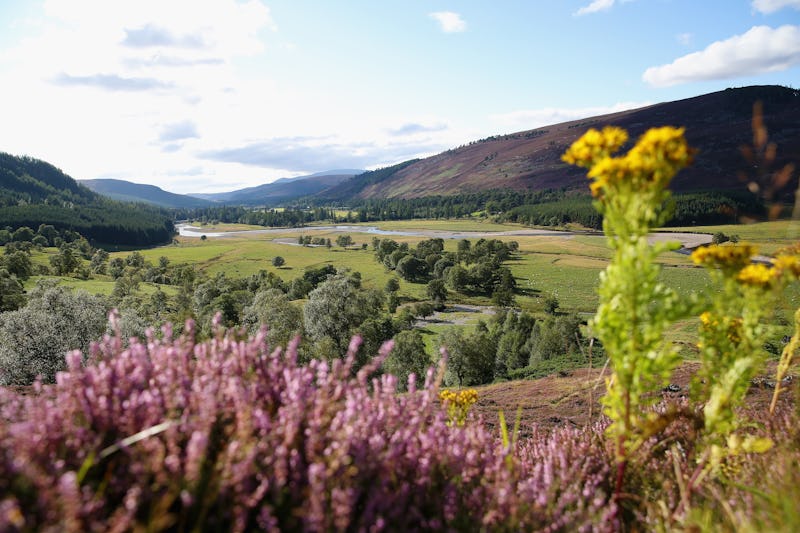 Chris Jackson/Getty Images Entertainment/Getty Images
Scottish doctors will soon be prescribing nature as part of their treatment plans for patients. CNN reports that the nature prescriptions are being rolled out for patients with chronic illnesses, and help treat a range of health problems including anxiety, depression, diabetes, and high blood pressure. According to BBC News, doctors in Scotland are launching the Nature Prescriptions project as part of an initiative to help Shetland Islands patients reap the health benefits of simply spending time outside. The Guardian reports that doctors also recommend nature prescriptions as a way to help manage chronic stress.
Patients receiving nature prescriptions will be given a seasonal calendar, and also a list of walking trails best suited for bird-watching, seasonal outdoor activities, and discovering different types of plants. Per the calendar, patients are encouraged to "write a worry onto a stone and throw it into the sea," or "look out for humpback whales on their autumn migration." Other recommendations include making daisy chains, eating a three course meal with family outdoors, taking the time to appreciate a cloud, and talking to a pony. Per the nature prescriptions calendar, "Solitude in nature clarifies thought — carve out some time to yourself and go explore somewhere you've never been before."
According to CNN, the Royal Society of Birds Scotland (RSBS) created the calendars and walking trail leaflets for doctors in 10 public health clinics throughout Shetland Islands to hand out to patients. According to a recent RSBS press release, the Nature Prescriptions partnership project between the National Health Service (NHS) Shetland and RSBS Scotland is the first of its kind in the UK, and is officially rolling out after a successful pilot program was tested last year. It's further noted in the press release that "Nature Prescriptions recognizes the benefits of nature on reducing blood pressure, reducing anxiety and increasing happiness as well as the growing disconnection with nature throughout society."
Dr. Chloe Evans, a primary care doctor at Scalloway Health Center was quoted in the press release as saying that "I want to take part because the project provides a structured way for patients to access nature as part of a non-drug approach to health problems. The benefits to patients are that it is free, easily accessible, [and] allows increased connection with surroundings which hopefully leads to improved physical and mental health for individuals."
The Guardian further reports that while patients will be encouraged to wander beaches looking for shells, explore coastal trails, and birdwatch, nature prescriptions aren't intended as a substitute for other forms of medical care. Nature prescriptions are designed as a supplement to conventional medical treatments.
Dr. Evans told The Guardian that "There are millions of different ways of doing medicine but we very much try to involve people in their own health, and people really like being empowered." Shetland Islands also boasts a "fantastic wild landscape," Dr. Evans further notes, and patients will also be nudged to get outside no matter the weather or season. Per the seasonal calendar, patients in the winter months are still urged to get outside — even if just for short amounts of time.
Directives such as "Step outside — be still for three minutes and listen," and drawing snowdrops are some of the suggestions for the colder months. Ultimately, patients are urged to "Get out whatever the weather, and feel the exhilaration of wind and rain on your face," in order to maintain the connection to nature year round. And on that note, I think I'll wander outside and appreciate a cloud.