NBC Picked Up 'Brooklyn Nine-Nine' & Fans Are FREAKING Out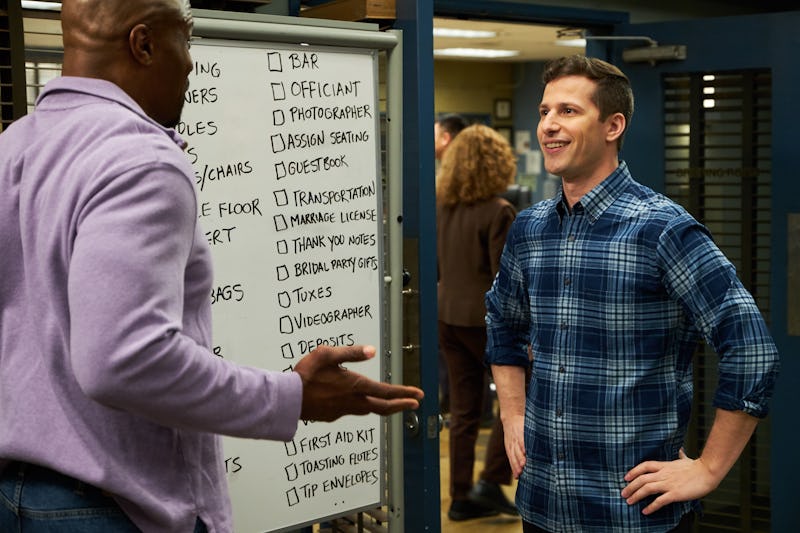 John P Fleenor/FOX
Late on Friday, May 11, when all hope seemed lost for Brooklyn Nine-Nine, co-creators Dan Goor and Mike Schur tweeted the best news: NBC picked up Brooklyn Nine Nine Season 6. The comedy's new season will be 13 episodes long on the peacock network, according to The Hollywood Reporter's report soon after the tweet was posted.
Goor broke the news at midnight ET, causing the show's stars and fans on Twitter to celebrate so much on the social media platform. Goor's tweet read:
Hey everyone, just wanted to say no big deal but....
NBC JUST PICKED #BROOKLYN99 UP FOR SEASON 6!!!
Thanks in no small part to you, the best fans in the history of the world!
Nine-nine!!!!!!!!!
Co-creator Mike Schur tweeted the same news at the exact same time under his @KenTremendous handle:
Brooklyn Nine-Nine. Season 6. NBC
This happened because the fans of the show went berzerk. We can't thank you -- or @NBC -- enough. #Brooklyn99
It was not a midnight hoax. Media outlets like The Hollywood Reporter and Variety confirmed the news with a statement from NBC, the network itself responsible for saving the day.
NBC Entertainment chairman Robert Greenblatt told The Hollywood Reporter that he's bringing Brooklyn Nine-Nine to NBC due to a professional regret he has:
"Ever since we sold this show to Fox I've regretted letting it get away, and it's high time it came back to its rightful home. Mike Schur, Dan Goor and Andy Samberg grew up on NBC and we're all thrilled that one of the smartest, funniest and best-cast comedies in a long time will take its place in our comedy lineup. I speak for everyone at NBC, here's to the Nine-Nine!"
It's true: Schur, Goor, and Samberg all have backgrounds and had breakout roles on NBC shows. Brooklyn Nine-Nine co-creator Schur worked on The Office, along with creating Parks & Recreation and current hit show The Good Place. Goor worked as a writer on Late Night With Conan O'Brien and producer Parks & Recreation, writing many episodes for the beloved comedy series. And of course, Samberg is well-known for his seven-year tenure as a cast member on Saturday Night Live, where his prerecorded digital shorts like "Lazy Sunday" and "I'm On A Boat" became massive viral hits.
On Thursday, May 10, Fox cancelled Brooklyn Nine-Nine and fans had widely expressed their sadness on Twitter and urged streaming services like Hulu and Netflix to save the show. On Friday, May 10, TVLine reported that Hulu had reportedly passed on picking up the comedy series. Then, NBC came in with the save around midnight.
Now that Brooklyn Nine-Nine has been revived, fans and stars of the show are celebrating via Twitter.