'RHOA's NeNe Sheds Light On How Gregg's Cancer Has Impacted Their Lives On Screen & Off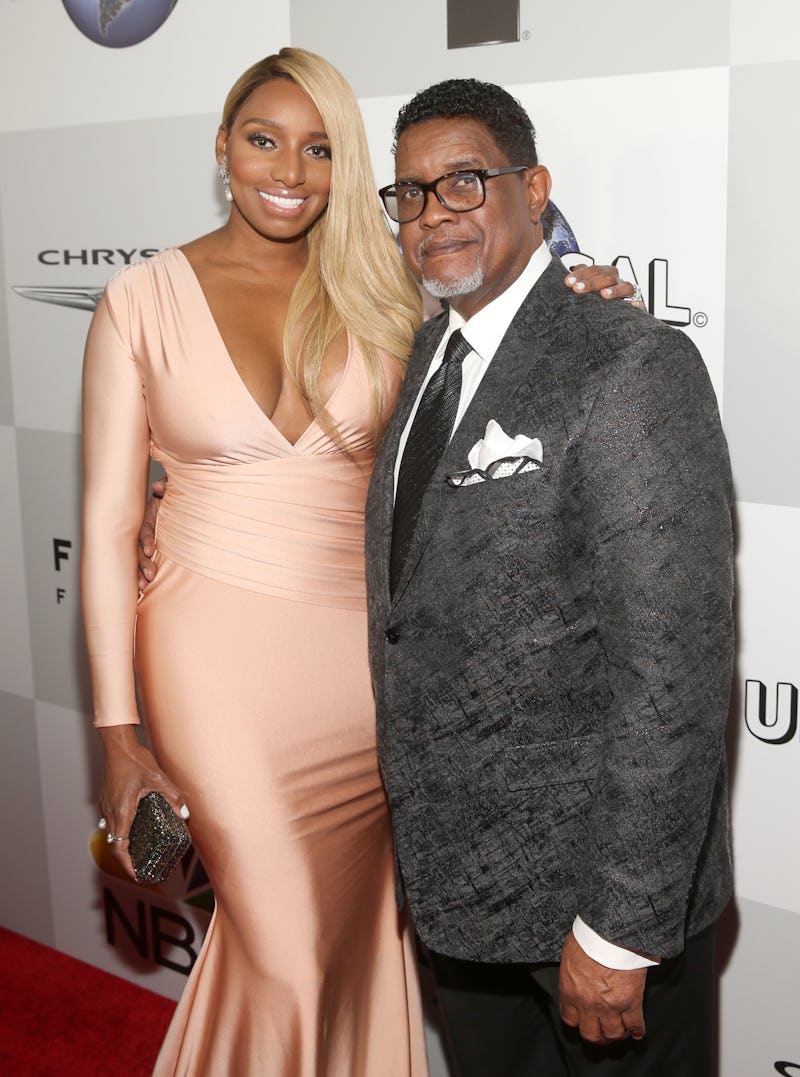 Jesse Grant/Getty Images Entertainment/Getty Images
NeNe Leakes' Season 11 Real Housewives of Atlanta tagline is more than a clever play on words — it truly sets the tone for what fans can expect this season. She declared, "I'm the glue for my wig and my family," clearly referencing her husband Gregg Leakes' ongoing cancer battle. And in a recent interview with Bustle at Bravo HQ, NeNe opens up about the impact of Gregg's cancer diagnosis. Not only in their personal lives, but on RHOA as well.
While Gregg is known as NeNe's biggest supporter and voice of reason, this season the Real House Husband of Atlanta will share more than ever before and he has a greater purpose for opening up. "Gregg wanted to help the next man," NeNe explains. "He was afraid of the doctors. He thought that if he shared his journey, he could encourage another man to go to the doctor."
Even NeNe had her doubts that Gregg would be truly open while filming the season; given all he was going through, he actually ended up giving so much more. She teases, "Gregg really let the viewers in." And as serious as this is, NeNe manages to find some humor in the situation, joking, "They saw everything. I'm sure they had to edit Gregg at points, because he let it all out."
Still, it's been a major learning experience. NeNe admits, "I never understood cancer until now." She says, "When that hits home, it's a different story and you feel it differently. It made me change a lot of things."
The Real Housewives of Atlanta star adds, "When something happens, you really see life differently." She even admits, "There were moments when I really didn't think Gregg was going to still be here." That's a very scary thought, especially since NeNe and Gregg have such a symbiotic dynamic. During healthier times, they have the ideal "opposites attract" relationship that just works so well.
NeNe explains their "great balance," saying, "I do one thing and he does another. It's what makes us a great team." Unfortunately, they're not able to maintain the exact same dynamic while Gregg focuses on his health and NeNe steps up as his caregiver, but they're still doing their best.
For example, NeNe shares, "My husband has always taken care of all the little bills in our house. I don't even know who my cable is with." She admits, "It was tough trying to figure out, because I don't even know these things. I don't want Gregg to find that out and worry about me."
No one can blame her for not wanting her husband to worry, but NeNe is going to be NeNe and that means she's always going to keep it 100. She has never hesitated to be open with her fans. On Oct. 21, NeNe discussed the impact of Gregg's cancer diagnosis on her Instagram page. She wrote,
This word will never be easy to hear for me! It changed my life in so many ways. You change as a person — from the way you think to the way you eat! My marriage changed tremendously! The way i look at people around me and my approach for my family future.
During the RHOA season premiere on Nov. 3, NeNe also revealed that Gregg has Stage 3 colon cancer, according to a People recap.
With such a major change in their lives, there's just no way that NeNe could film Season 11 with the same mindset as previous years. The reality star recalls, "After we found out he had cancer, we were in disbelief like, 'Does he really have cancer? What does that really mean?' We were walking around into a daze when we entered into the season."
Still maintaining her sense of humor, NeNe jokes, "I definitely Kandi Burruss'ed. I cried the entire season. I don't think I've ever cried this much." While her costar hasn't had a lot of tear-filled scenes, but the few times Kandi did cry were unforgettable. When Kandi's voice is cracking while she tries to cut out tears, you know it's real. NeNe going through that magnitude of sadness will be very tough for fans to watch.
NeNe quips, "My eyeballs fall out. I cried all season, I think." She shares, "We start out with me not really crying, and we get to the middle, and I just break, break, break, and break, but it's just necessary. It really is."
NeNe is truly putting the "real" into Real Housewives of Atlanta. She has no issue sharing her genuine feelings, even if she's understandably worn out from what's happening in her life.