Netflix Is Reportedly Testing Out A Way To Help You Find New Shows To Watch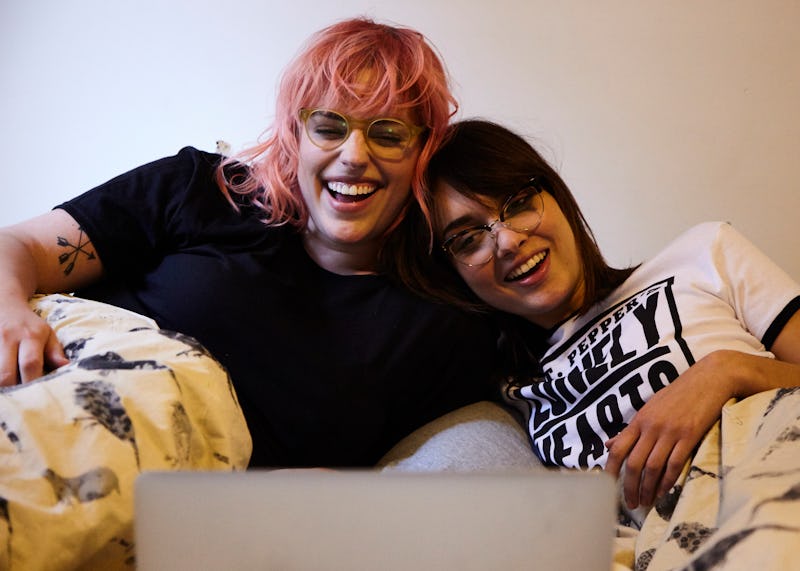 Hannah Burton/Bustle
A new Netflix feature may make it easier to find the next show you'll want to marathon. Netflix is reportedly testing video promos that would play between episodes, according to Polygon. The news was originally reported on a now-deleted Reddit thread when a user claimed they were served an "unskippable ad" for Better Call Saul while watching another show, according to TechCrunch. Users reported seeing a full-screen video featuring Netflix content that's personalized to the Netflix viewer in place of the title, description, and thumbnail you usually see at the end of an episode, TechCrunch reported. The test, said TechCrunch, is currently being run on only a small percentage of global Netflix users.
"In this particular case, we are testing whether surfacing recommendations between episodes helps members discover stories they will enjoy faster," Smita Saran, a spokesperson for Netflix, tells Bustle. "It is important to note that a member is able to skip a video preview at any time if they are not interested."
Saran tells Bustle there's a lot of misinformation regarding this test feature going around, including that Netflix members can't skip the video recommendations, which they can. The feature is a test Netflix is running to figure out how to help Netflix users find content they want to watch without having to do so much browsing through the platform, Saran tells Bustle. The feature is similar to the video previews Netflix rolled out in December of 2016, or mobile previews rolled out in April. "We had done a ton of research and watched what our members were actually doing on the service," Saran tells Bustle, "and we saw that video previews significantly cut down on browsing time and how people actually find something to start watching."
Saran says that Netflix runs hundreds of tests each year to better understand what helps Netflix users find content to watch. However, Saran says, just because Netflix tests a feature doesn't mean it will get rolled out to all members. "We've been experimenting with the best ways to introduce video previews or promos to our experience for a while now," Saran tells Bustle.
One of the many perks of cutting the cord is going ad-free, so when users thought Netflix was testing ads they couldn't skip, rather than skippable promos for other content, they took to social media to voice their displeasure. But what Netflix users thought were unskippable ads are actually very skippable recommendations for other content they might want to watch on the streaming platform. "There is an idea that these are commercials or ads," Saran tells Bustle. "But they're actually personalized recommendations similar to the recommendations that a user would see on the home screen [of the Netflix service]."
Netflix has been known to remove test features in the past. According to The Verge, the streaming platform tried "gamifying" children's shows earlier this year but quickly removed that feature after parents expressed outrage over the feature. Saran did not comment on how long the feature would be tested before a decision would be made on whether the feature would roll out to all members. For now, however, rest easy — your SVU marathon probably won't change too much anytime soon.