Netflix Just Re-Created An Iconic Photo Of Black Excellence & The Result Is So Moving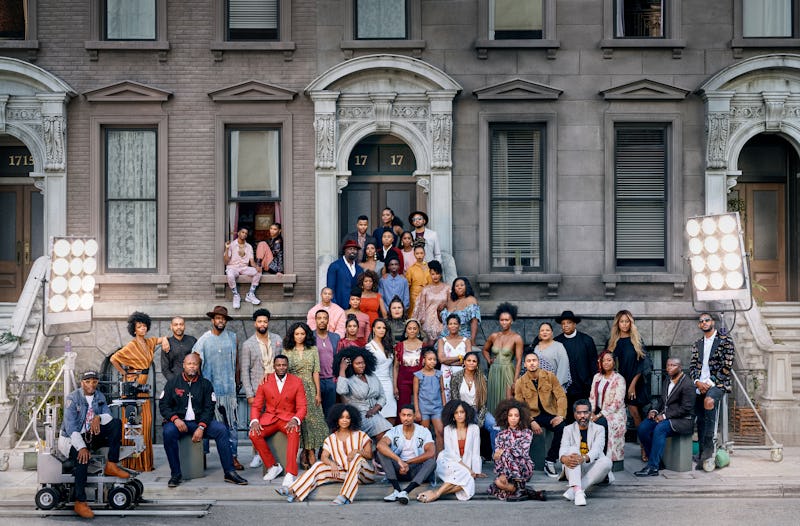 Kwaku Alston/Netflix
On Sunday, June 24, the 2018 BET Awards shared Netflix's "A Great Day in Hollywood," a 60-second video that includes 47 black Netflix talent and creatives. Among the 47 artists featured in the clip are Ava DuVernay (13th, Central Park Five), Spike Lee (She's Gotta Have It), Lena Waithe (Master of None; Dear White People; Step Sisters), Alfre Woodard (Luke Cage; Juanita), and Laverne Cox (Orange is the New Black). The minute-long video was directed by Lacey Duke and is based on Art Kane's iconic photograph A Great Day in Harlem. The affecting homage to Kane's photo is a powerful statement about diversity in TV and movies, a moving celebration of the artists featured, and a nod to strides in representation that Netflix has made over the last several years.
As has been noted time and time again, Netflix is making an effort to ensure its library of original content is not just a bunch of stories about and made by white people, but a collection of stories that showcase different perspectives. The world is a dynamic and diverse place, and pop culture should reflect it accordingly. There is still work to be done as far as representation, inclusion, and diversity in movies and TV is concerned, but Tinsel Town is changing for the better.
In a 2017 Variety interview, DuVernay said the following about working with Netflix:
"I find it terribly exciting, especially for someone like me, a person of color and a woman, to be able to see different ways to enter into a space where I'm able to touch large audiences. And not have to go through the same five studios and three networks and hope that they recognize what I'm doing and value it. That's the way it was; we weren't seeing enough inclusion. Now there are more options. Inclusion is a necessity for survival. It's ignorance to think you can continue to operate in the same way as an industry and shut out a country that is largely made of people who are not white men. If you're going to be holding onto that, you're going to keep having companies that can read the tea leaves, like Netflix, come in and snatch your wig."
Netflix's ever-growing catalog of original movies and TV shows is a big and inclusive step in the right direction. Series like Dear White People, All About the Washingtons, and On My Block explore the black experience within different communities. Orange Is the New Black and GLOW have been praised for featuring diverse ensemble casts and highlighting characters' varying backgrounds and experiences. 13th addresses the history of race and the criminal justice system. Luke Cage is Marvel's first television show centered around a black superhero. And so the fantastic list goes.
The rest of the "A Great Day in Hollywood" ensemble includes Gabrielle Dennis (Luke Cage), Simone Missick (Luke Cage), Cheo Hodari Coker (Luke Cage), Mike Colter (Luke Cage), Antonique Smith (Luke Cage), Mustafa Shakir (Luke Cage), Vaneza Oliveira (3%), Russell Hornsby (Seven Seconds), Priah Ferguson (Stranger Things), Caleb McLaughlin (Stranger Things), Chante Adams (Roxanne Roxanne), Nia Long (Roxanne Roxanne, Dear White People), Justin Simien (Dear White People), Logan Browning (Dear White People), Nia Jervier (Dear White People; Step Sisters), Antoinette Robertson (Dear White People), DeRon Horton (Dear White People), Ashley Blaine Featherson (Dear White People), Marque Richardson (Dear White People; Step Sisters), Hayley Law (Altered Carbon; Riverdale), Rev Run (All About The Washingtons), Justine Simmons (All About The Washingtons), Dawn Porter (Bobby Kennedy for President), Kat Graham (The Holiday Calendar; How It Ends), Quincy Brown (The Holiday Calendar), Sydelle Noel (GLOW), Britney Young (GLOW), Kia Stevens (GLOW), DeRay Davis (How To Act Black), Sierra Capri (On My Block), Brett Gray (On My Block), Danielle Brooks (Orange is the New Black), Alisha Boe (13 Resons Why), Samantha Logan (13 Reasons Why), Ajiona Alexus (13 Reasons Why), Derek Luke (13 Reasons Why), Steven Silver (13 Reasons Why), Yance Ford (Strong Island), Kano (Top Boy), Marlon Wayans (Naked; Woke-ish), Rapsody (Rapture), and Sacha Jenkins (Rapture).
Representation in pop culture is essential, and the statement "A Great Day in Hollywood" makes is an important one.