Netflix's Heartwarming 'Dumplin' Is About So Much More Than Body Image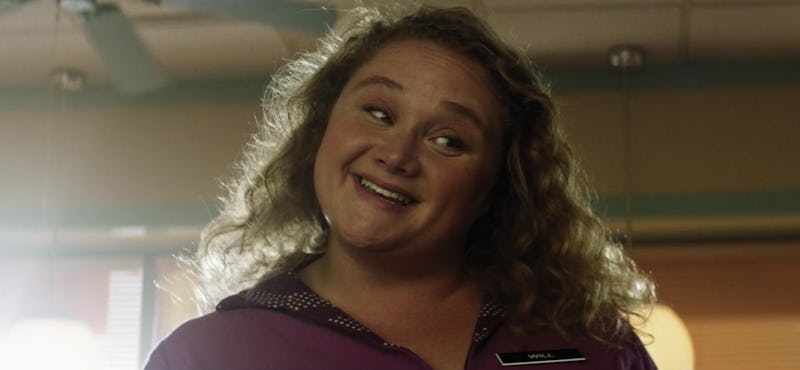 Netflix
In the new Netflix comedy Dumplin, a plus-sized high schooler named Willowdean Dixon (Danielle Macdonald) decides to compete in a beauty pageant that her mom Rosie (Jennifer Aniston) runs. Willowdean grew up feeling close to her Aunt Lucy (Hilliary Begley) and hopes to carry the body-positivity she taught her into the pageant, which represents mainstream beauty standards. But director Anne Fletcher says that she didn't approach Dumplin' as a story about a fat girl — at least not entirely.
"It's really for me wasn't so much about Dumplin's weight as it was just every young girl's full-blown insecurities," Fletcher says, speaking over the phone from Los Angelea. "Whether it was, 'I was born with curly hair or had bad acne or I was too short or too tall or too fat or too skinny.'" To the director, Dumplin' is a universal story that uses Willowdean's personal vulnerabilities as an example of how other people can feel shut out from the world based on their own.
Still, Dumplin' is specific to Willowdean's experience. And though the Netflix movie is a comedy, its main character is not the joke. The audience sees the world from Willowdean's perspective, so that outdated beauty and body standards are the source of some of the laughs. (For example, when Rosie insists on wearing a dress that's so tight that she can't sit upright in a car.)
Fletcher, who also helmed The Proposal, Step Up, and 27 Dresses, explains why she took extra care to be sure Willowdean and the rest of the characters were treated respectfully. "Anytime I do a movie with girls — which is every movie — I have to stay true to women," she says. "I won't exploit them, I won't make them do things [that would make audiences say], 'Oh my god really? We're still here?'"
Even though Willowdean doesn't necessarily fit in with the typical Miss Teen Blue Bonnet winners, she decides to enter the pageant after discovering that her aunt Lucy had once wanted to compete in it herself. "She obviously didn't feel welcome with people like my mom lordin' over it with their measuring tape," Will tells her friend Ellen, before declaring that she wants to try out. "The whole point of her to be there as a 'screw you mom' kind of thing," Fletcher explains.
Willowdean's "screw you" is motivated by the fact that Rosie constantly pressures her daughter to lose weight, whether she realizes it or not, and because Willowdean always felt that her mom was embarrassed by her. Willowdean's fractured relationship with her mom is a bigger challenge for her than any insecurities about her weight, which is a refreshing change for a plus-sized character.
For the director, knowing her characters' motivations is key. "I need to know that these women have points of views of why they're behaving the way they do," Fletcher says.
Willowdean's motivation is deeper than to just "prove" to people she doesn't ultimately care about that she is beautiful. What she wants is her mother's approval. And when she makes her stand, she's joined by another fat girl named Millie (Maddie Baillio), and Hannah, a not stereotypically feminine goth girl (Bex Taylor-Klaus), both of whom have their own reasons for taking on the status quo.
More than anything else, Willowdean's struggle in Dumplin' is rooted in the recent death of her aunt Lucy, who helped her niece accept herself and her body. "I saw a character who is dealing with real issues," Fletcher says, naming the grief that Willowdean feels as a more tangible obstacle than her body image. "Lucy is the heart of the movie. She's [how] we get to track Will's emotional state and where she is in the world and what Lucy gave to her and what she meant to her."
One of Lucy's greatest gifts to Willowdean was a deep adoration for Dolly Parton, and Willowdean strives to capture the spirit of both Dolly and Lucy while entering the cutthroat competition. The whole movie is injected with Dolly Parton's magic, thanks to the fact that Parton was actually involved in Dumplin's production.
Parton co-wrote and sang the original song, "Girl in the Movies," for Dumplin', and the 9 to 5 star told Variety that she'd written the song with Willowdean in mind, as it matched the character's "little attitude, her little personality, her sweetness and what she wanted out of life — the big picture." As much as Dolly felt inspired by Willowdean, Fletcher feels inspired by the country music sensation herself.
"This woman is everything you want her to be times a thousand," Fletcher says, describing her experience of working with Dolly. The director adds, "The fact that she got on board was just the greatest gift ever. It says who she is, and she understood the story."
With mother/daughter conflicts, beauty pageants, a love story, and Dolly Parton, there's a lot going on in this story. Fletcher says with a laugh that the first cut of the film was two hours and 40 minutes. But the director and her editor, Emma E. Hickox, kept on track by going back to Willowdean's point of view whenever they got in the weeds. And because she's not a one-dimensional character who's defined by her appearance, that focus makes for one funny, heartwarming, and relatable movie.