Alexander Skarsgard & Jeffrey Wright Star In The Tense Trailer For Netflix's 'Hold The Dark'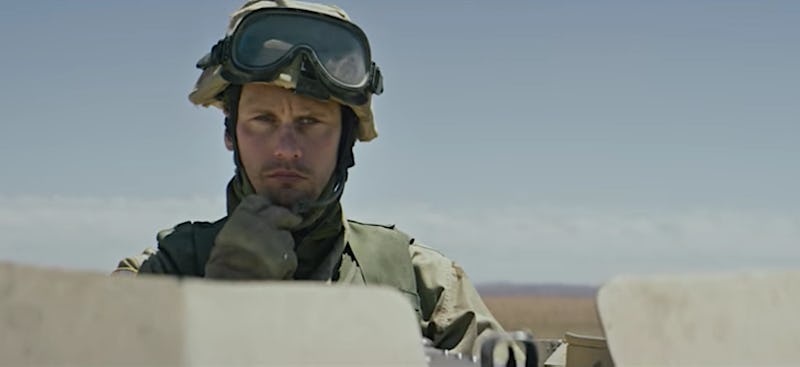 Netflix
What would you do if the person you loved most in the world was taken away? What if that person was a child? That's a question Netflix's new Hold the Dark trailer looks to explore. Set to hit the streaming site (as well as select theaters) on Sept. 28, this Alaskan thriller brings some of the biggest names in Hollywood together in a battle against nature — or at least one particular creature that exists in nature.
In Hold the Dark, Westworld's very own Jeffrey Wright plays a naturalist (and apparent wolf expert?) who agrees to help a young mother (played by Riley Keough) track down a wolf that she belives took her son three days ago. No one else in the secluded town wants to do anything about it, even though there have been multiple child deaths at the hand of this animal. But Keough's character knows action needs to be taken by the time her husband (played by Alexander Skarsgård) gets home from the Iraq War. Sounds like a pretty straightforward plot, right? You would initially think so, but the promo indicates that there a lot more to this town and these characters than meets the eye.
"It's a tricky one, because I don't want to reveal too much," Skarsgård told Entertainment Weekly during a recent interview. "But I play a guy named Vernon Sloane and when we first meet him he's a soldier fighting overseas. He returns home and his world unravels when he finds out what's happened."
Of course, Wright has quite a bit of experience having viewers question the nature of their reality during his time on Westworld, which arguably gets more and more confusing with every passing episode. Granted, this story may not inspire quite as many fan theories, but Hold the Dark definitely contains its own layer of secrets that are unable to reveal themselves in just a two-minute clip.
The official synopsis of the movie reads as follows:
"Retired naturalist and wolf expert Russell Core (JEFFREY WRIGHT) journeys to the edge of civilization in northern Alaska at the pleading of Medora Slone (RILEY KEOUGH), a young mother whose son was killed by a pack of wolves. As Core attempts to help Medora track down the wolves who took her son, a strange and dangerous relationship develops between the two lonely souls.But when Medora's husband Vernon (ALEXANDER SKARSGARD) returns home from the Iraq War, the news of his child's death ignites a violent chain of events. As local cop, Donald Marium (JAMES BADGE DALE), races to stop Vernon's vengeful rampage, Core is forced on a perilous odyssey into the heart of darkness."
In other words, be prepared for things to start getting really intense really quickly. (Also, never mess with Skarsgård — though if you ever watched him as Eric Northman in True Blood then you likely already knew that.)
Hold the Dark is written by Macon Blair and adapted from the William Giraldi novel by the same name. So if you can't wait until the end of September for the film to come out, the book could offer a little insight on the matter. Either way, this is one Netflix project you won't want to miss and is guaranteed to keep you on the edge of your seat until the bitter end.